Finalists in a tight three-way fight for the Glitterball trophy with over a third still to make up their minds
This season of Strictly Come Dancing has seen glamour, drama, and a political comeback from possibly the nation's most unexpected dad dancer. After all the jives, paso dobles, and foxtrots, it's TV presenter Ore Oduba, Hollyoaks actor Danny Mac, and singer/media personality Louise Redknapp who have kept dancing all the way to the final.
This week, the judge's scoring paddles lose their value with the decision about who lifts the Glitterball trophy resting solely with the public. For the first time, YouGov has carried out a poll of those planning to vote on Saturday night to get a feel for how the race is panning out.
Going into the final the race for the title is too close to call, with all three candidates caught in a statistical tie. While Danny is slightly ahead on 24% of the vote, Louise and Ore are within waltzing distance on 23% and 19% respectively. Crucially, around a third (34%) of likely voters still haven't made up their minds who to back – making Saturday night's dances more important than ever.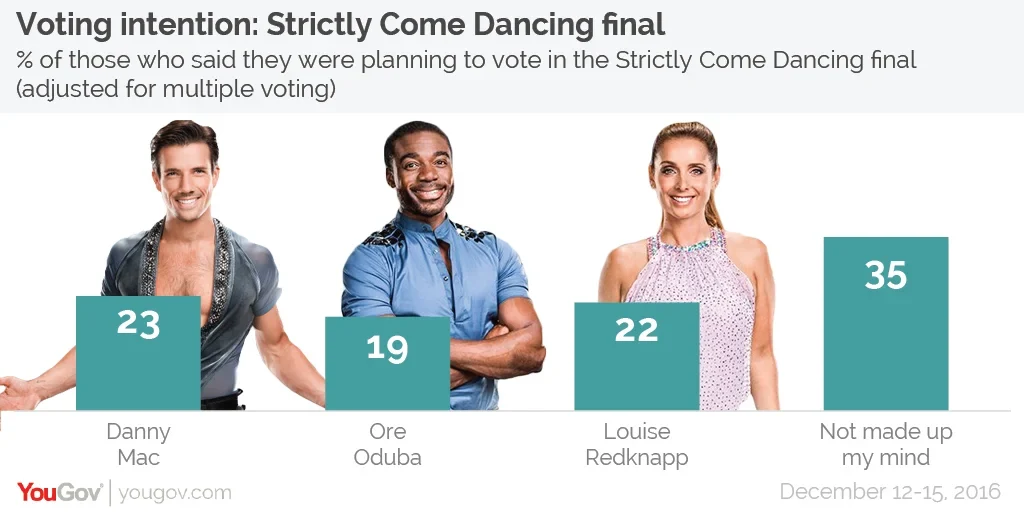 The headline numbers above are based on those who told us they planned on voting this weekend and – as anyone can cast up to three votes through the BBC website – take account of repeat voting. In total we surveyed nearly 10,000 members of the general public to build a representative sample of likely Strictly voters.
Moreover, across the series we have also been tracking the views of all Strictly viewers, not just those who are planning to vote, asking them both who they would like to win and who they think is most likely to win.
In terms of who they would like to win, each of the three finalists have either led or been joint top at some point during this series. While Louise – and to a lesser extent Danny –have been making the running throughout much of the series, Ore's performance last week has placed him right back in contention.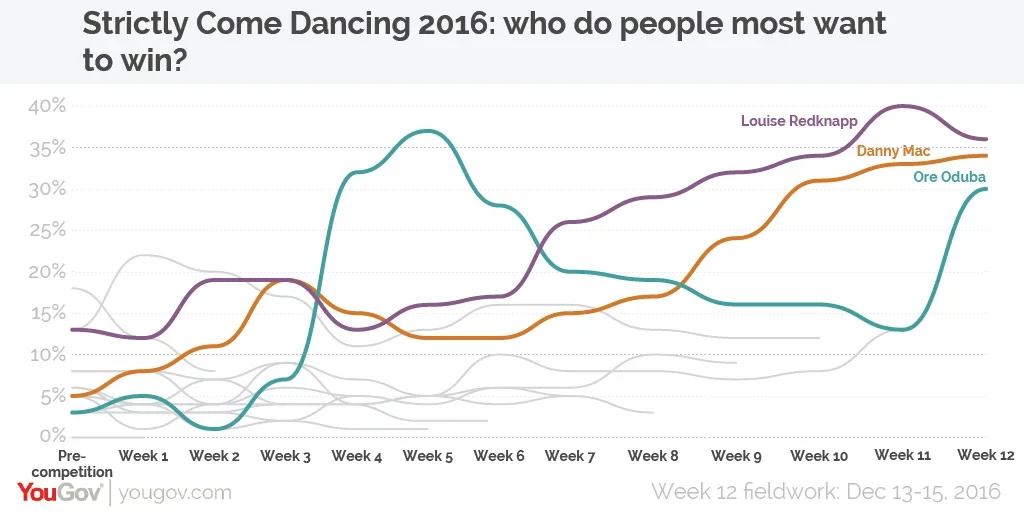 In terms of who people want to win, there is a large gender divide when it comes to both Danny and Louise. Fully 38% of women viewers with an opinion want Danny Mac to win compared to 27% of men. However, the opposite is true for Louise – with 43% of men wanting her to prevail compared to 32% of women. Ore's support is much more balanced (getting 27% of male support and 31% of female).
When viewers are asked who they think is most likely to win, Danny has been leading since week seven. However, after his appearance in the dance-off last week his support among Strictly viewers has suffered its first fall since week eight.
Yet more than half (54%) of viewers with an opinion still think he is the most likely champion and this is reflected in the betting markets which have him marked out as the clear favourite. However, Danny's small stumble last week has opened the door slightly for Ore who, after the semi-final, saw a leap in those who thought he was the most likely to win – up from 4% to 17%.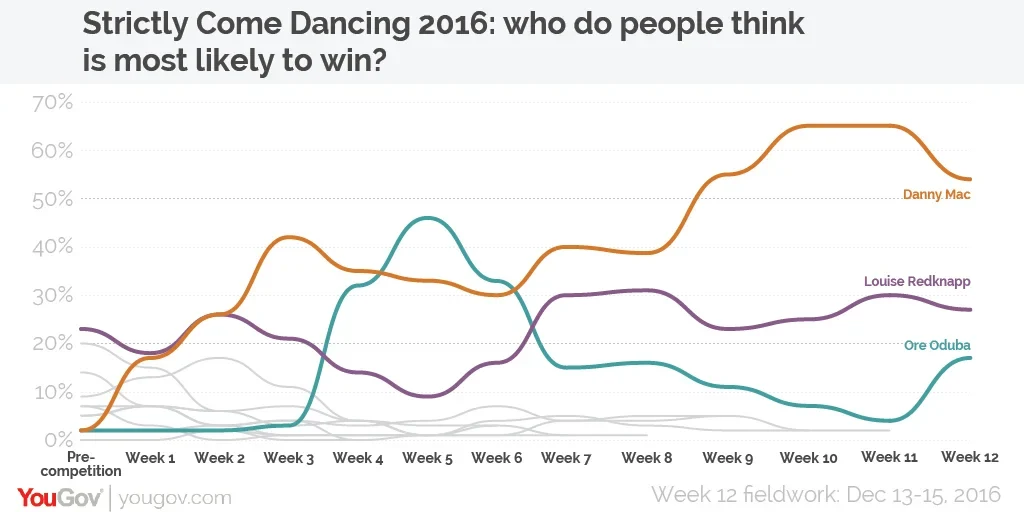 This series has seen record viewing figures with over 12 million expected to tune in for chief judge Len Goodman's final show on Saturday night. While the public want Louise to win and think Danny Mac will prevail, Ore is making ground at just the right time. We should be in for a nail-biting finish - it all comes down to the dances on the night.
See the Strictly Come Dancing final voting intention results
Image: BBC