Labour's support in Wales has fallen 15 points since April 2012 – as UKIP look set to become more influential in Wales than in Westminster or Holyrood
In 2011 Labour improved on their worst Welsh election result since the parliament was formed in 1999 to take half of the seats in the assembly – just enough to govern without a coalition partner. YouGov's latest research for ITV reveals Labour has only a 33% share of the vote for Wales's first past the post constituency elections, however. This marks a 12 point decline since 2012 to a four-year low. If Labour lose just one or two seats in next month's election they may have to join forces with a coalition partner, as in 2007 (Plaid Cymru) and 1999 (Lib Dems).
Plaid Cymru have held up well and, thanks to a fall in support for the Conservatives since before the 2010 general election, are polling in second place for both the constituency and regional elections, where seats are allocated by a more proportional system.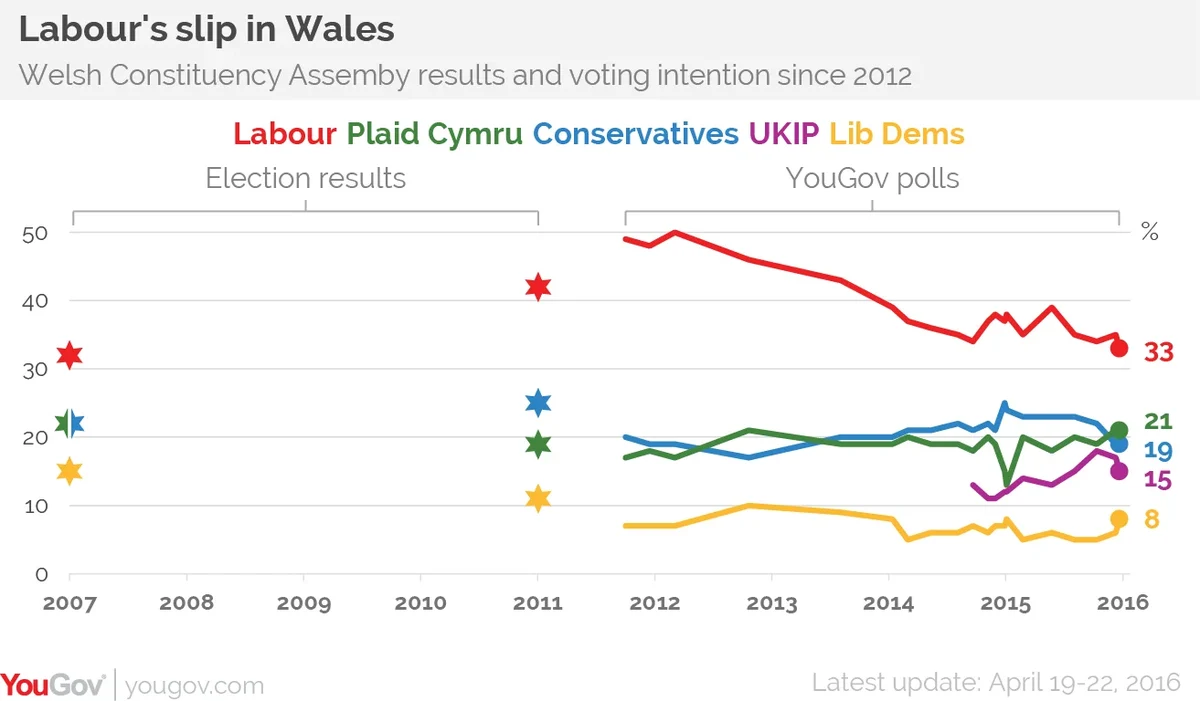 Thanks to this proportionality in the regional aspect of Wales' electoral system and a decent level of support in the constituency elections (our latest results have them on 15% in both) UKIP look set to pick up a handful of seats. This would give them more influence in Wales than in Westminster, where they have one MP, or the Scottish Parliament in Holyrood, where they have no representatives.
Jeremy Corbyn's approval rating is better in Wales (-15) than in Britain as a whole (-22), however Nigel Farage has a better rating (-9) than the Labour leader and also does better in Wales than in Britain (-18).
PA image