British teachers tend to say turning schools into academies will make standards worse – and public support for academies has slipped consistently over the years
George Osborne's eighth Budget yesterday included a £1.5bn plan to make all state schools become academies by 2020, or have official plans to by 2022. The academy schools scheme, which removes state-funded schools from local authority control and gives them greater freedom over pay, admissions, opening times and the curriculum, was initially created under New Labour but has been expanded under the Conservatives. Currently 61% of secondary schools are academies and 15% of primary schools.
The government says academies increase innovation and can improve standards, however others say regular schools have been shown to improve at a similar or better rate. New YouGov research of the Profiles data of over 8000 teachers reveals there is a strong tendency to say turning more schools into academies will make standards worse (48%) rather than better (17%), while 28% say this will not change standards.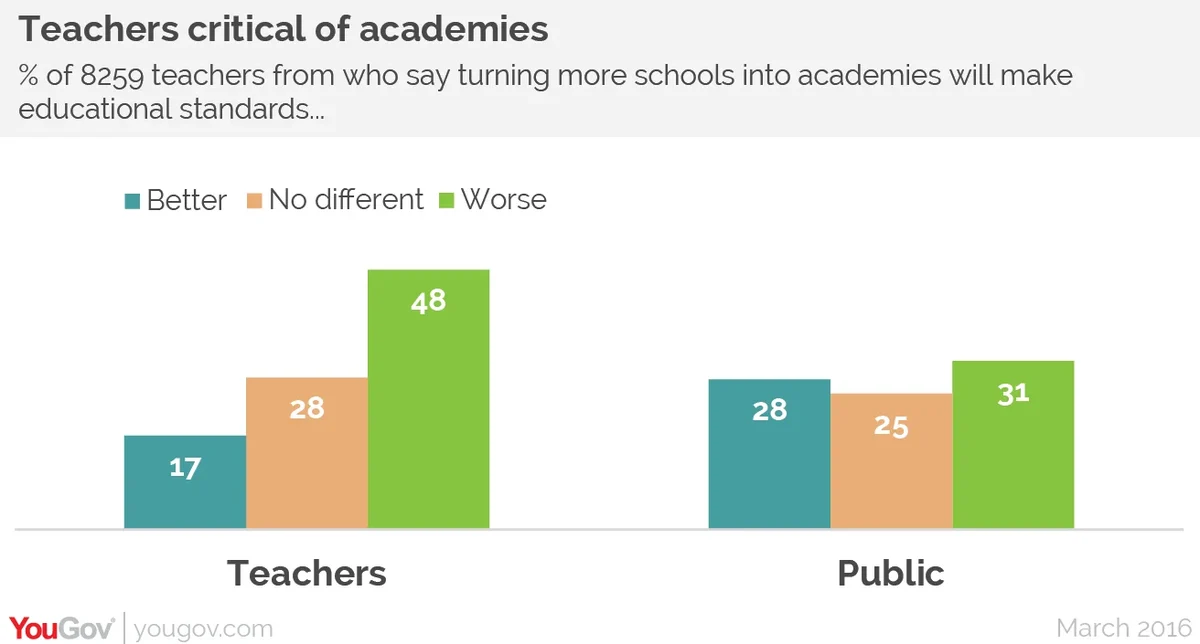 The data has been collected over the past year as YouGov members answer questions on issues and other subjects to build up their profile. These figures are from 8259 British people currently in work as teachers or professors.
Female teachers are more likely to say academisation will worsen standards (51%) than men (44%), while the youngest generation of teachers (29% of 18-24 year olds) have the greatest confidence in academisation.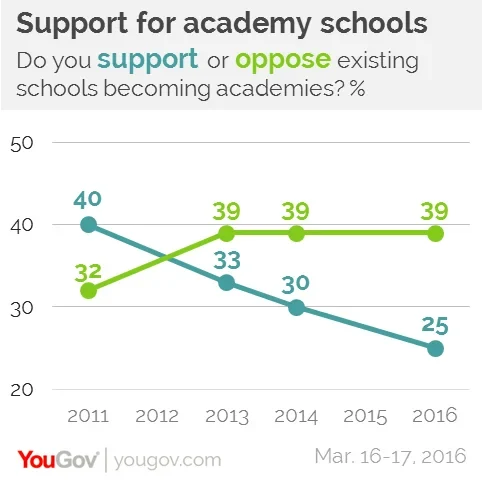 The general public are fairly evenly divided over whether the process will make standards better (28%), worse (31%) or won't make much difference (25%).
That is not to say they support turning existing schools into academies. Asked four times over the past six years, British people have become gradually less supportive of academisation.
After the Conservatives first began encouraging existing schools to convert into academies 40% were in support while 32% were opposed in 2011. Support then drifted downwards to 33% in 2013, 30% in 2014 and 25% currently, while opposition has remained at 39% and more have become unsure.
PA image