Consumer confidence has now been at the same stable level for three months

Sharp stock market falls followed a record Christmas spend – but UK consumers remain broadly upbeat

Data suggest consumer confidence being "propped up" by faith in the future and in the housing market
UK consumer confidence rose by 0.1 points to 113.0 in January, the latest YouGov/Cebr Consumer Confidence Index shows. The picture remains cautiously optimistic following on from scores of 113.1 in November and 112.9 in December.
YouGov and Cebr's data show that more people are still optimistic than pessimistic about their economic situations and that UK consumer confidence seems to have entered a holding pattern in light of the upheavals in the global economy as they wait to see which way things go.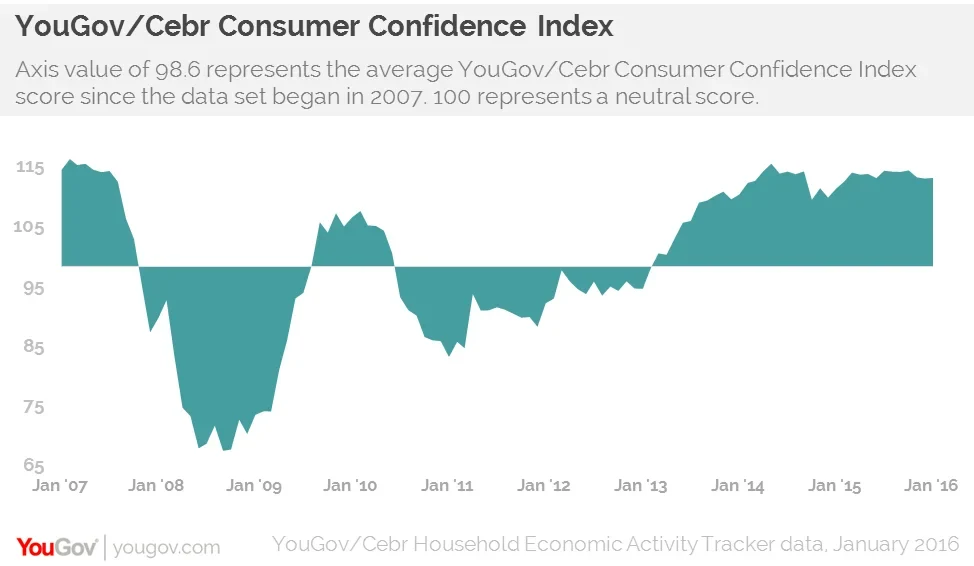 The figures show there has been minimal movement within the eight measures that comprise the Index - with four improving by small amounts and four decreasing by small amounts.
Of the four backward-looking measures, which assess consumers' situations across the previous 30 days, three fell in January. One of the measures to have declined is Household Financial Situation, which fell for the fourth time in five months. Only the one looking at property value increased.
However, among the forward looking measures – which ask about consumers' expectations over the coming 12 months – three increased in January, and only the one looking at business activity in the workplace fell.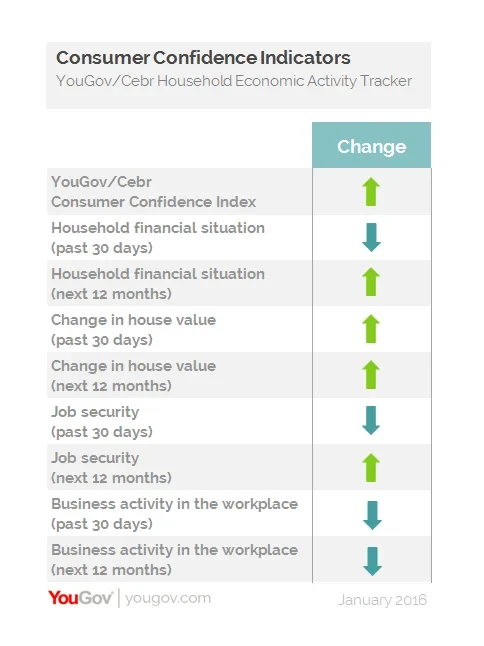 Stephen Harmston, Head of YouGov Reports: "Consumer confidence remains broadly positive. But there has been no real movement since November and at the moment it is being propped up by a mix of faith in the future and the property market. Should the forecast economic slowdown affect the property sector in the UK in coming year we could see the whole situation change for the worse rapidly, but for the time being UK consumers are holding steady."
Scott Corfe, Director at the Centre for Economics and Business Research: "The recent stutters in financial markets have not yet dented overall consumer confidence. People seem to have adopted a "wait and see" approach to their own personal financial situations. Mark Carney's announcement about interest rate levels staying put should provide some reassurance to people when it comes to their household finances, and offset concerns about slowing activity in employee workplaces."
See more information about the Household Economic Activity Tracker
More information about YouGov Reports
Image from PA