While senior figures in FTSE companies and digital entrepreneurs strongly favour remaining in the EU, the views of small business more closely resemble the general public's
In the coming referendum support from British business for remaining in the European Union is often presented as a foregone conclusion. However new YouGov research suggests the business community is more fragmented on the issue than the views of heads of big banks and FTSE companies would have you believe. With small and medium enterprises (SMEs) accounting for 60% of all private sector employment in the UK and 47% of private sector turnover, if SME employees are influenced at all by their companies' or employers' interests regarding the EU then this is the cohort campaigners will want on their side when addressing the business aspect of the referendum.
Ahead of an event tonight held in association with Founders Forum (a network of leading digital and technology entrepreneurs) YouGov has spoken to three distinct types of businesses to gauge their attitudes to the forthcoming EU referendum: large companies (FTSE 100 and FTSE 250); digital entrepreneurs (with a typical company size of 25 employees); and small and medium-sized businesses.
While large companies and digital entrepreneurs strongly favour remaining in the EU, among SMEs the story is more similar to what we've found with the general public. Of the 501 owners and managing directors surveyed, 47% are in favour of staying in the EU while 42% want to leave – when YouGov last asked the general public on December 18, 41% said they would vote to remain and 42% said they would vote to leave.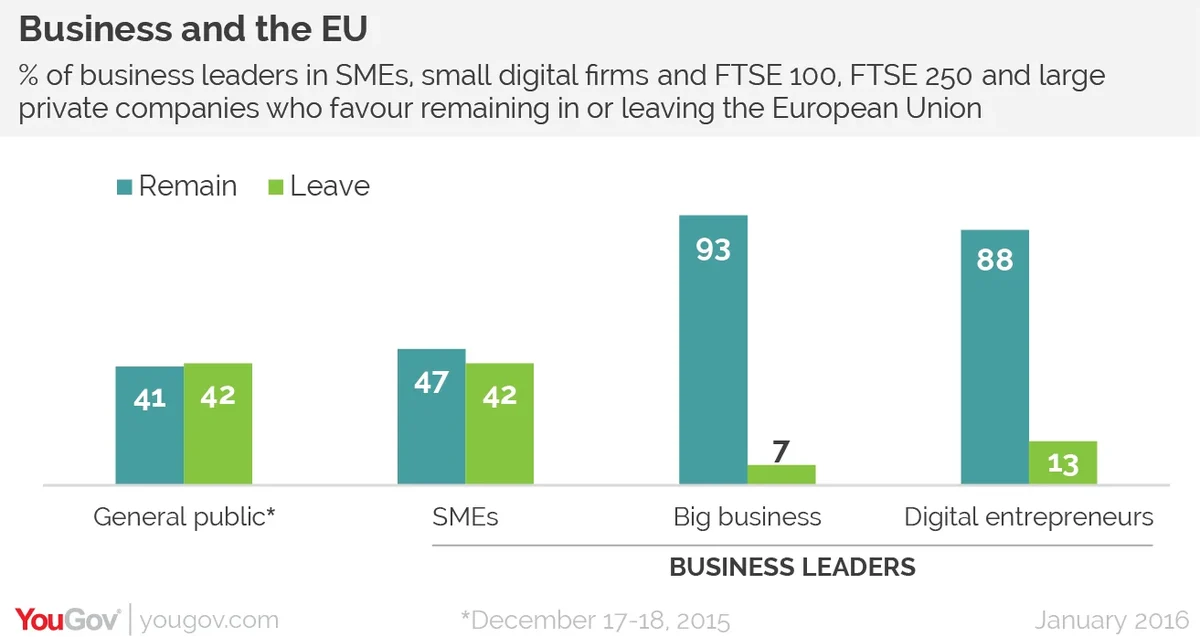 And the smaller the company, the less likely they are to support continued membership – although companies of all sizes arre more in favour of remaining than leaving.
Among senior business leaders in the 'big business' group – leaders from 11 FTSE 100 organisations, three FTSE 250s and two larger private companies – all but one support staying in the EU, although only five of these companies has an official company view. Among the two private companies, one was for staying in and the other for leaving. This equates to 93% of big businesses being in favour of remaining in the EU and only 7% in favour of leaving.
Of the 42 digital entrepreneurs, 88% support remaining in the EU and 12% want Britain to leave. And by ten to one they believe Britain's position as a global tech gateway would be negatively affected by Brexit, with two-thirds also believing it would adversely affect their company's ability to attract talent. Jonathan Goodwin, co-founder of Founders Forum, said "There is real concern that a decision to leave will undermine the incredible progress British founders... have made in the global digital space - in particular by attracting European businesses to set up, and create jobs, here."
Speaking to British business leaders at the World Economic Forum in Davos, George Osborne pledged to flesh out the alternatives to Britain's membership of the EU when the referendum debate starts. He said that while he understands companies might be "shy" in speaking out about Europe, "business will have a big role. I would encourage you all to be active in that debate".
In addition to answering poll questions, YouGov asked SME leaders to describe their views on the coming referendum:
"It will be a financial disaster to leave. How anyone can think that an isolated UK could do effective trade agreements with India, China, Russia etc. is a joke. Try asking a dairy farmer negotiating with a supermarket."
"I think the original economic purpose of the union has been subsumed by a political agenda which I don't agree with. I think predictions of economic disaster if we leave are just scaremongering."
"The European Union has created some huge obstacles to small business, such as clumsy regulations for sellers of electrical equipment such as myself (and no clear ideas of how to comply with the regulations). Free movement of people across borders is also now out of hand."
In the coming months YouGov will look at how other types of businesses view the impending referendum. In the meantime verbatims from the major business respondents, including leaders from HSBC, Diageo, Hiscox and Centrica can be found here.
See the full results and methodology