Net support for RAF air strikes within Syria has fallen 31 points in just over one week – and now a majority of Labour voters oppose
MPs voted in favour of extending RAF air strikes against ISIS from Iraq into Syria this week with a firm majority of 397 votes to 223, after a ten-hour debate concluded by an impassioned speech from shadown foreign secretary Hilary Benn, said to have moved some MPs to tears. During the debate Jeremy Corbyn, who failed to convince 66 of his MPs to join him in opposing military intervention, warned that public opposition was growing: "the Prime Minister understands that public opinion is moving increasingly against ... war. He wants to hold this vote before opinion against it grows even further."
New YouGov research conducted from December 2-3 – partly before and partly after the December 2 vote – reveals that while public opinion is still narrowly in favour of air strikes opposition has in fact grown again.
Support had remained roughly constant between September 16 and November 24, at between 58% and 60%, however it began to slip thereafter. At net +39 on November 24 it fell to +31 on the 27th, +17 on December 1 and to only +8 on December 3.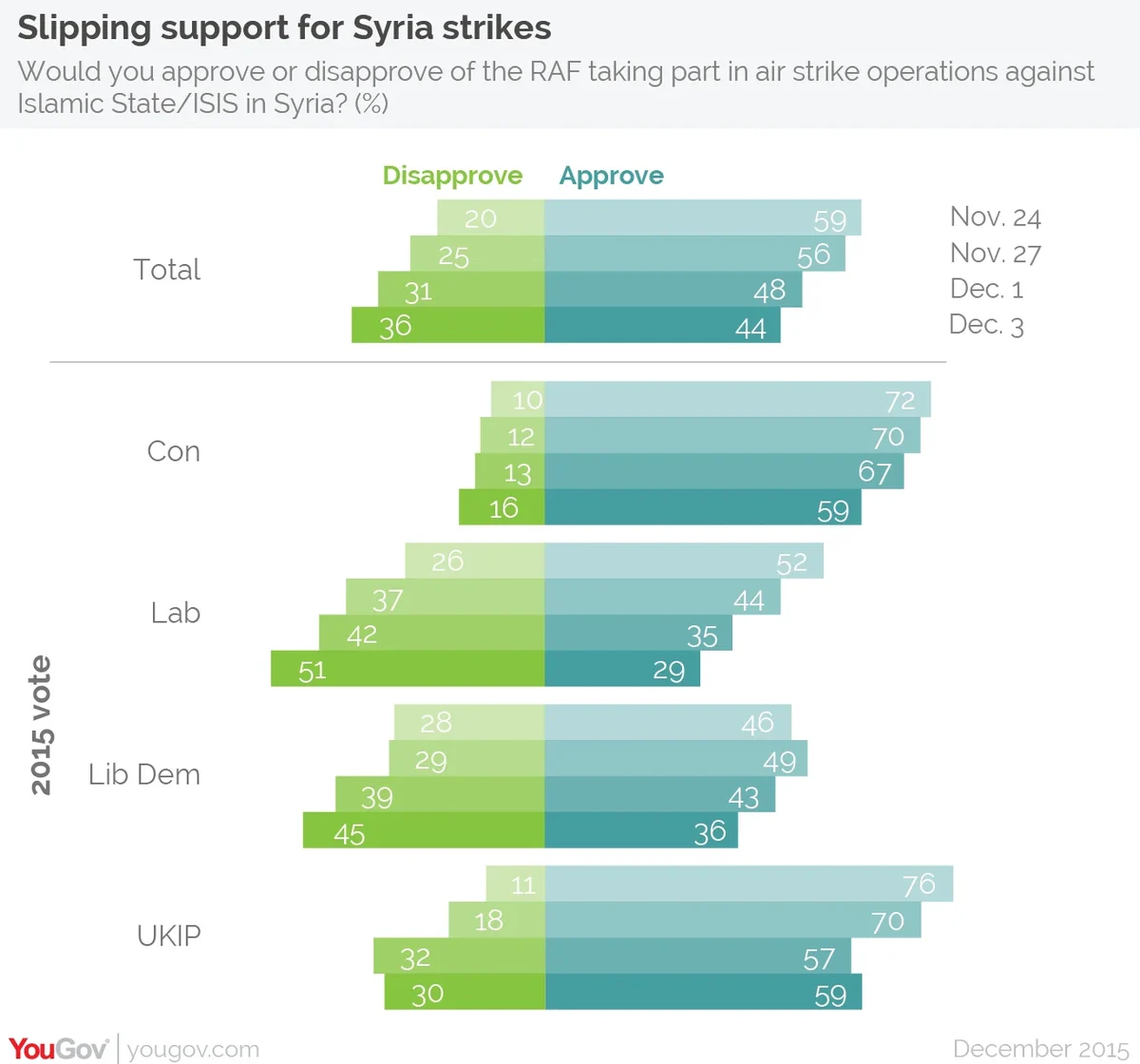 Labour voters have had the most noticeable change of heart, with net support falling fully 48 points since November 24, but although a majority of UKIP voters are still in favour of air strikes net support among them has suffered a 36 point decline.
The gap between men and women has narrowed slightly, but remains large – 52% of men support air strikes on ISIS in Syria, while only 35% of women feel the same way.
RAF Tornado jets carried out their first strikes against ISIS in Syria hours after the Commons vote, 'successfully' hitting the IS-controlled Omar oil fields in eastern Syria. Britain has since doubled the number of fighter jets at RAF Akrotiri in Cyprus to 16, while Germany has approved non-military engagement in the conflict, sending Tornado jets for reconnaissance, a naval frigate and 1,200 soldiers, who will help to train Kurdish Peshmerga forces who are fighting ISIS.