British people are less likely to want to play a leading role at the Paris climate change conference than other European countries – and are more concerned about the effects on wildlife than on humans
Negotiators from 195 countries began talks yesterday to agree new targets to limit carbon emissions and ensure global warming does not rise 2C above pre-industrial levels, the threshold beyond which scientists predict dangerous changes to the climate system. US President Barack Obama has said the UN climate conference in Paris could be a "turning point" in human efforts to curb global warming, however an assessment of the action plans submitted to the summit suggest that even with their implementation the world would see a temperature rise closer to 3C. The target itself is controversial – smaller island states have called for a lower limit of 1.5C, while larger developing countries are opposed to any limits – but many of the major powers appear to share good will.
New YouGov research across seven European countries and the US finds a tepid attitude among British people to Britain playing a leading role at the conference.
42% of British people say Britain's strategy should be to set ambitious targets to address climate change as quickly as possible, which is greater than the 31% who say we should take a more moderate approach and support only gradual action. But this is the second smallest percentage for playing a leadership role out of the eight countries surveyed – tied with the US. Americans (16%) are the most likely to say they should not agree to any international climate change agreement at all, however.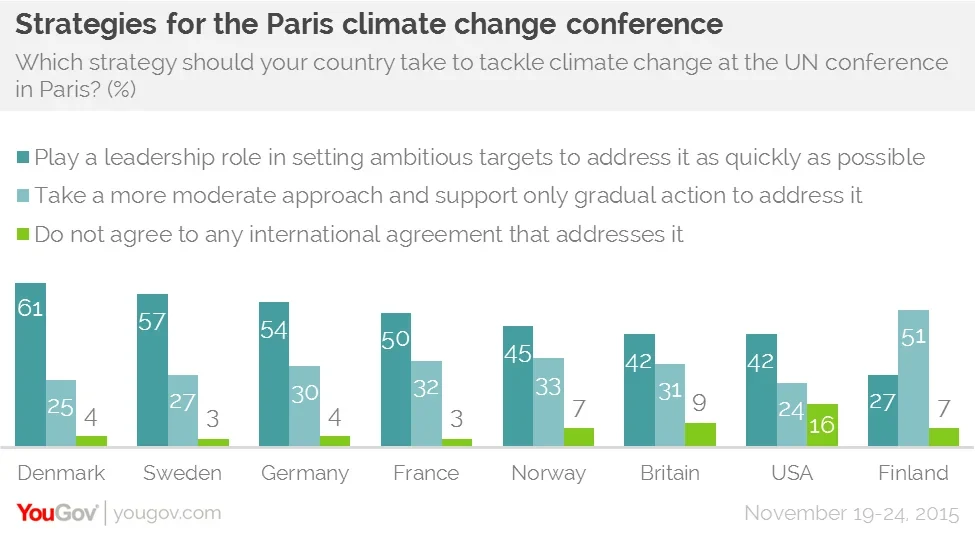 A significant proportion of the British public are sceptical that man-made climate change even exists. A YouGov Profiles analysis of over 73,000 British people reveals that 30% are fairly (21%) or very (9%) doubtful, while 62% are confident humans have caused climate change.
And whereas in the Nordic countries the greatest concern for how climate change will effect their countries is its impact on future generations (chosen by at least 46% in Norway, Finland, Sweden and Denmark), in Britain the factor chosen by the largest group is loss of wildlife, for example bees, insects and birds (chosen by 39%).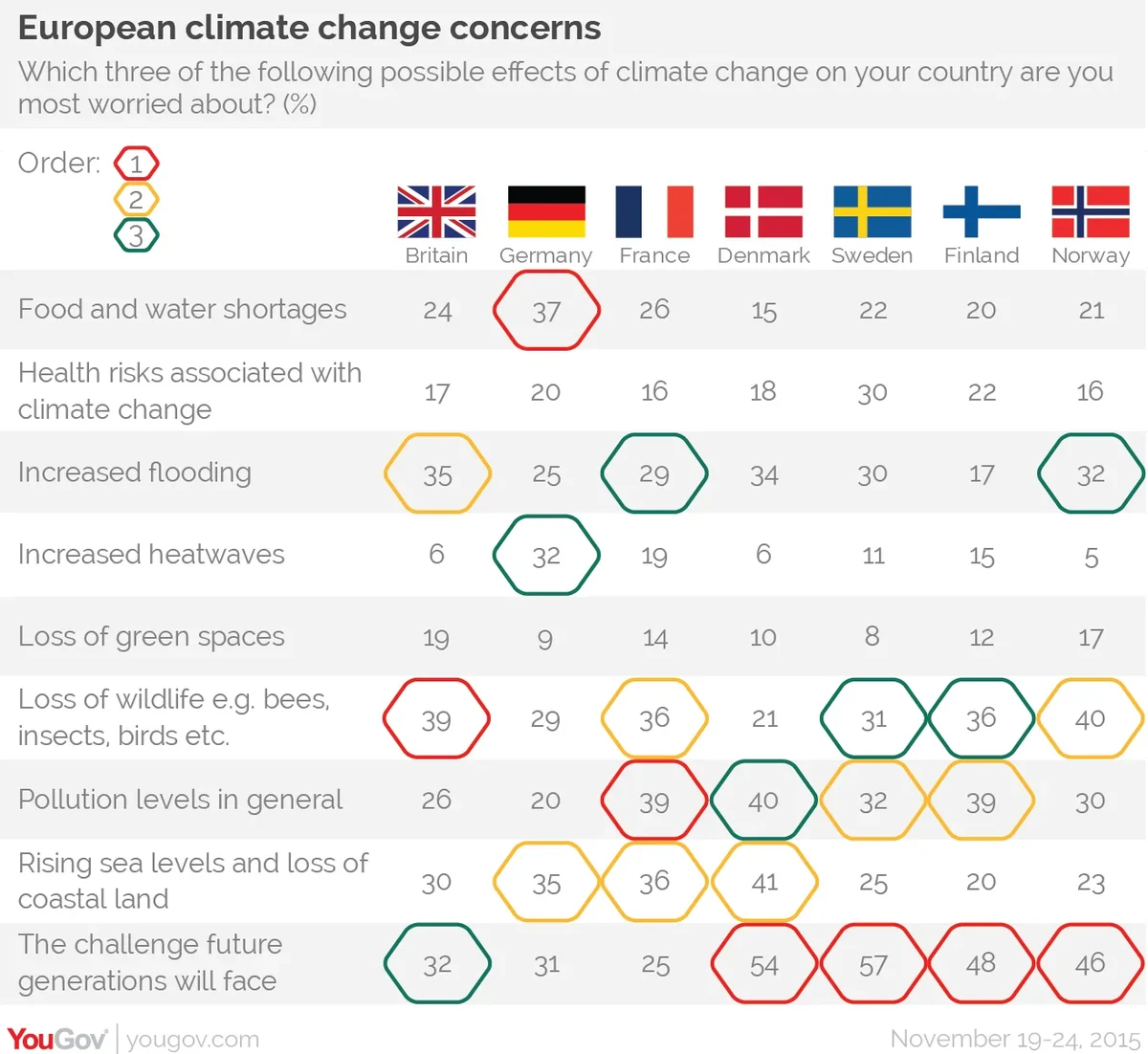 The loss of pollinating insects such as bees would have a damaging effect on Britain's ability to produce food, but their decline is due to the use of pesticides, habitat loss and farming and beekeeping practices as well as the impact of climate change.
British people are also less likely than most countries to be concerned about pollution levels, and are the most likley to be concerned about the loss of green spaces.
Barack Obama has called holding the climate change meeting in Paris after November's terrorist attacks an "act of defiance". "We have come to Paris to show our resolve... to protect our people, and to uphold the enduring values that keep us strong and keep us free. We salute the people of Paris for insisting this crucial conference go on", he said.
Recent research by YouGov in the US has found that most Republican voters (56%) either believe the world's climate is changing but not because of human activity (40%) or do not believe the world's climate is changing at all (16%).
PA image
This article was amended on 03/12/2015 to clarify the factors behind bee decline