Biggest month-on-month decline since June
Six of eight measures fall including all forward-looking ones
First time since 2010 that consumer confidence has dropped in November
Consumer confidence in the UK has fallen in the last month – the first time since 2010 that economic optimism has declined in November when it dropped following that year's Comprehensive Spending Review.
The YouGov/Cebr Consumer Confidence Index dropped by 0.7 points over the past month and now stands at 113.6 – its lowest figure since June. The decline follows a period where the headline consumer confidence figure has been broadly static. The question now is whether November's figures represent a blip or the start of a downturn.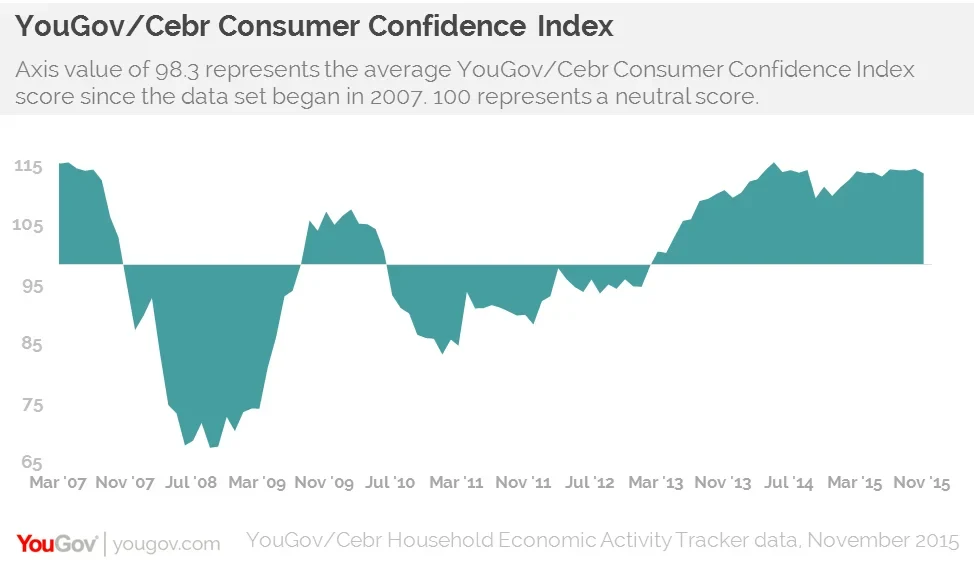 This month's decline in consumer confidence comes as six of the eight individual measures have fallen. The data, from YouGov's Household Economic Activity Tracker, shows that there is a particular pessimism about people's expectations over the coming 12 months. The forward-looking measures covering household finances, job security, house values and business activity in the place of work have seen the largest falls.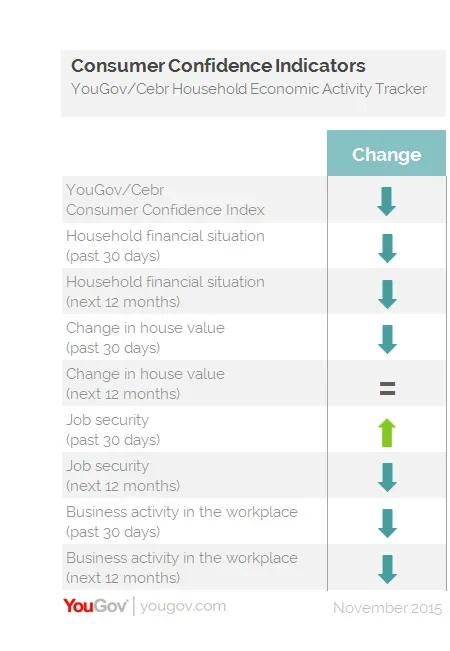 The only measure to improve in November is peoples' job security over the past 30 days. However, this score fell throughout September and October and its rebound this month simply means it is back where it was in the summer.
Stephen Harmston, Head of YouGov Reports: "The big question is whether this month's fall in consumer confidence is a blip or whether it is the start of a downturn. After the Comprehensive Spending Review in 2010 we saw the Index fall by almost ten points over the following months. However, the reaction to this week's announcements may be more positive especially in light of the boost to housing and the u-turn on tax credits. However, the devil is in the detail and it is likely the public will only have a real sense of what is in store when the specifics are analysed in the months ahead."
Scott Corfe, Associate Director at the Centre for Economics and Business Research: "These are uncertain times for UK consumers. The economic picture is still quite blurry with any positive news – such as encouraging employment figures –usually matched by an unwelcome development – like the increase in the UK's budget deficit in October. This flux is perhaps reflected in November's consumer confidence measures with many people growing more worried about the future. Consumer confidence is still relatively high, but it is not without its fragilities."
See more information about the Household Economic Activity Tracker
More information about YouGov Reports
Image from PA