Research from seven European countries reveals perceptions of Europe's handling of the refugee crisis - and how language affects sentiment towards refugees
European leaders approved a deal to enforce migrant quotas this week, agreeing to distribute 120,000 people between them despite opposition from Hungary, the Czech Republic, Slovakia and Romania, while Britain has refused to take part in the scheme. The defeated eastern European countries expressed resentment at what they felt was bullying from western European nations, particularly Germany, and saw the ruling as a violation of national sovereignty.
New YouGov research across seven European countries reveals that Hungary, which has strongly opposed housing refugees from the current crisis, building fences and using teargas against them, is considered as having dealt worst with the situation. On average it scores net -33 for its handling while Britain ranks among the worst with net -15, behind only Hungary and Greece (-16).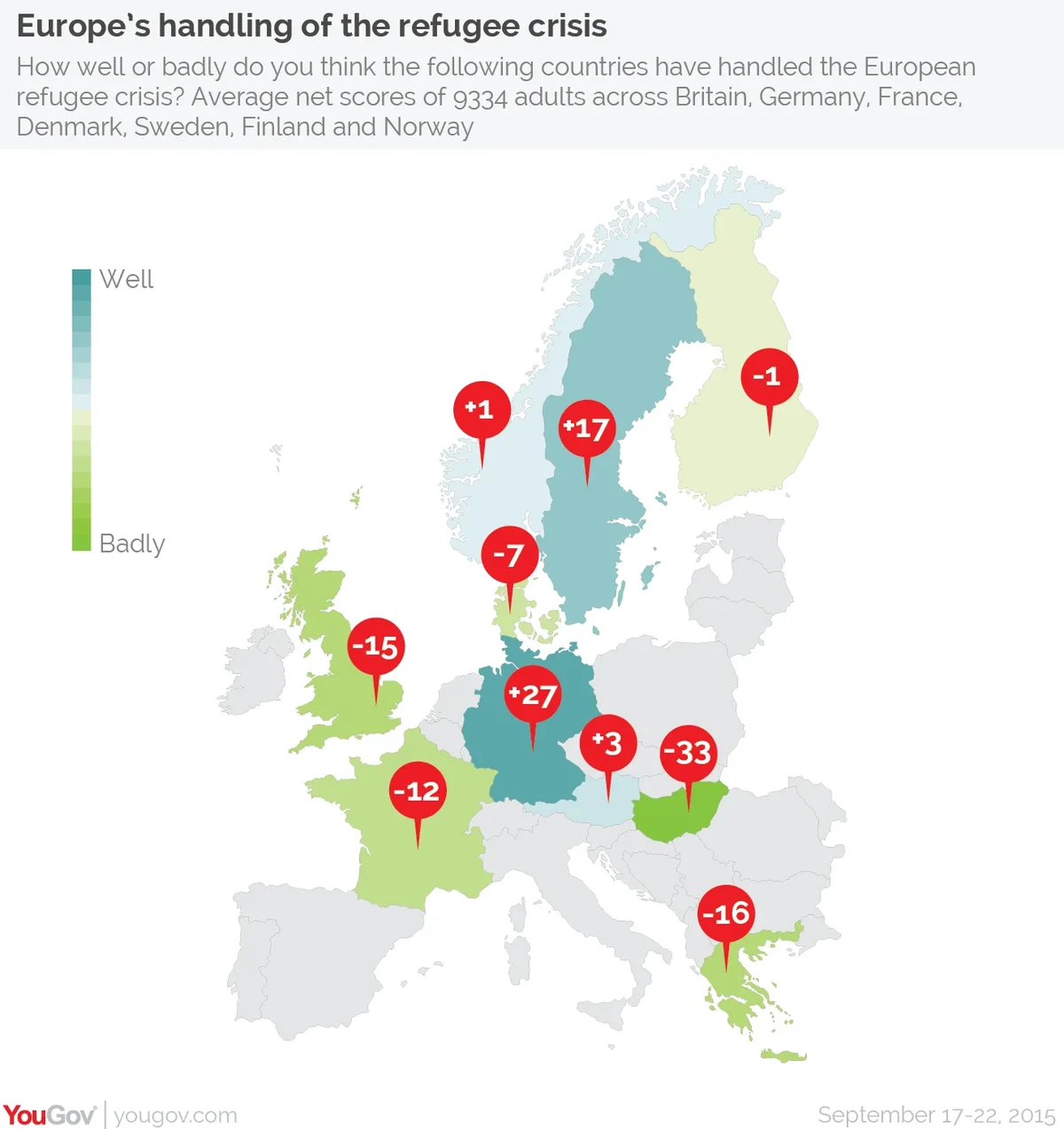 Germany, which is expected to have taken 800,000 refugees by the end of the year, is seen as having handled the crisis best (+27) and most of its own population (54%) agree it has handled things well. In Britain 27% say the country has dealt well with the crisis while 35% say it has done so badly.
There has been much criticism of the media for describing the displaced people as 'migrants' when their position involves leaving war-torn countries and escaping persecution rather than freely looking for work. YouGov's research confirms that the choice of language does have some effect on people's willingness to accept people affected by the crisis into their country.
In Britain when the term 'migrants' is used to describe those affected 56% say fewer should be accepted. When the term 'refugees' is used this drops to 49%, and when 'people fleeing terror and persecution' is used 43% say we should accept fewer.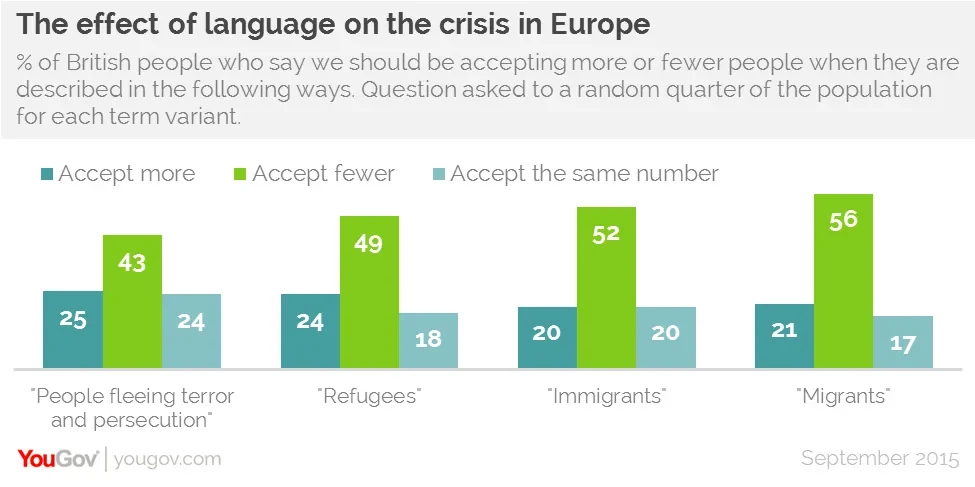 Each country has its own concerns about accommodating refugees and some have been less welcoming than others, but the main emotions felt are primarily of sadness rather than indifference. In Germany the emotion used by most people to describe feelings towards the crisis is fear. In Britain it is sadness.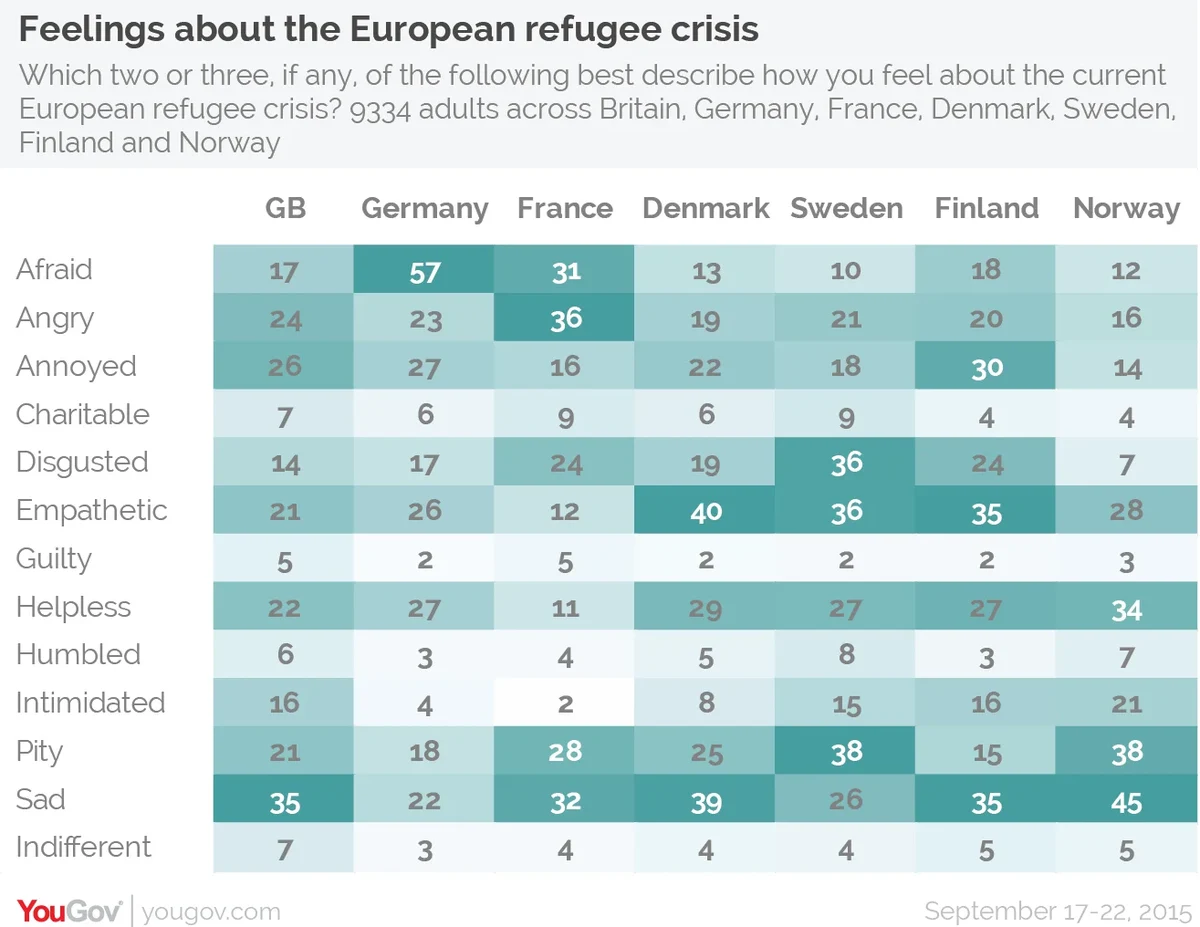 Hungary has proposed its own solution to the crisis - each of the 28 EU member states would contribute 1% of its income from the Union, plus 1% of its contributions to it, into a fund to improve conditions in refugee camps in countries neighbouring Syria and strengthen Europe's borders. The Hungarian prime minister wants to focus attention on tackling the crisis outside of Europe, rather than distributing refugees within it.
PA image