Post-Budget boost to Chancellor
Six of eight consumer confidence measures improve
But forward and backward-looking household financial situation measures fall amid talk of interest rate rise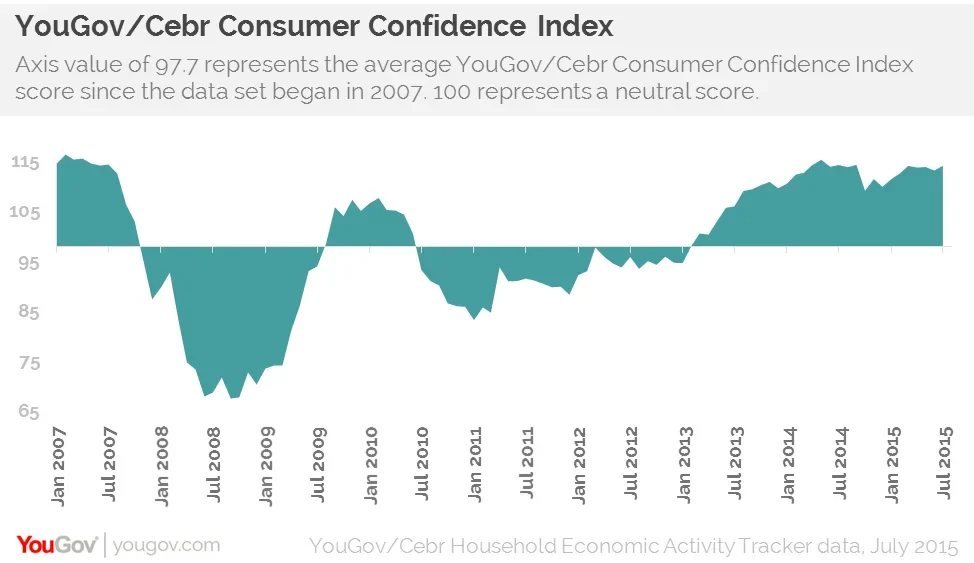 Following the post-election Budget, consumer confidence in the UK has risen in July new research from data firm YouGov and the Centre for Economics and Business Research shows.
The YouGov/Cebr Consumer Confidence Index has increased to its highest level since September last year and now stands at 114.0 – an increase of one point on June. The data, from YouGov's Household Economic Activity Tracker, show that six of the eight measures which comprise the Index have increased. These are the backward and forward-looking figures for job security, business activity and house values.
However, amid talk of a rise in interest rates there has been a slight decline in people's household financial situations both in terms of what they have experienced over the past 30 days and what they expect over the next 12 months.
When looking back over the past month, 18% of consumers believe their household financial situations have got worse (up one percentage point on last month) while 10% think they have improved (down one percentage point). When looking ahead to the next 12 months, 23% reckon their situations will be better (a decrease of one percentage point) while 28% believe they will worsen (a one percentage point increase on June's figure).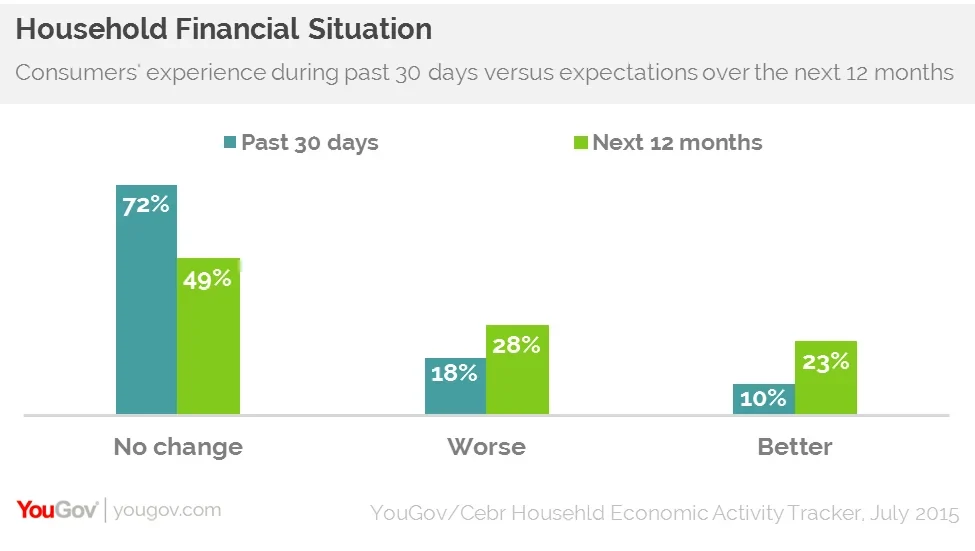 Stephen Harmston, Head of YouGov Reports: "It is now three weeks since the Budget and these figures suggest that consumers have a mixed initial reaction to the Chancellor's statement. Many now feel more secure in their jobs, more productive in their workplace and, among homeowners, confident that the property market will continue to prosper. However, there is a cloud to the silver lining with a chunk of the population being less convinced by their household finances since the Budget."
Scott Corfe, Associate Director at the Centre for Economics and Business Research: "The latest increase in consumer confidence suggests that a rate rise from the Bank of England is approaching. Job security is on the rise on the back of improving pay, which should support strong growth in consumer spending. In step with this, workers say that they are being more productive. Home owners think property prices will continue to increase, and the housing market may start to overheat without a tightening of monetary policy. We think a rate rise in early 2016 is most likely."
Find out more information about the Household Economic Activity Tracker
Image from PA