As part of a global study from YouGov, it has been revealed that over a third of people in the UK are unhappy with their own weight and body image, although those in the oldest age group are by far the happiest.
The study captured the body image happiness of people in 25 countries around the world. In Britain, over a third (37%) said they were either not very happy or not happy at all with their body image and weight. 59% said they were happy.
There is a gender split. Woman are far more likely to be unhappy with their body image. Over four in ten (44%) are not happy, compared to 53% who are. Men seem to be a little bit more comfortable in their own skin – 66% are happy compared to 31% that are not.
Does loving your body begin at 60? Certainly the sexagenarians in our poll liked their bodies more than other age groups. Almost seven in ten (68%) of 60+ are happy, compared to 52% of 25-39 year olds.
What about the rest of the world?
While a fair number of people are unhappy with their bodies in the UK, people are more positive elsewhere. Of the twenty-five countries surveyed, Indonesians are the most positive about their body image overall, with more than three quarters (78%) claiming they are happy with their body weight and shape. Residents from Saudi Arabia (72%), Oman (70%) and Qatar (70%) are the next happiest with their body image overall.
However, those in Hong Kong are the least happy, and it is the only country where net happiness is below half (49%).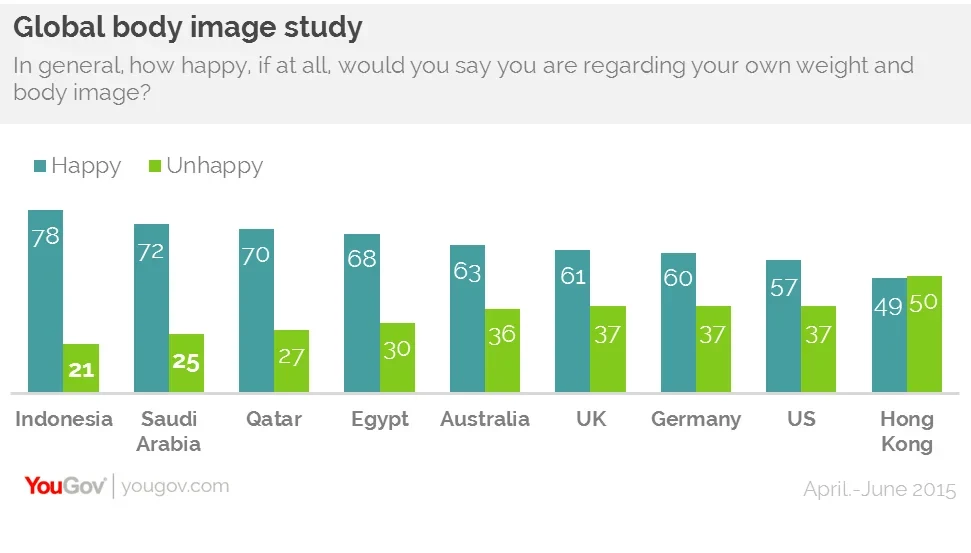 Celebrity Culture
So what is the cause of so many people being unhappy with their weight? According to our global respondents, celebrity culture is one of the areas of blame. In the UK, almost three quarters (74%) say that celebrity culture has a negative impact on women's perception of their bodies, while the same number say it effects young people in the same way. Overall, in seventeen of the twenty-five countries surveyed more than half of responders think that celebrity culture has a negative impact on young people.
The countries surveyed in the Middle East and Asia Pacific have a more positive view of the impact of celebrity culture on young people. Around a third in the UAE (34%) and Qatar (31%) think celebrity culture can have a positive effect, along with 41% in mainland China and over one in three (34%) in Malaysia and Thailand.
Image PA