A survey of seven European nations reveals considerable support for Greece leaving the eurozone, and there is a general expectation that it will happen anyway
Late-night negotiations between Greece and its international creditors have failed to produce a deal, with time quickly running out. The European Commission and the International Monetary Fund (IMF) want Greece to agree to more austerity, something Greek PM Alexis Tsipras and his government adamantly oppose. The alternative to a deal is probably that Greece defaults on its debts, something that could lead to Greece exiting the eurozone, the so-called 'Grexit'.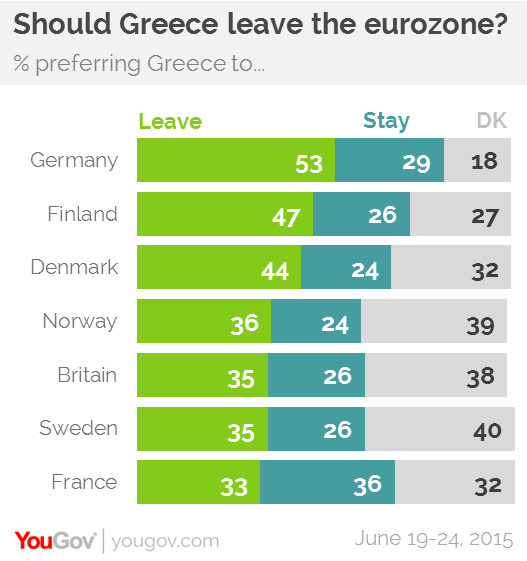 The latest YouGov EuroTrack survey finds that many in Europe are on balance supportive of Grexit. However only Germans back Greece leaving the eurozone by a majority, with 53% in favor and 29% against. Seven countries in Northern Europe were surveyed, including six members of the EU and three countries in the eurozone.
Outside of Finland, where 47% back a Grexit, support is generally much lower. In Britain only a third (35%) of voters want Greece to go, though that's more than the 26% who want them to stay. The French public are essentially divided on the issue, with 33% in favour of Grexit and 36% against.
The undecided camp is sizeable in several countries, particularly those that do not use the euro – 38% in Britain are unsure where they stand, along with 40% in Sweden and 39% in Norway, the only non-EU member surveyed.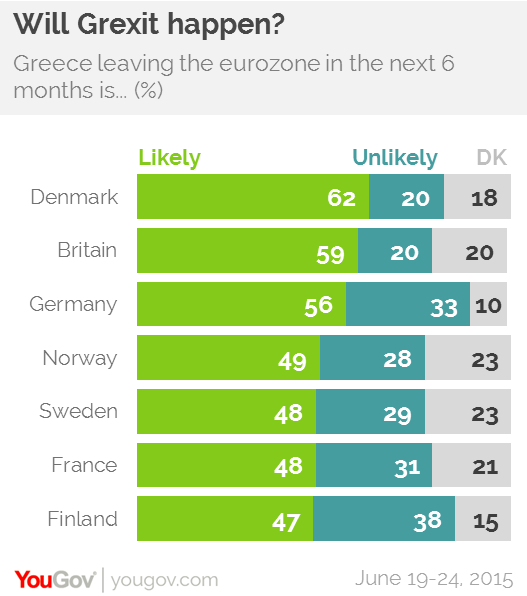 There is more agreement about whether Grexit will actually happen. In each country, more say its likely than not that Greece will leave the eurozone. This includes the majority of people in Denmark (62%), Britain (59%) and Germany (56%).
In 2011 and 2012, in the depths of the eurozone crisis analysts believed a Greek exit might cause a catastrophic chain reaction, pushing the eurozone's most vulnerable economies to default and leave the currency union. Now it is largely thought the worst effects of a Grexit on Europe could be contained, but the situation remains unpredictable.
In YouGov's January EuroTrack survey people in these same seven countries already leaned towards the idea that it would be good rather than bad if Greece left the eurozone.
PA image