Six years after it was announced, voters are ready for the official report on the 2003 Iraq War to be released – even if they doubt its credibility
The release of an official report on the 2003 Iraq war will be delayed until ofter the May 7 general election, angering MPs. The report, known as the Chilcot inquiry for its chairman, Sir John Chilcot, is six years in the making and has cost £9m to produce. David Cameron has written a letter to Sir Chilcot expressing his disappointment, while Nick Clegg has speculated that the delay is evidence of the findings on the Britain's involvement in the US-led invasion of Iraq is being "sexed down".
YouGov's latest poll for the Sunday Times reveals that the public share the frustration voiced by the prime minister and his deputy. Two in three voters (68%) believe it to be 'unreasonable' for the Chilcot inquiry report to take so long to be published. Only 15% think its reasonable wait for such an extensive undertaking.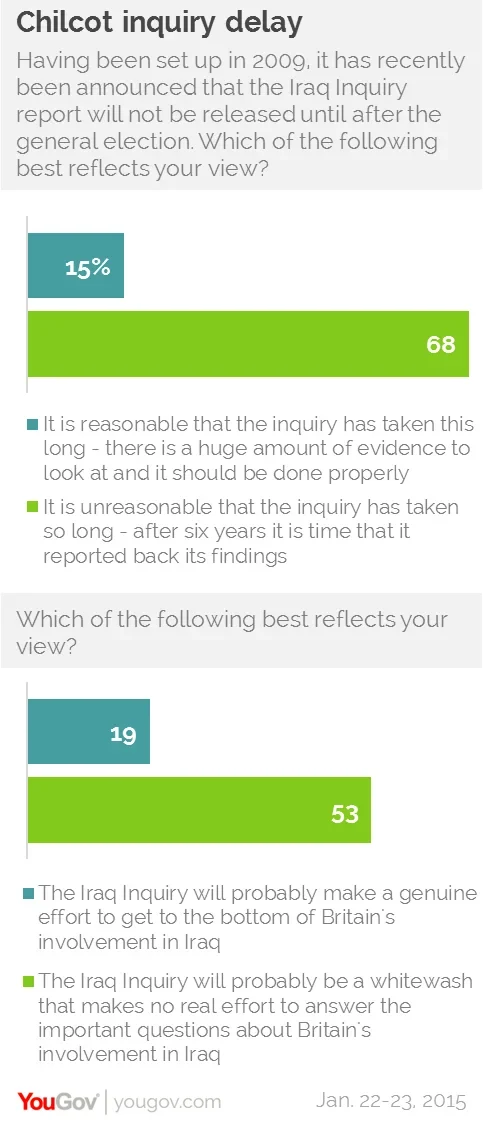 A majority (56%) think it would be appropriate for the report to be released before the general election, despite its potentially controversial content. This is the opinion of 75% of UKIP voters, 63% of Conservatives, 49% of Lib Dems and 45% of Labour voters. 31% of Labour voters say a pre-election release would be inappropriate, the most of any political group.
The inquiry's aim is to consider what happened in the runup to the conflict and its aftermath and to identify "the lessons that can be learned".
The report could bring up especially difficult memories for Labour, the party in power during the 2001-2009 period covered in the inquiry, though current party leader Ed Miliband was not an MP in 2003 and says he would have opposed the war. At the time, the Conservative party supported the invasion, but MPs have since argued they were misled on the intelligence used to justify the invasion. The Liberal Democrats opposed the war from the start.
Asked which party would be most damaged by the report's release, the public's verdict is clear: 65% say it would be Labour. Many voters are also strongly critical of the former Labour leader and prime minister, Tony Blair. 48% believe he "deliberately misled" the public about the war – and 24% conclude he should be tried as a war criminal as a consequence.
None of this is to say voters are confident the inquiry will achieve its aims. 53% say it's more likely it will be a "whitewash" than make a genuine effort to get to the bottom of Britain's involvement in Iraq. Notably, 35% of the public and roughly half of UKIP voters don't even think it's worthwhile to hold the inquiry at all.
PA image