Many Britons think our former empire is something to be proud of, but we are not the nation most likely to feel this way
As part of their general election manifesto the Labour Party last year pledged to ensure "historical injustice, colonialism and role of the British Empire is taught in the national curriculum".
Jeremy Corbyn said he wanted the history of colonialism – including the "unbelievable levels of brutality" committed in the slave trade – to be "part and parcel of what our children learn all year round".
It is often said that Britons have an overly, and uniquely, rose-tinted view of the Empire. But is this actually a uniquely British phenomenon?
A new YouGov survey compares attitudes towards former empires among the public in eight countries that used to have them: Britain, France, Italy, Spain, Belgium, Japan, the Netherlands and Germany (referring to the 1871-1918 German empire only).
How proud are people of their former empires?
While it is often said that Britons have a uniquely romantic view of their former empire, the results of the survey show that it is in fact the Dutch who are most proud.
Half of Dutch people say the old empire – of which Indonesia and part of South Africa were the most significant territories – is something to be more proud of than ashamed of, with another 37% saying they are neither proud nor ashamed. Only 6% believe the empire is something to be more ashamed of than proud.
Britons come second on the list, with 32% seeing our former empire as more of a source of pride than shame. This compares to 26% in France, 23% in Belgium, 21% in Italy, 18% in Japan, 11% in Spain and 9% in Germany.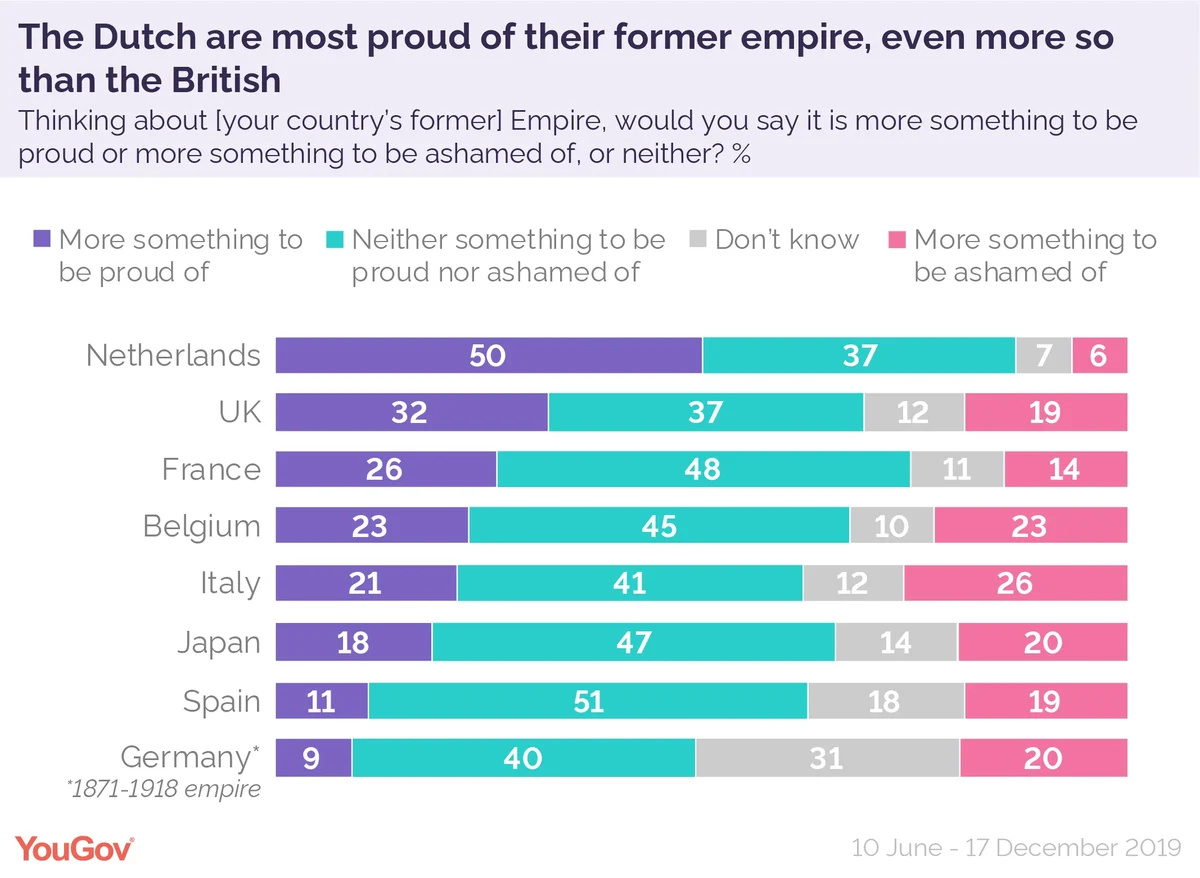 This is not to say that Europeans tend to be ashamed of their empires. The dominant emotion tends to be one of indifference – aside from the Dutch, the most common attitude towards their country's colonisations is one of neither pride nor shame. This figure is as high as 48% in France and 51% in Spain. Here in Britain it stands at 37%.
In fact few tend to be ashamed of their nation's imperial history. Outside of the Netherlands the figure falls between 14% (France) and 26% (Italy). About one in five Britons (19%) say they are more ashamed than proud.
How positive is the legacy of empire?
While the Dutch are substantially more proud of their empire than other peoples, they tend to be far more circumspect on whether their former colonies are better off for the experience.
Only about a quarter of Dutch people (27%) believe their old colonies are better off as a result of their presence. This puts them in fourth overall, behind the 33% of Britons, 32% of Japanese people and 30% of French people who think this.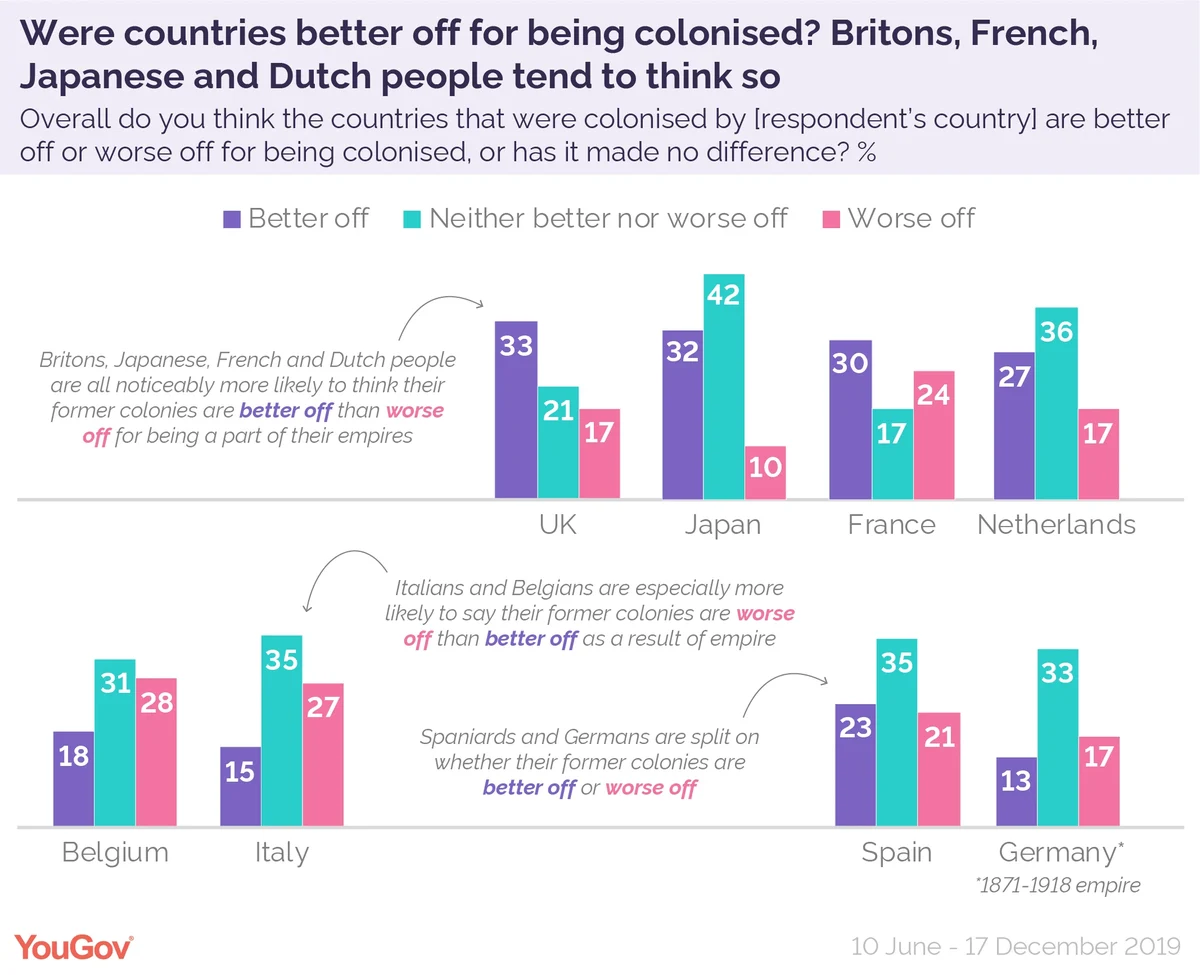 In all three of these countries people are more likely to think that their empire's presence was a positive than a negative for their old colonies. This gap is widest in Japan, at 22 percentage points (32% say the countries are better off, 10% worse off).
By contrast in Belgium and Italy people are noticeably more likely to believe their colonies are worse off as a result of the empire.
Who wishes they still had an empire?
Sizeable minorities in several of the countries long for their old empires. As many as a quarter of Britons (27%) and Dutch people (26%) say they would like their nations to still have imperial status. In Belgium this figure is 21%, and in France and Spain it is 17%.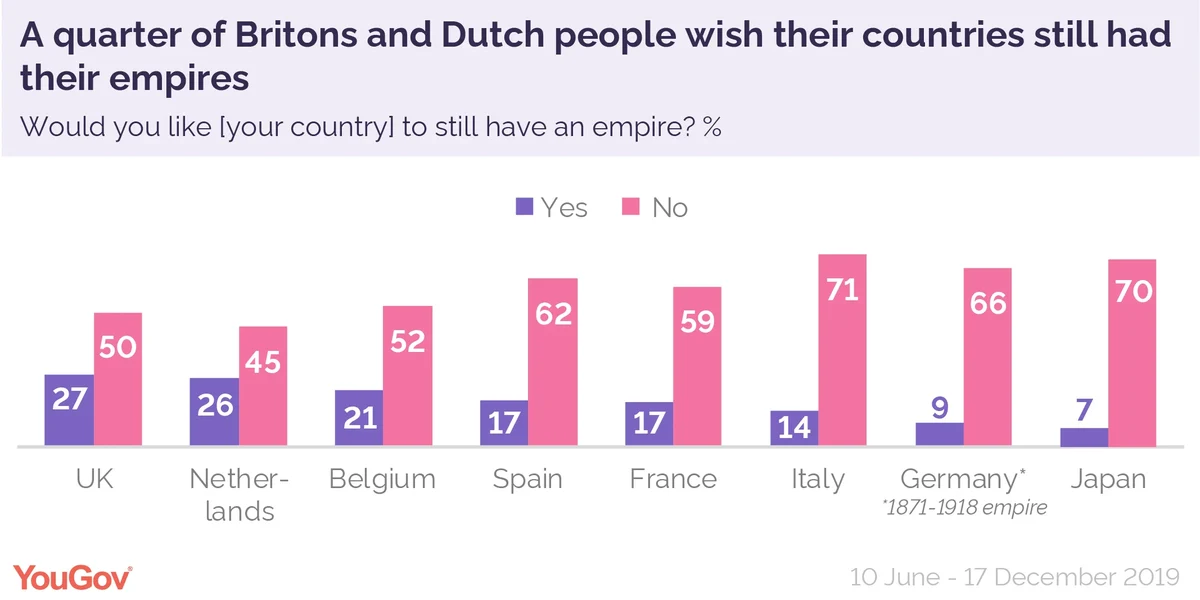 Nevertheless, people in all countries are far more likely to say they wouldn't want their countries to still have empires. Opposition is highest in Italy (71%), with 70% opposed in Japan, 59% in France and 50% in Britain. Only in the Netherlands is this figure lower than half, at 45%.
Voters are divided on the British Empire
Digging down into the British figures reveals that there is a deep political divide over the Empire between Remain and Leave voters (as well as Conservative and Labour voters, whose views almost identically match those of Leave and Remain voters respectively).
For instance, while 50% of Leave voters feel the empire is more something to be proud of, only 20% of Remain voters say the same. By contrast, only 9% of Leave voters tend to be more ashamed of the empire, compared to 30% of Remainers.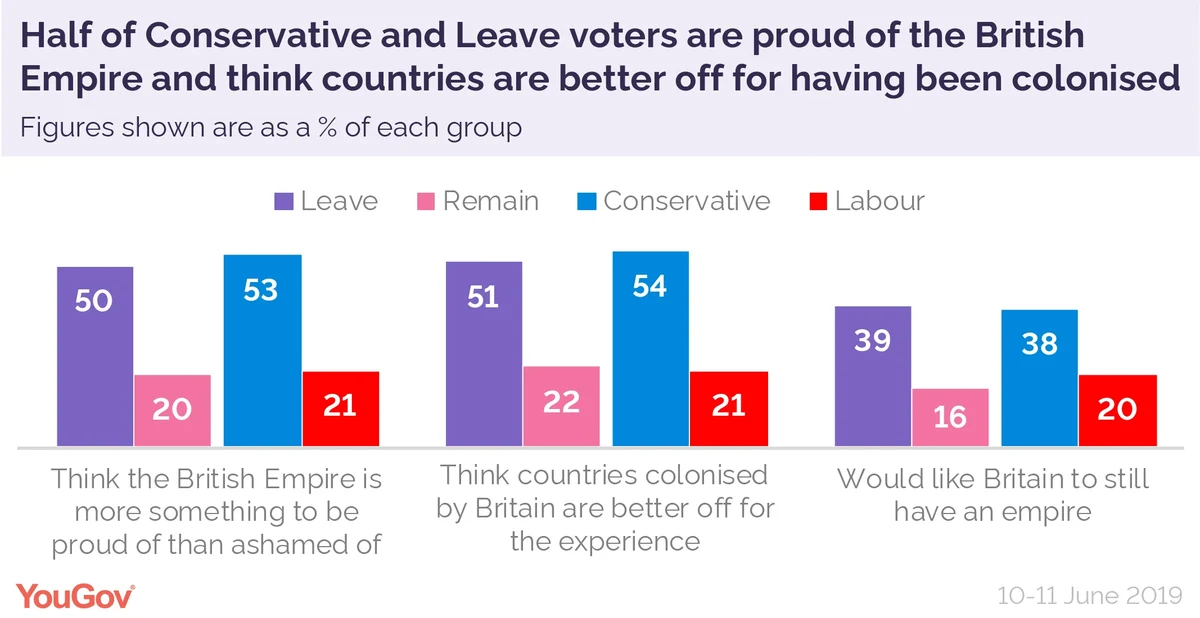 Similarly, 51% of Leave voters think Britain's former colonies are better off for their inclusion in the empire, compared to 22% of Remain voters. And while Remain voters don't wish the empire was still around by 66% to 16%, Leave voters are split with 39% wishing it was and 40% willing to leave it in the past.
Photo: Getty
See the international results here and the British demographic breakdowns here