Humanitarians are more globally admired than top world leaders like Barack Obama and Queen Elizabeth II, according to a new poll of 25,000 people in 23 countries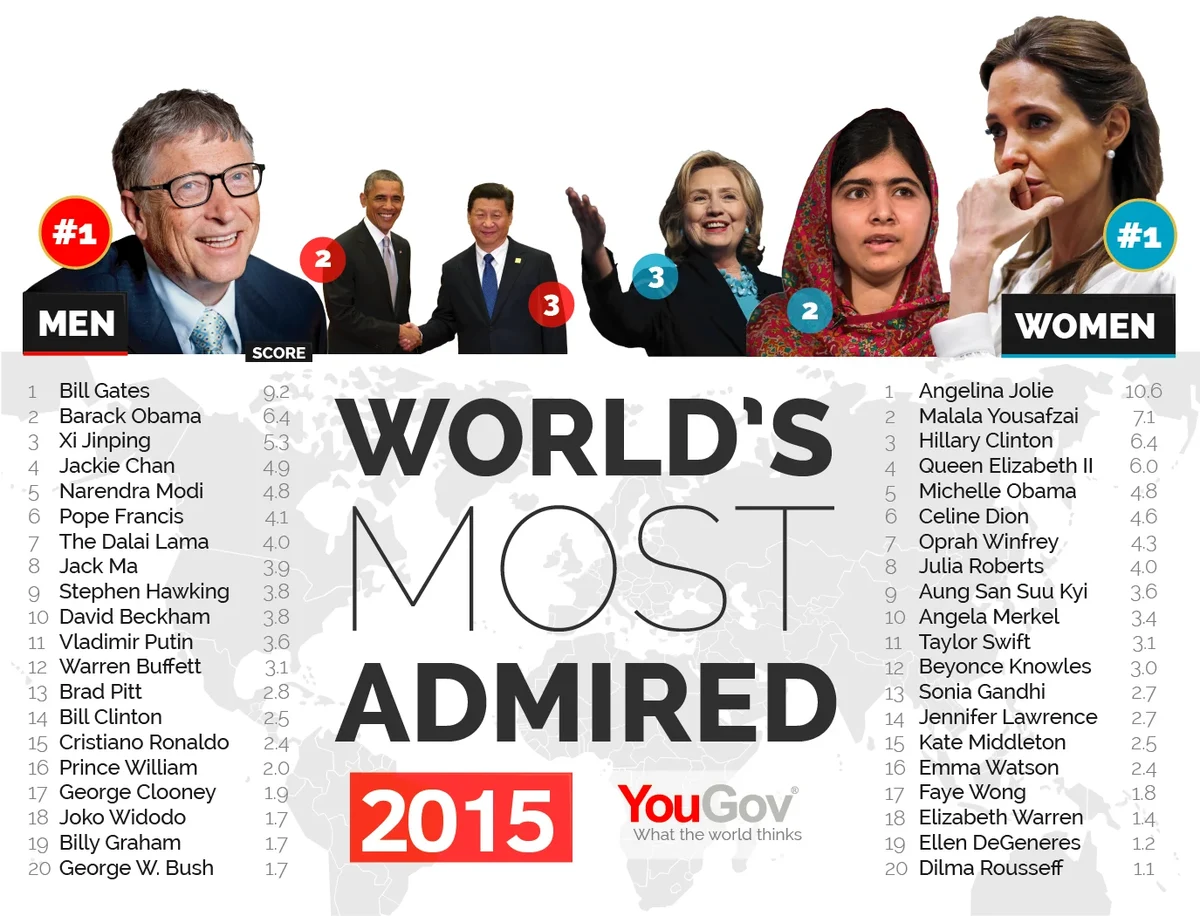 One made his name as co-founder of the largest software corporation in the world. The other made hers as a Hollywood superstar. Together, this massive study by YouGov can reveal that Bill Gates and Angelina Jolie are the most admired man and woman in the world.
Since retiring as chairman of Microsoft, Gates has donated billions of dollars of his wealth to causes like expanding educational opportunity and eliminating extreme poverty around the world, mostly through a foundation he founded with his wife, Melinda Gates. Jolie, who previously built a career as one of the highest-paid actresses in Hollywood, has also made a name promoting humanitarian causes, including serving as a Special Envoy for the United Nations High Commissioner for Refugees.
Lower on the list is a mix of world leaders, sports stars and other celebrities.
US President Barack Obama comes in second, but Chinese President Xi Jinping is close behind. Xi has a massive domestic fanbase as leader of the world's most populous country. He ranks highly only in China – while Obama places in nearly every country's top 10 – but it is nevertheless a sign of the rising prominence of the fast-growing country in the global picture.
Among the women, Pakastani education activist Malala Yousafzai comes second. Last year, the 17-year old became the youngest person in history to win a Nobel Prize (she won it for Peace). Former US Secretary of State Hillary Clinton comes in third – welcome news for someone who's reportedly interested in becoming the next leader of the free world. Britain's Queen Elizabeth II, the world's longest-reigning monarch, comes fourth.
Of course, admiration isn't only afforded to world leaders and humanitarians. Popular Hong Kong actor Jackie Chan scored highly across Asia, enough to make him the fourth-most admired man in the world – even ahead of Narendra Modi, the recently elected Prime Minister of India. Physicist Stephen Hawking, the subject of a recent Oscar-nominated biopic, comes in ninth. Footballer David Beckham comes in tenth, narrowly ahead of Russian President Vladimir Putin.
Celebrity is also a powerful source of admiration in the women's top 20. Singer Celine Dion and actress Julia Roberts are higher on the list than Myanmar politician Aung San Suu Kyi and German Chancellor Angela Merkel. The top 20 also includes Julia Roberts (8), Taylor Swift (11) and Beyoncé Knowles (12).
COUNTRY BY COUNTRY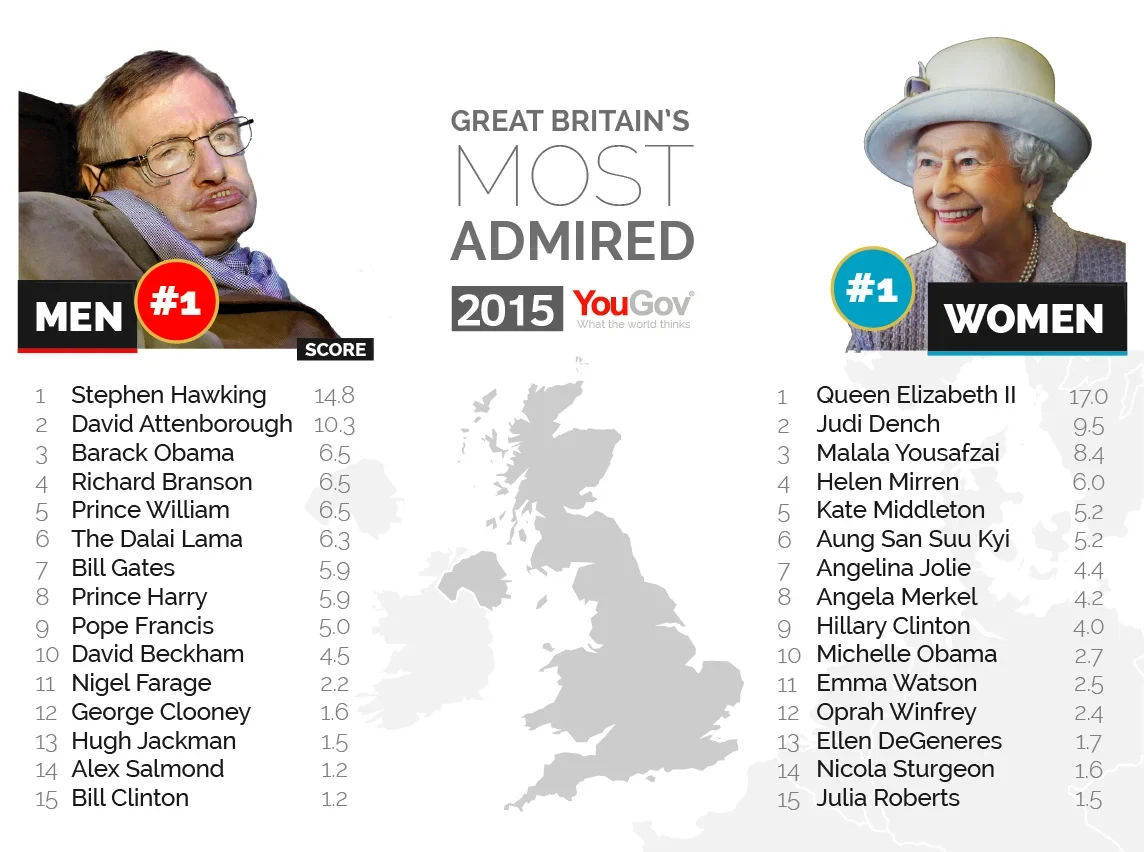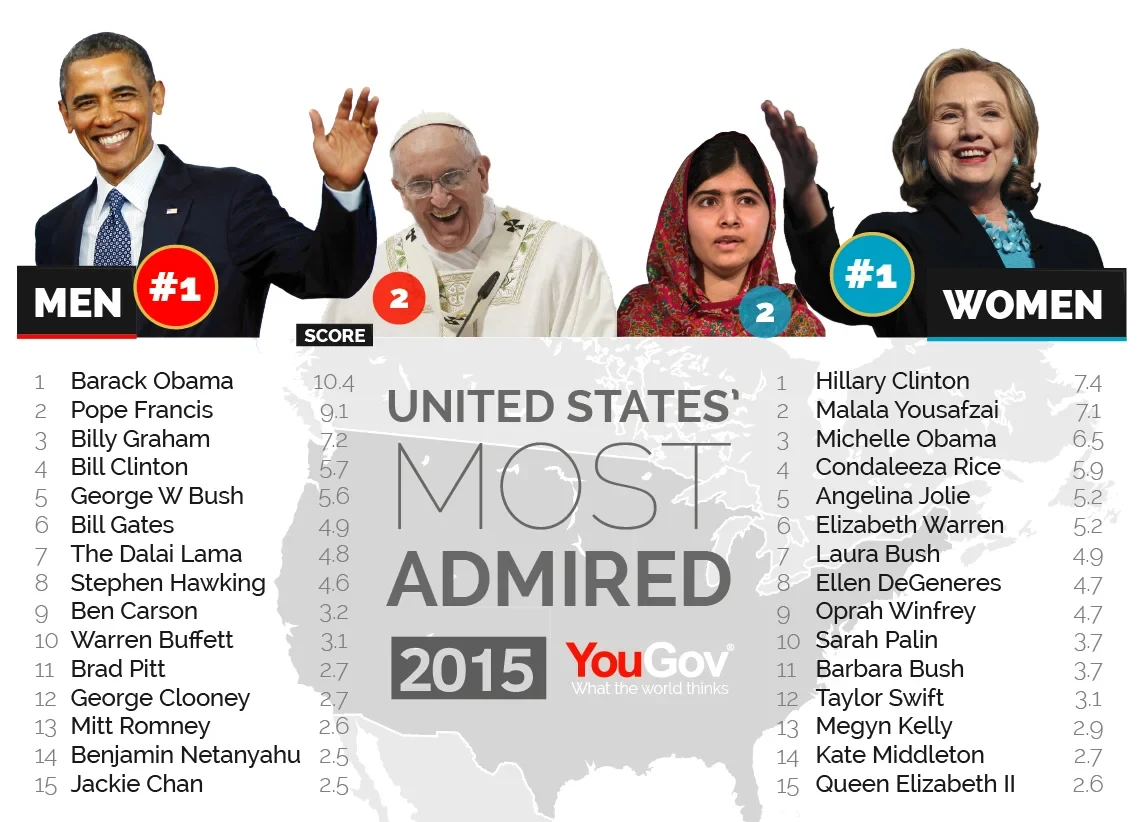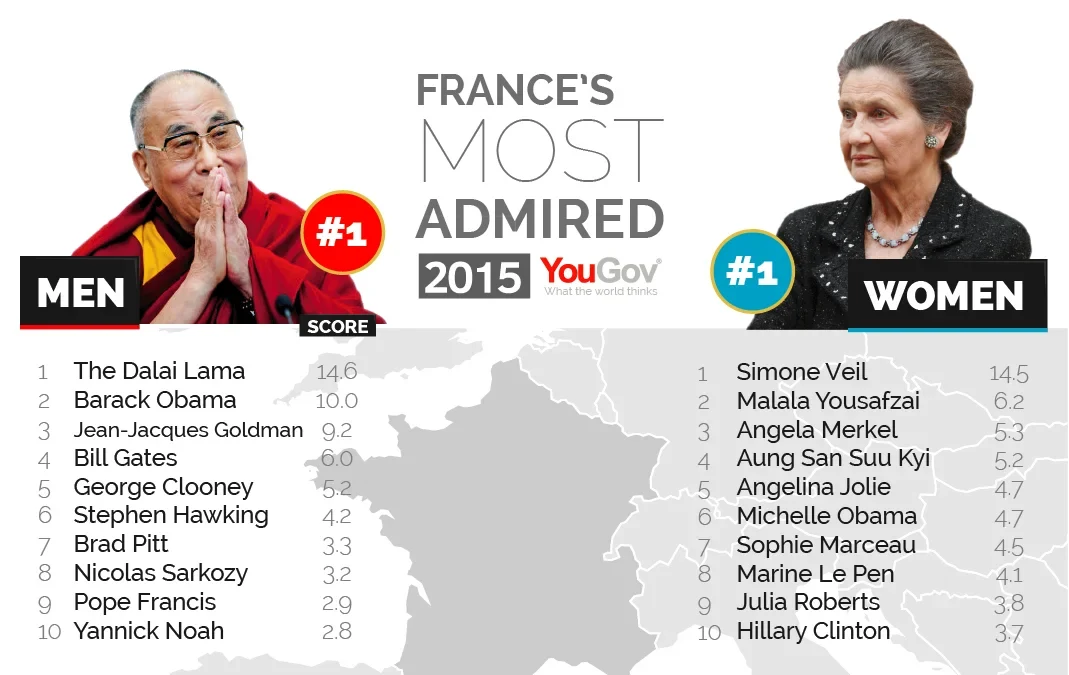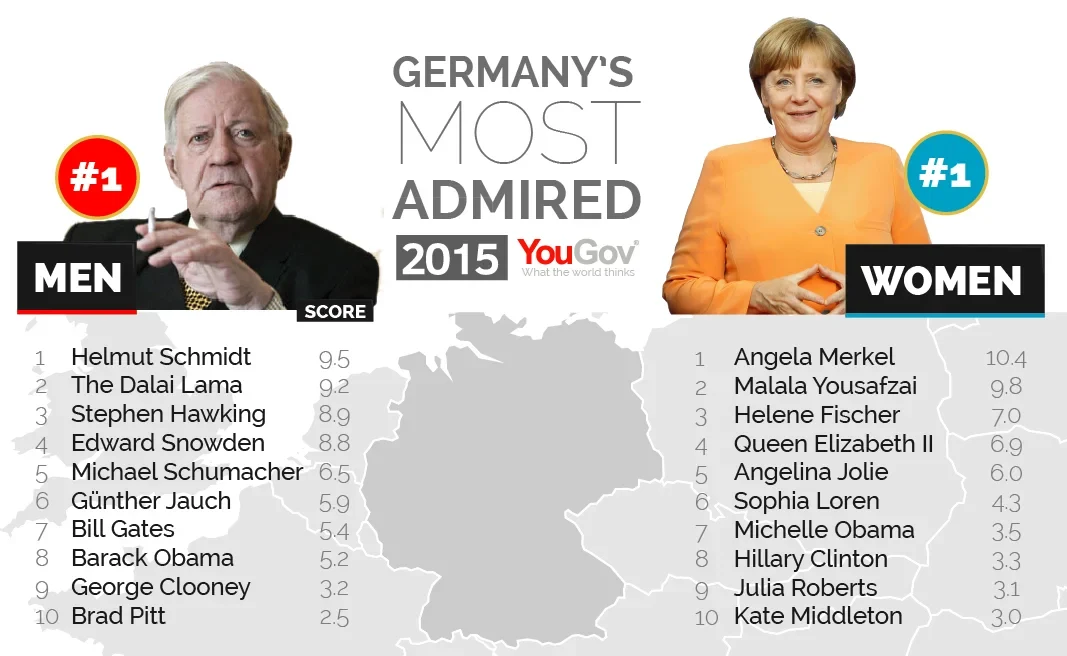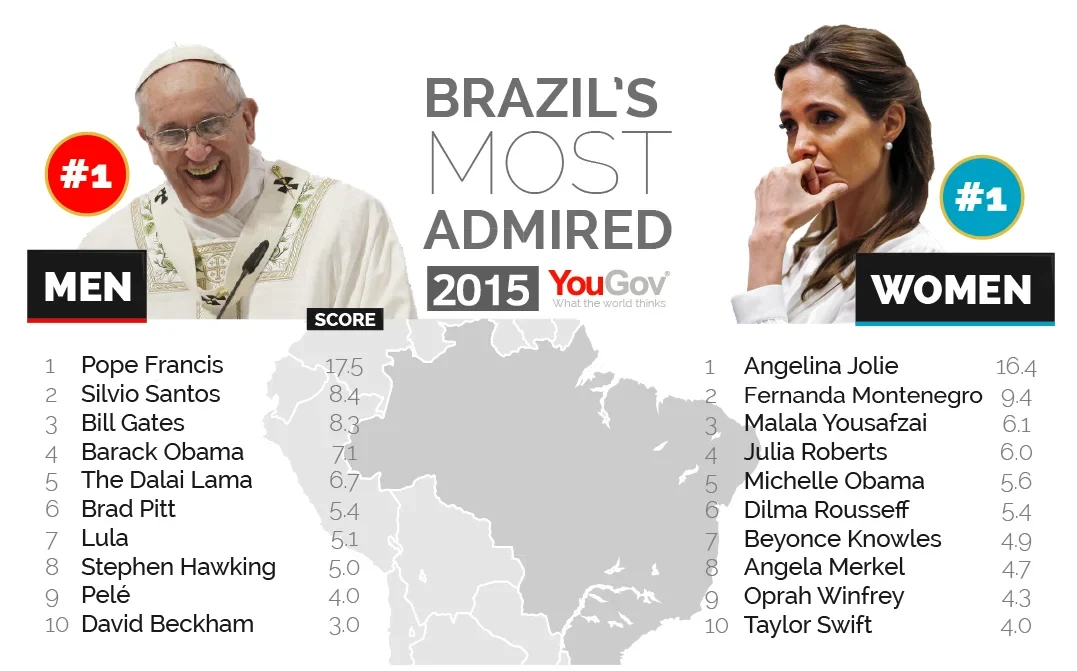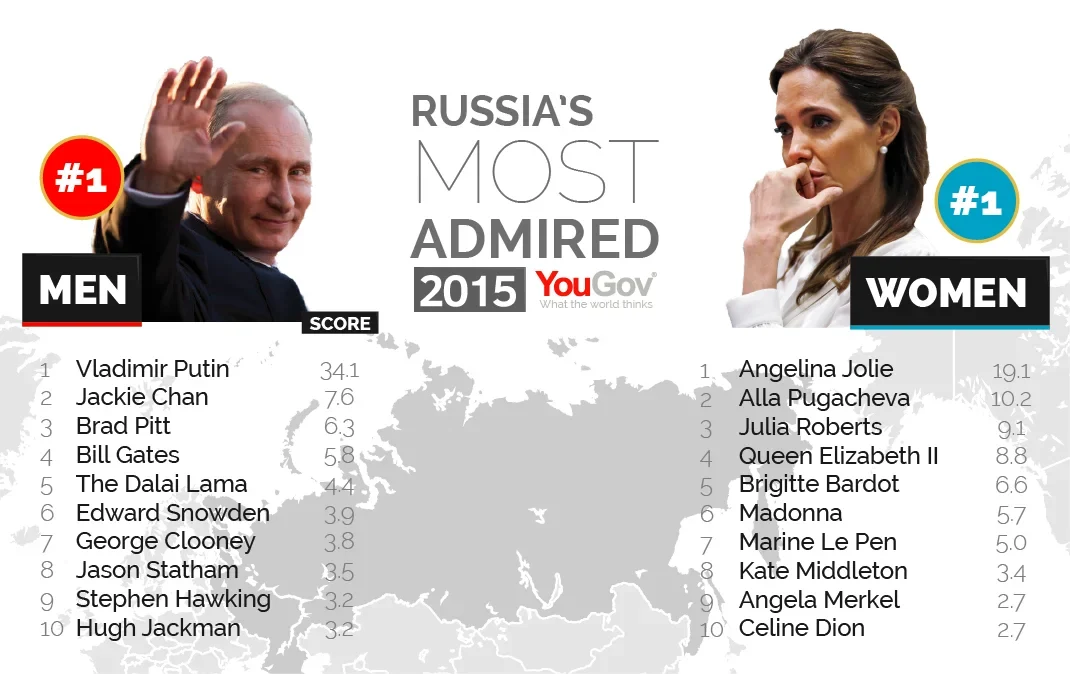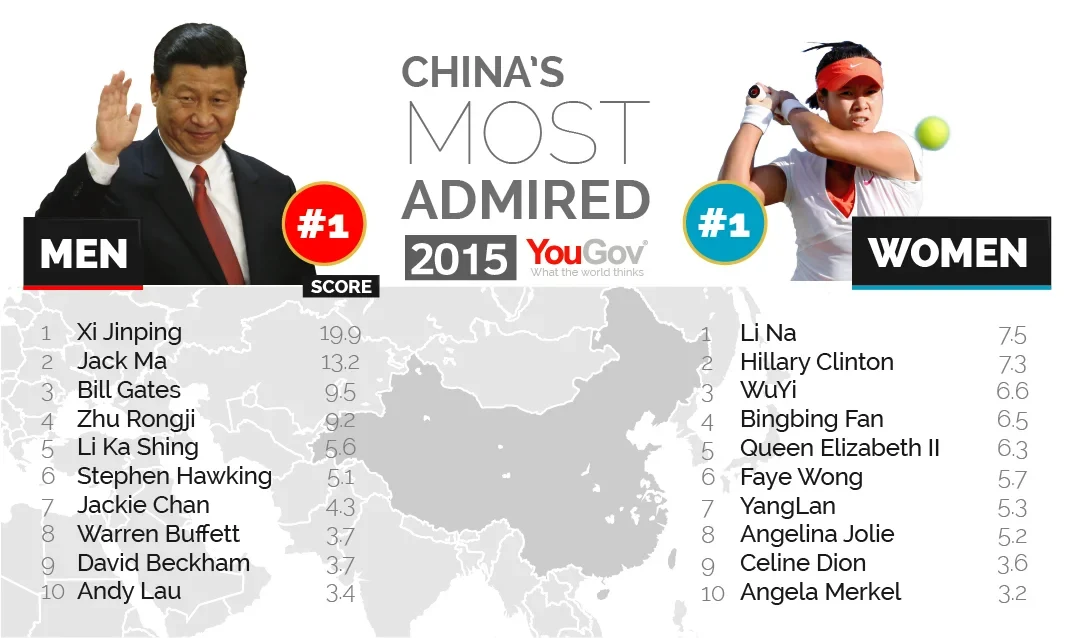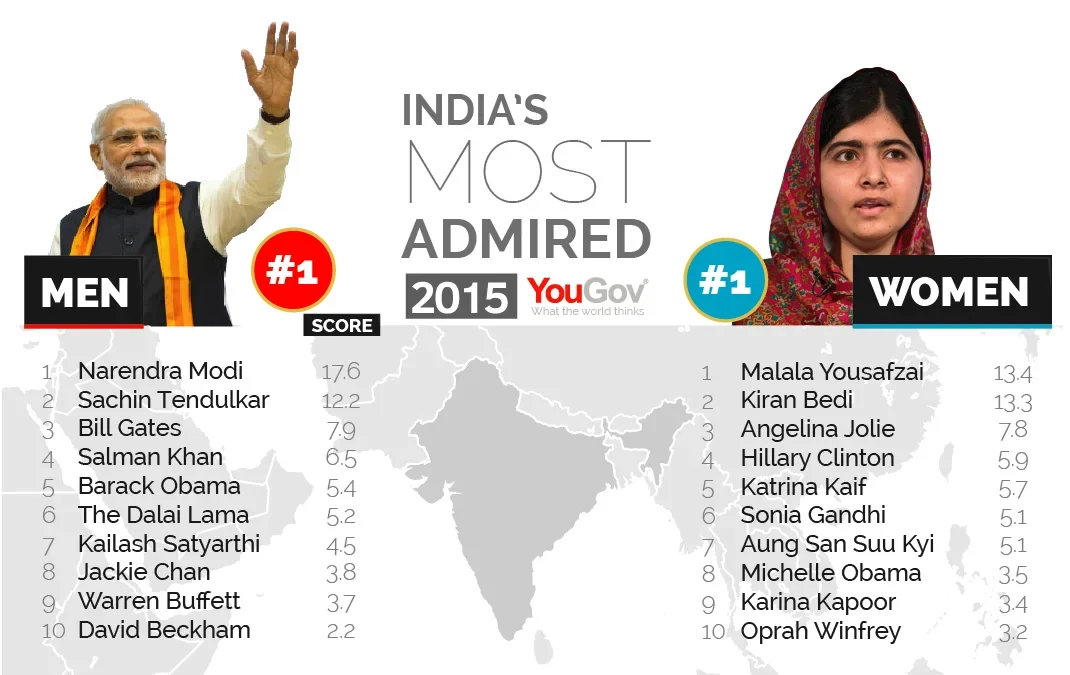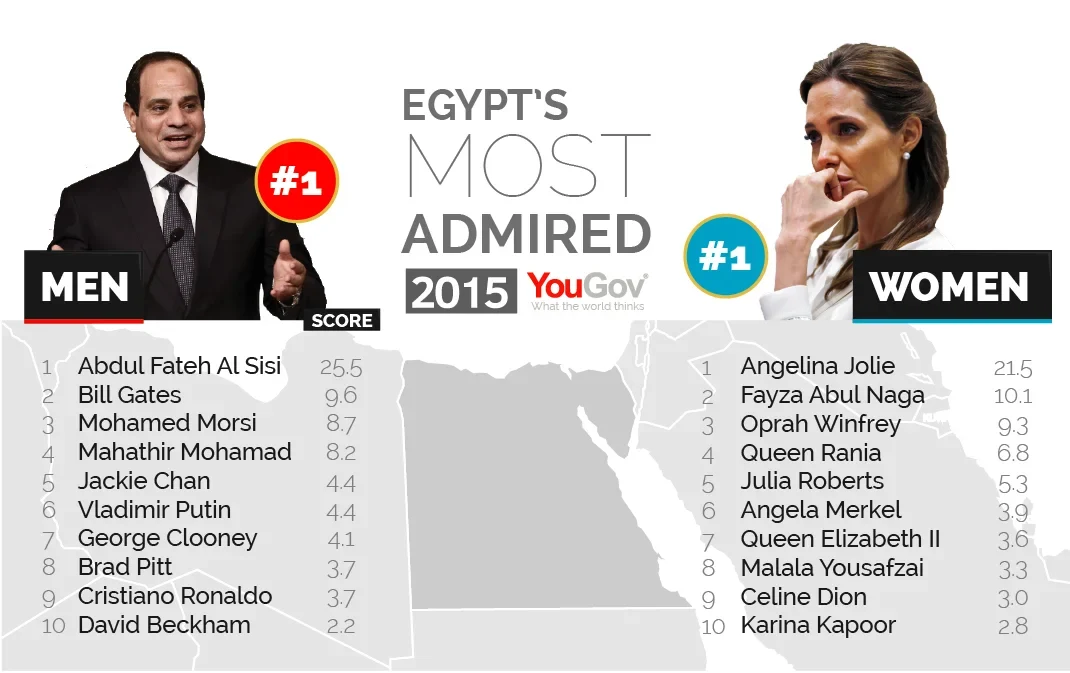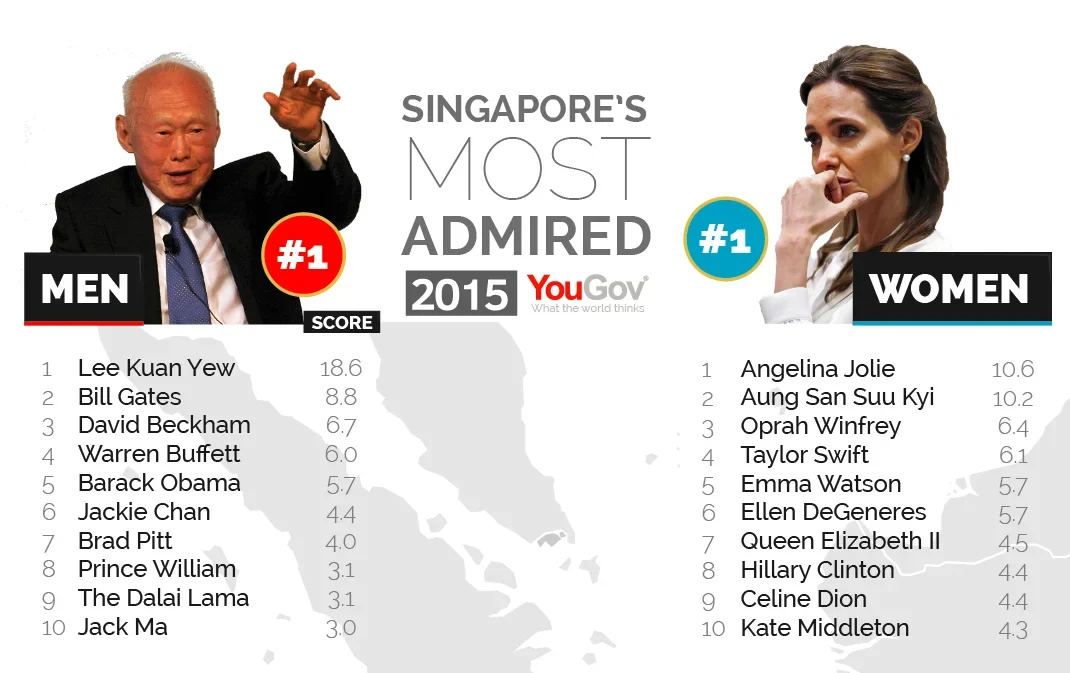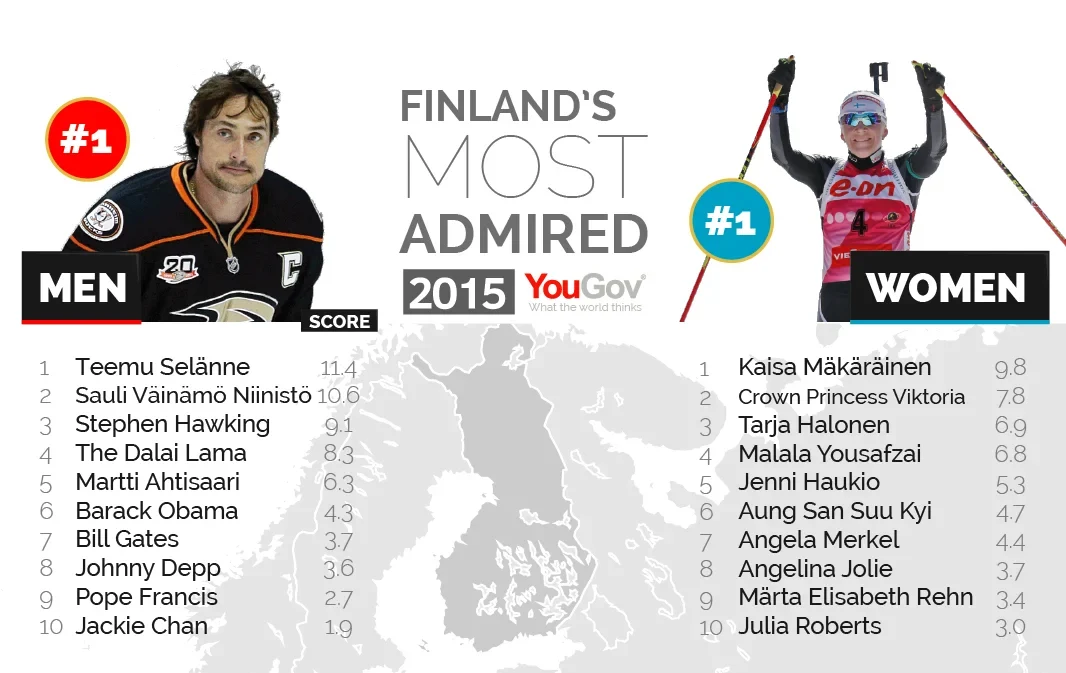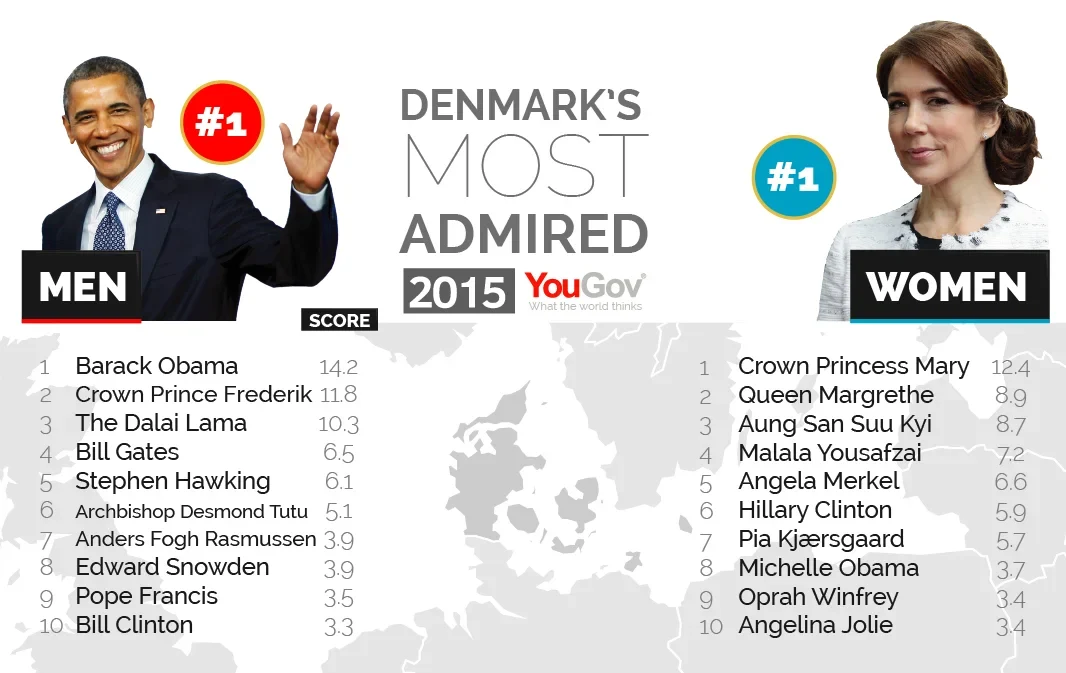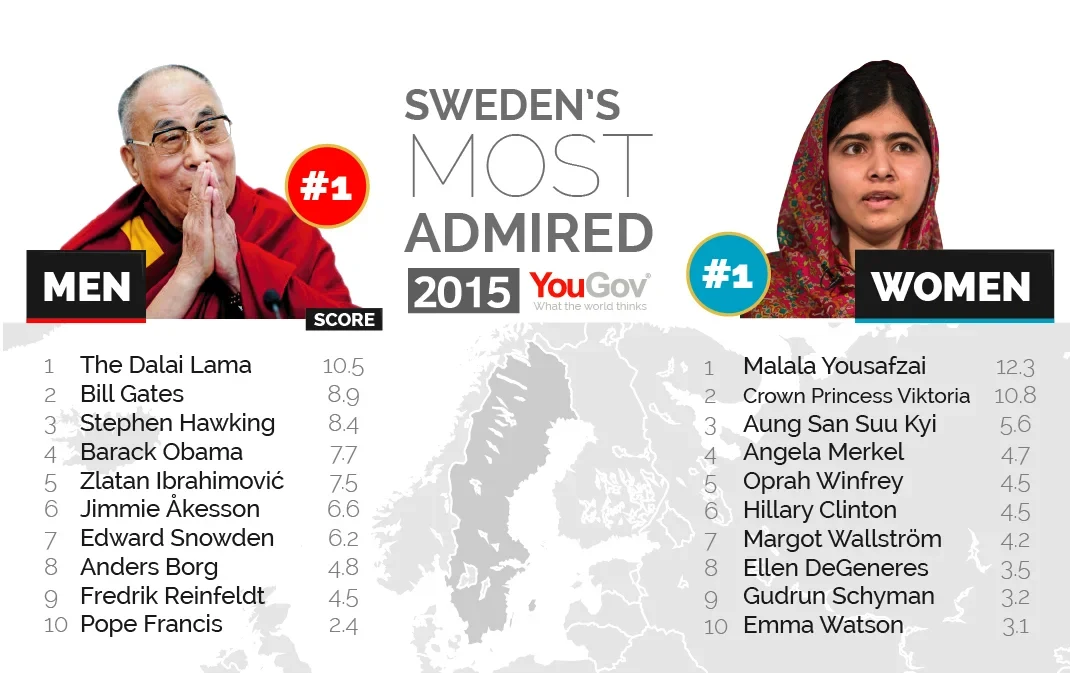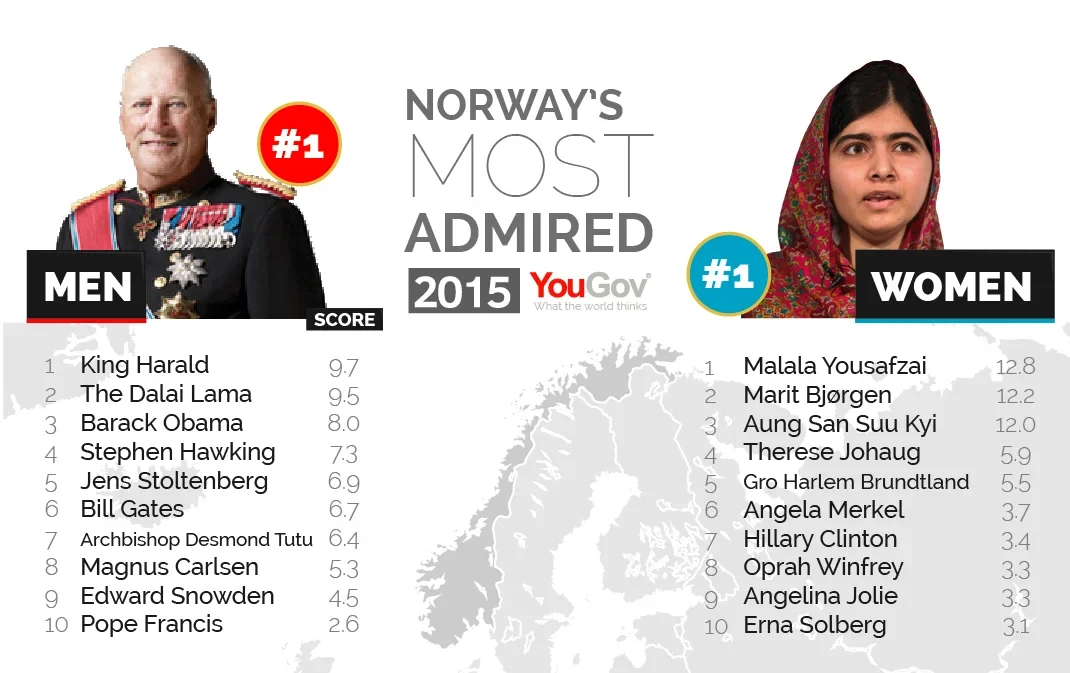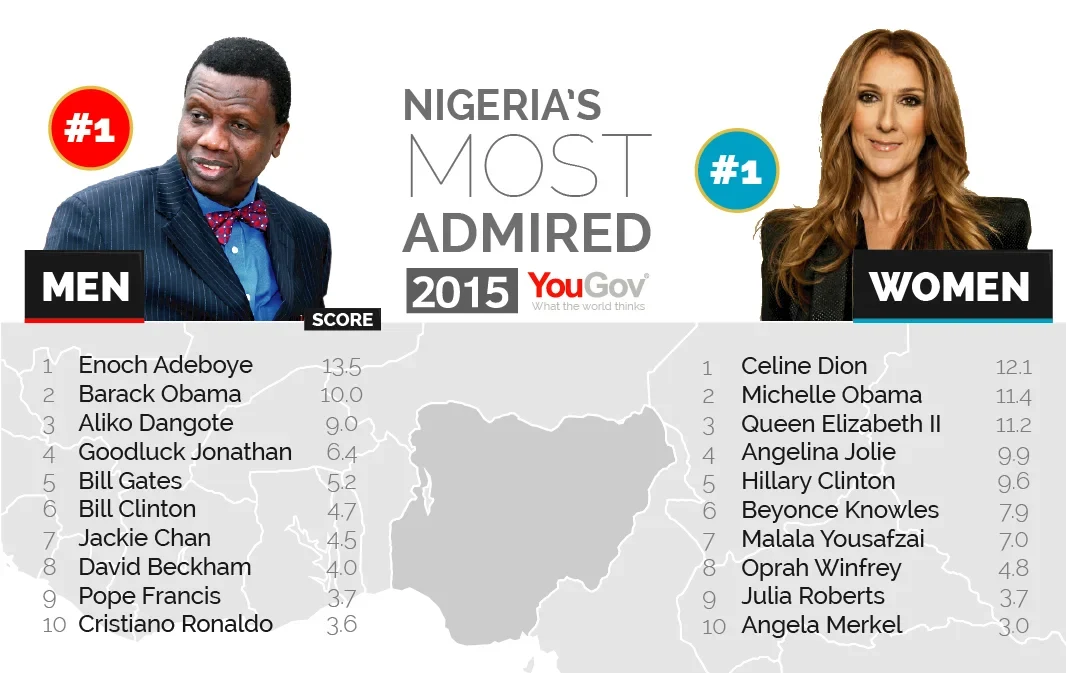 How we did it –
In December YouGov gathered open-ended nominations from panellists across 34 countries, asking them simply: "Thinking about people alive in the world today, which [man or woman] do you most admire?" These nominations were then used to compile a list of the 25 men and 25 women who received the most nominations and were nominated in at least 2 countries. An additional 5 popular local figures were added to the lists for individual countries.
In January, 23 of the 34 countries were polled again in representative* surveys, where respondents were asked two questions: "who do you truly admire?", where they could make multiple selections, and "who do you MOST admire?", where they could pick only one. These two numbers were then combined into the score (displayed to the right of each name above.)
By asking respondents those two questions, we can understand both the breadth (i.e. global reach) and the intensity of a person's support, which we regard as both important measures.
Altogether, we polled in countries that constitute nearly two-thirds of the world's population. However, some parts of the world were better represented than others, so we weighted up the impact certain countries had on the final scores and weighted down others so the global scores more accurately reflect the breakdown of sentiment in the world overall.
*All of the surveys were conducted online, and in many of the countries the internet penetration is low to the point where the sample can only be said to be representative to the online population. The countries where only the online population is polled are China, India, Indonesia, Pakistan, Nigeria, Egypt, Thailand, Saudi Arabia, Malaysia, Australia, United Arab Emirates, Hong Kong and Singapore. In the remaining countries the surveys can be considered nationally representative.
Editor's note: Graphics for additional countries added on 02/02/2015; updates made on 17/02/2015