The retail industry has had a difficult time recently but shares in high street bakery Greggs have bucked the trend and hit an all-time high, thanks to some ingenious and topical marketing.
Greggs used social media and publicity stunts to boost awareness in the brand during its launch of a vegan sausage roll – a campaign that was dubbed a "masterclass in public relations" by PR Week.
The campaign, which originated from a debate on whether vegan sausage rolls could accurately be labelled such at all, was delivered humorously and with plenty of celebrity interaction from the likes of Piers Morgan, whether planned or spontaneous.
The launch has contributed to an extremely positive year for Greggs. Last week the company published their trading update for the past financial year, reporting a sales increase of 7.2% and a profit-before-tax expectation of £88m – succeeding where others have struggled and leading to a record-breaking share price.
YouGov BrandIndex can reveal that Greggs' financial success is also reflected by customer sentiment and perception.
Greggs' Buzz Score (a net measure of whether consumers have heard anything positive or negative about the brand in the last fortnight) has steadily increased since November, and spiked after the vegan sausage roll launch in early January to +8.2, reaching its highest point since March.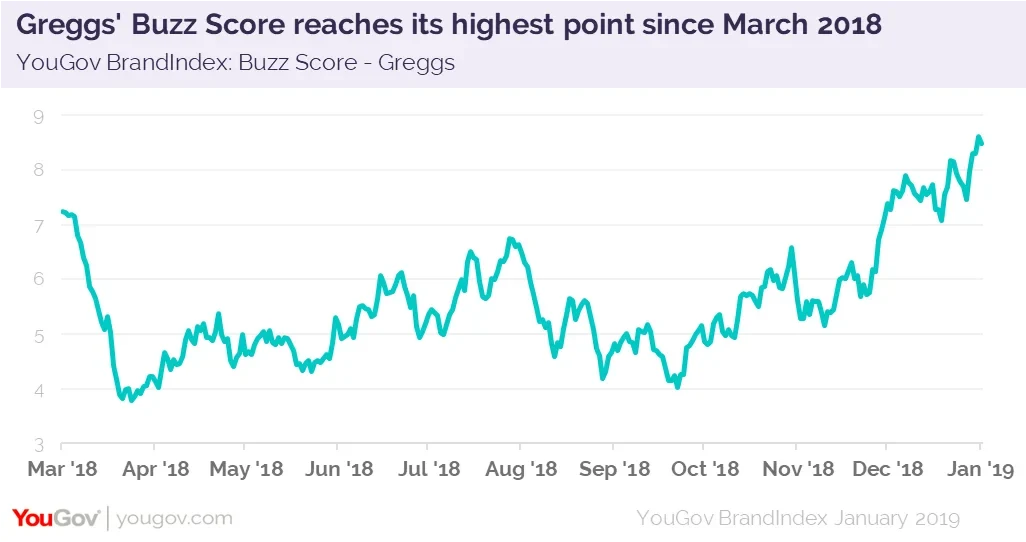 Unsurprisingly, Greggs' Ad Awareness Score (whether someone has seen or heard an advert broadcast by a company in the past two weeks) has soared, reaching +13.1 – a level which hasn't been seen since 2012.
Although some members of the public have shown anger and have rejected Greggs' foray into veganism, most have embraced this newest product. Greggs' recent marketing policies have been one of the most successful public relations campaigns in recent memory and the positive financial results are well earned for this brand.
Data gathered using YouGov BrandIndex.
Image: Getty
This article previously appeared on City A.M.