With the world on lockdown, how are charitable causes coping with raising funds for vital projects and what does the future hold?
The major charities will have breathed a sigh of relief this week as many were allowed to reopen their high street shops and start to get back to a semblance of normality. However, not all charities can afford to run high street shops, and with mass gatherings still off the table due to lockdown limiting fundraisers, how are charities coping in the COVID-19 climate?
How does the first half of 2020 compare to 2019?
Comparing the first 24 weeks of 2020 with the previous year, the number of Britons who say they are either very likely to donate to charity has remained on par, even exceeding that seen in 2019 for short periods.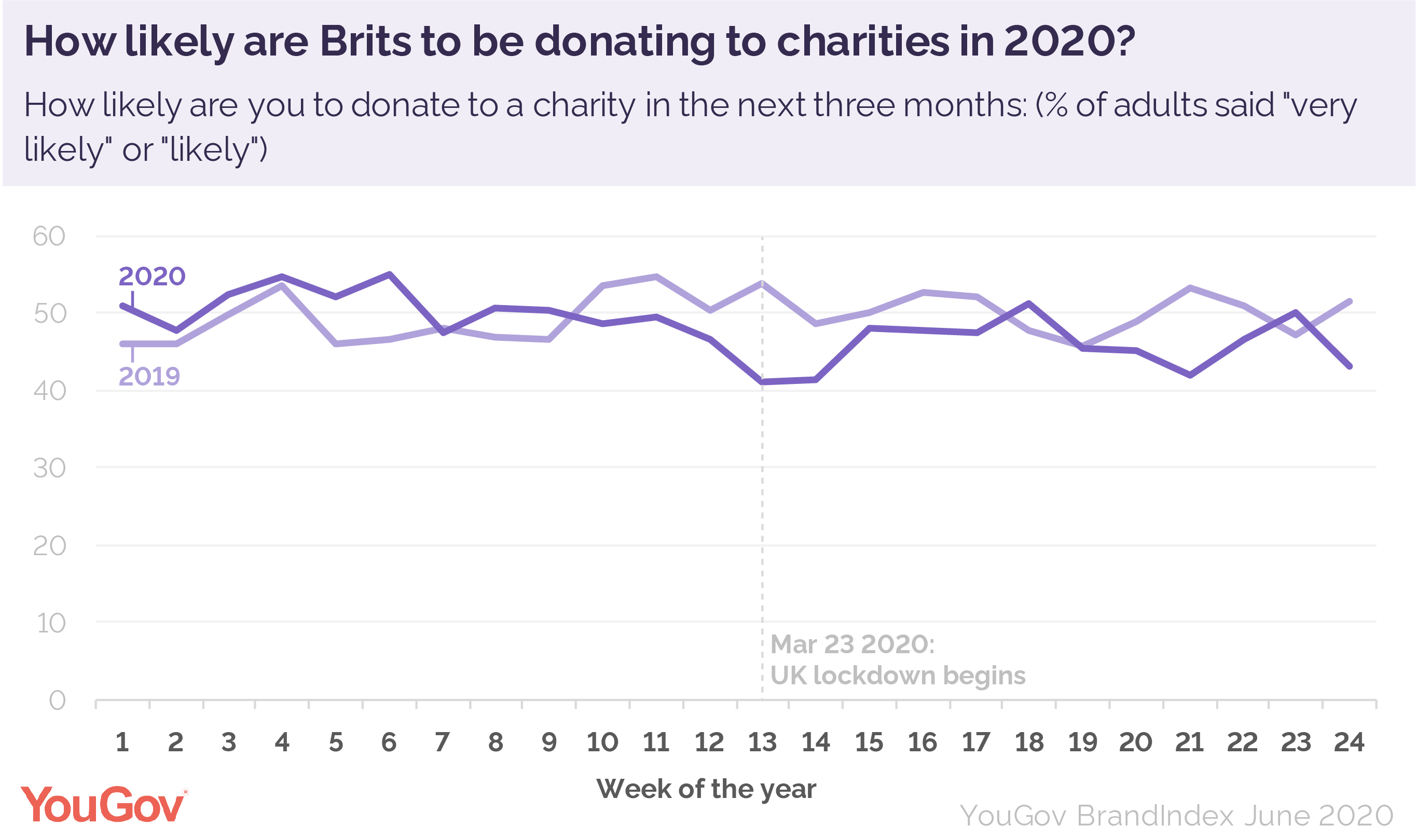 Click to enlarge
During week 13 of the year, when the lockdown first began, the number of adults saying they were likely to donate to charities in the next three months was at its lowest, at 40.9%. Five weeks later in late April and early May the number of Brits willing to donate peaked at 51.1% - an increase of 10.2 percentage points. However, since then the percentage has fluctuated before finishing week 24 of the year at 43.1%, 8.3 percentage points lower than the same point in 2019.
Which charities are people donating to?
With donation intent similar to that of 2019, where are donations going? Looking at the types of charities that Britons have donated to in the last three months shows that, unsurprisingly, health charities have topped the list of causes Brits have donated financially to. This continues the trend we saw in April in Britons being increasingly willing to donate to charities helping people affected by COVID-19.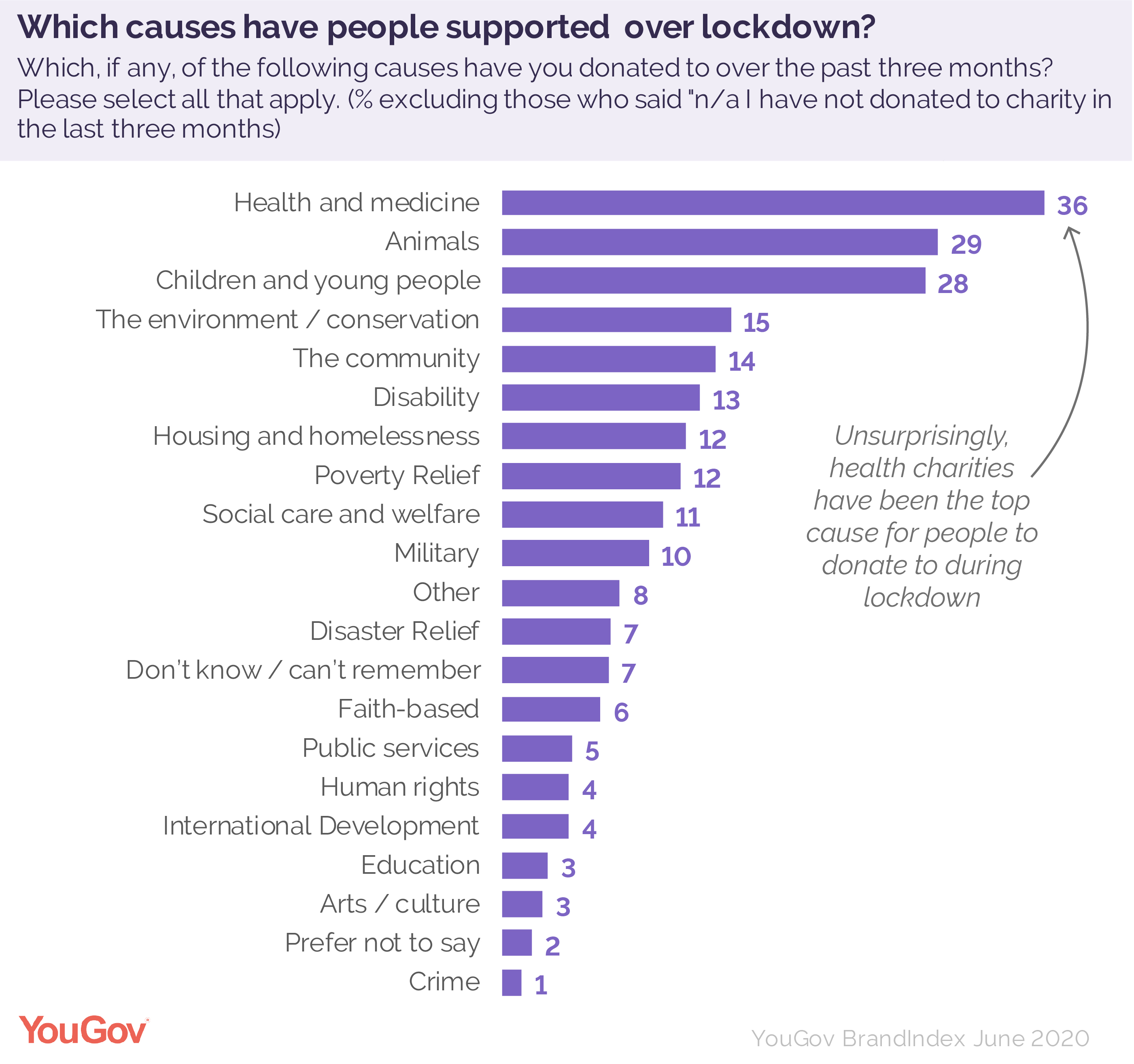 Click to enlarge
A third (36%) of those said they have donated to charities in the last 90 days say they supported health and medical causes. High profile fundraising campaigns such as Colonel Tom Moore's 100th Birthday Walk have inspired tens of millions of pounds in donations to the NHS and certainly played a part in driving health charities to the top of the causes we surveyed.
Elsewhere, the other popular choices for donations during lockdown were the charities supporting animals (29%) and young people (28%).
Brits are still talking about the big charities, especially the National Trust
Despite lockdown limiting the operations of many charities, the big charities are still on the minds of Brits. One notable example is the National Trust, who announced in mid-March it would keep its gardens and grounds open free of charge for Brits before the lockdown was fully enforced.
Keeping its open air spaces available to the public, despite shutting its houses, cafes, and shops, saw National Trust's Word of Mouth score (whether someone has talked about the brand with friends and family in the last two weeks) rise from 6.8% in mid-March to 13.4% in early April, and the score has remained above its pre-lockdown levels ever since, increasing steadily since mid-May.
Other major charities including Macmillan, Cancer Research, and the British Heart Foundation, have also managed to keep their Word of Mouth scores above the sector average for the duration of lockdown, despite their high street stores closing for the duration for lockdown.
Fundraising in the post-COVID world
Despite non-essential shops, including charity shops, being allowed to reopen, they can only do so with major precautions in place to prevent possibly transmission of COVID-19. Coupled with this, mass gatherings are still against lockdown rules, meaning major fundraising events such as the London Marathon and smaller events like office bake sales are no longer viable – so what are they to do?
One potential avenue for charities to explore is social media and online events. One viral popular campaign that was on Instagram during the initial stages of lockdown was the "Run 5, Donate 5, Nominate 5" challenge which tasked Brits with running five kilometres, donating five pounds to the NHS, and nominating five friends to do the same.
Our research shows that during lockdown, 31% of British adults aged 18 to 24 who use social media took part in a social media fundraiser like the "Run 5, Donate 5, Nominate 5" challenge, nearly twice the number of adults overall who did.
This suggests that social media challenges, which are not necessarily a new phenomenon, could be a good way to target younger adults, who are the least likely age group to think they will donate to charities, according to YouGov Profiles data.
Overall approaching half (45%) of adults aged 18 to 24 say they are either very likely (14%) likely or (31%) to donate to charity in the next three months. This is compared to 61% of over 65s who say are also likely to donate, with 37% of this group saying it's very likely they will, over double that of younger adults.
Continuing the theme of how to target a younger audience, digital fundraisers could also be a solution. UNICEF has recently partnered with Formula E, who have been hosting a virtual racing tournament in place of this year's Formula E events to raise funds for the global coronavirus appeal fund.
Following this new YouGov research reveals that young Brits are much more likely to be open to the idea of attending digital fundraisers, such as these Esports events, or concerts, to raise much needed capital for good causes.
Overall 25% of adults say they would be willing to attend a digital fundraiser, however, approaching two fifths (39%) of Brits aged 18 to 24 would be willing to give such an event a try. This is compared to 44% of the same group who wouldn't – another 20% aren't sure whether they would or not.
While younger Brits are split over the idea, older generations are firmly against the idea, but as we discussed earlier, they are much more likely to already be donating to good causes – 73% of Brits over 65 say they aren't willing to attend a digital fundraiser event.
So while charity shops may be rammed as the high street begins to come back to life, some charities might want to explore new and innovative digital solutions to reach a previously disinterested audience.
Learn more about YouGov Plan and Track here