England entered a four-week lockdown on the 5th November, which saw all non-essential retail, bars and restaurants – among others – forced to close. Wales has just finished its own two week 'firebreaker' lockdown and Scotland has seen increased countrywide restrictions. While most large clothes retailers have websites to fall back on during this time, Primark, one of the largest high street names, does not.
Previously bosses said a website wouldn't work for its business model as returning clothes purchased online would negate the low costs of the clothes.
Currently 19% of Primark's store estate is closed due to lockdowns in Europe. Once England entered lockdown this increased to 57%, leading the retailer to predict a total loss of £375 million during the lockdown period despite a surge in summer sales.
But while Primark has its doors closed, which brands might benefit?
According to YouGov BrandIndex data, ASOS is most likely to benefit while TK Maxx and H&M are also in line to profit to some extent. However, other fashion staples New Look, River Island and Topshop are less likely to see much of a dividend.
The data below shows the Purchase Intent score of ASOS over the past year among Primark customers (whether a brand is someone's first choice to purchase from).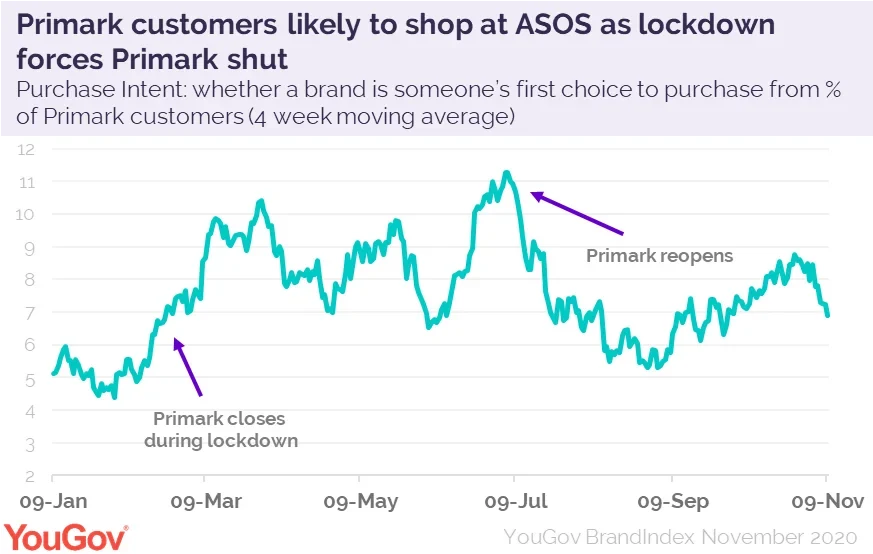 At the start of the coronavirus crisis when customers became less able to shop in person and as the lockdown was announced, Purchase Intent for ASOS among Primark customers grew six points to 10.4. H&M's scores also increased 3.8 points.
Similarly when stores like Primark were allowed to reopen in June, Purchase Intent for ASOS fell from 11.3 to 5.3, indicating that Primark customers had been substituting shopping at Primark for ASOS. At the same time, Purchase Intent for TK Maxx also increased.
While it's clear to see similarities between ASOS and Primark with their ease of shopping, large variety of products and on trend fast fashion, it's low prices that are most important factor for 27% of Primark shoppers. The data suggests that this is something brands like New Look, Topshop and River Island don't deliver as well as ASOS and Primark.
Image: Getty
This article previously appeared in City A.M.