Three in five Brits say they're likely to purchase snacks over the next month – and chocolate is their biggest weakness
For many Brits, snacks are vital service stations on the long, hard motorway that leads to dinnertime. YouGov Profiles data shows that six in ten Brits (61%) admit that they're either very likely (41%) or likely (20%) to buy them in the next 30 days.
Just a fifth (19%) say they're either not very or not at all likely to buy them.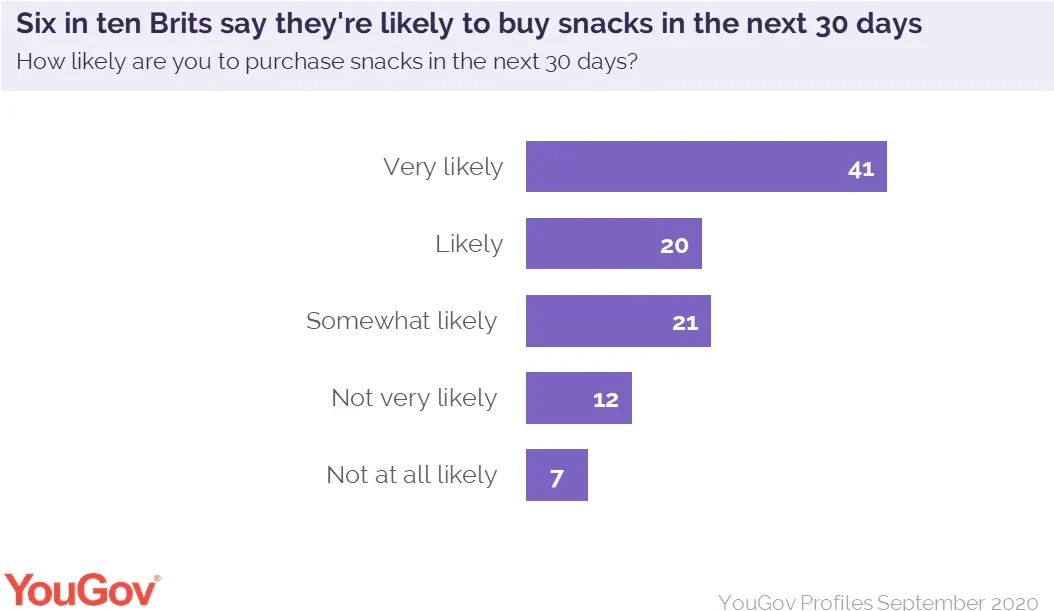 But who are these keenest snackers, who are likely to buy in the next month, and what are their habits?
YouGov Profiles data shows a roughly even gender split, with 49% of men and 51% of women being either very likely or likely to buy snacks in the next month.
Examining the nation's snacking habits, three in five (59%) Brits say they eat them while watching TV or movies, and two in five (41%) say they usually snack when bored. Three in ten (28%) say they eat snacks while studying.
For both keen snackers and regular Brits, Cadbury is the clear favourite: without prompting, half (51% snackers; 50% of the public) name it as their preferred brand, with Walkers in second place (27% snackers; 24% of the public).