The ice cream brand's scores rose over the course of the eight-week campaign
The COVID-19 crisis had a major impact on UK cinemas: theatres shut down, major blockbusters have been moved to streaming services in the middle of their runs, and other films have been postponed to 2021 or later.
So May 2020 may not have been the best time for Häagen-Dazs to launch a major eight-week marketing campaign based around a partnership with a company that specialises in "immersive" cinema experiences for audiences of up to 5,000 people. Nonetheless, new YouGov data indicates that the company made it work – pivoting its strategy to account for the changing theatrical landscape.
While Häagen-Dazs's original strategy was to host a series of in-person events to "highlight the outdoor summer movie experience", it moved towards a digital-only campaign that paired ice cream flavours with films that were streaming on Amazon Prime Video.
BrandIndex data reveals that over the course of this campaign (May 7 – June 8), ad awareness scores – which measure whether people have seen an advertisement for a brand in the past two weeks – more than doubled: rising from 3.7 to 10.3. Word of mouth scores, which measure whether people have talked about a brand with their friends and family, also doubled between May 7 and June 1, increasing from 7.1 to 14.7.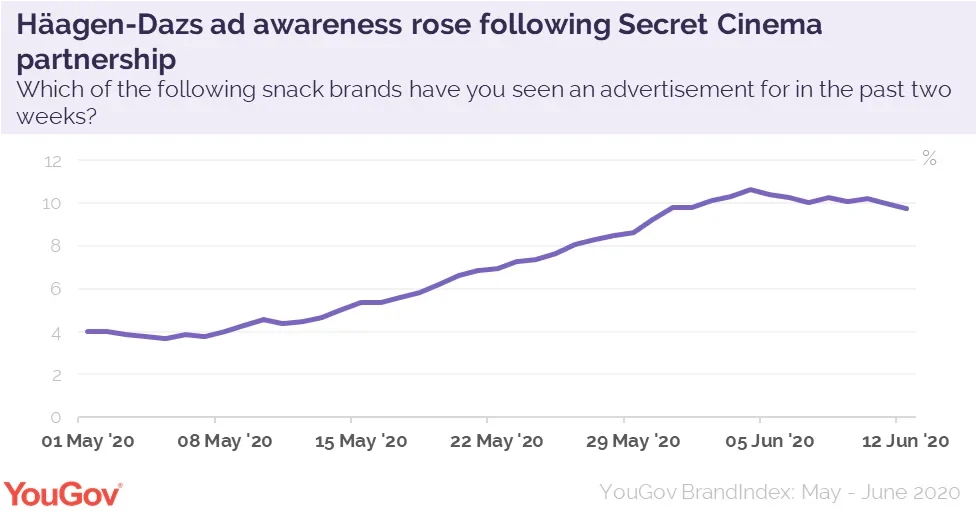 More importantly, this translated into positive behavioural change among UK consumers: within the first few weeks of the campaign, purchase intent rose from 1.9 to 7.3 (07/05 – 20/05). Over the same period, current customer scores rose from 6.4 to 10.5, while recommendations went from 24.1 to 29.9 – later peaking at 34.1 (01/06). The company's satisfaction scores also improved from 26.3 to a peak of 33.7 over the course of the campaign.
Perhaps best of all for the brand, some of these gains were sustainable over a longer period. While the campaign ended in early June, Häagen-Dazs's ad awareness was still hovering at around 9.6 by the start of July – more than double its position at the start of the campaign – and its current customer scores were around 6.8 at the beginning of August compared to 4.3 on May 7.
Though the campaign wasn't necessarily what the brand initially envisioned, Häagen-Dazs chose not to scrap it – and by adjusting its strategy to suit the changing environment, it may have reaped real commercial benefits.