This month EE achieved the highest uplift in Ad Awareness of any brand in the UK with a +10.3 change
EE's celebration for its awards nets another one for the brand – the UK's ad of the month for August.
The network has been awarded the title of best network for 5G, and best network overall for the seventh year in a row by independent benchmark tester RootMetrics who carried out over 500,000 tests across the UK to determine how network operators stacked up. In celebration of the wins EE has released a new ad campaign, featuring brand regular Kevin Bacon, directing consumers to 'get EE or get network envy'.
Released on the 14th, premiering during 8 Out of 10 Cats Does Countdown, the ad has caused a substantial uptick in EE's BrandIndex Ad Awareness score (a measure of whether someone has seen or heard an advert by the company in the past two weeks).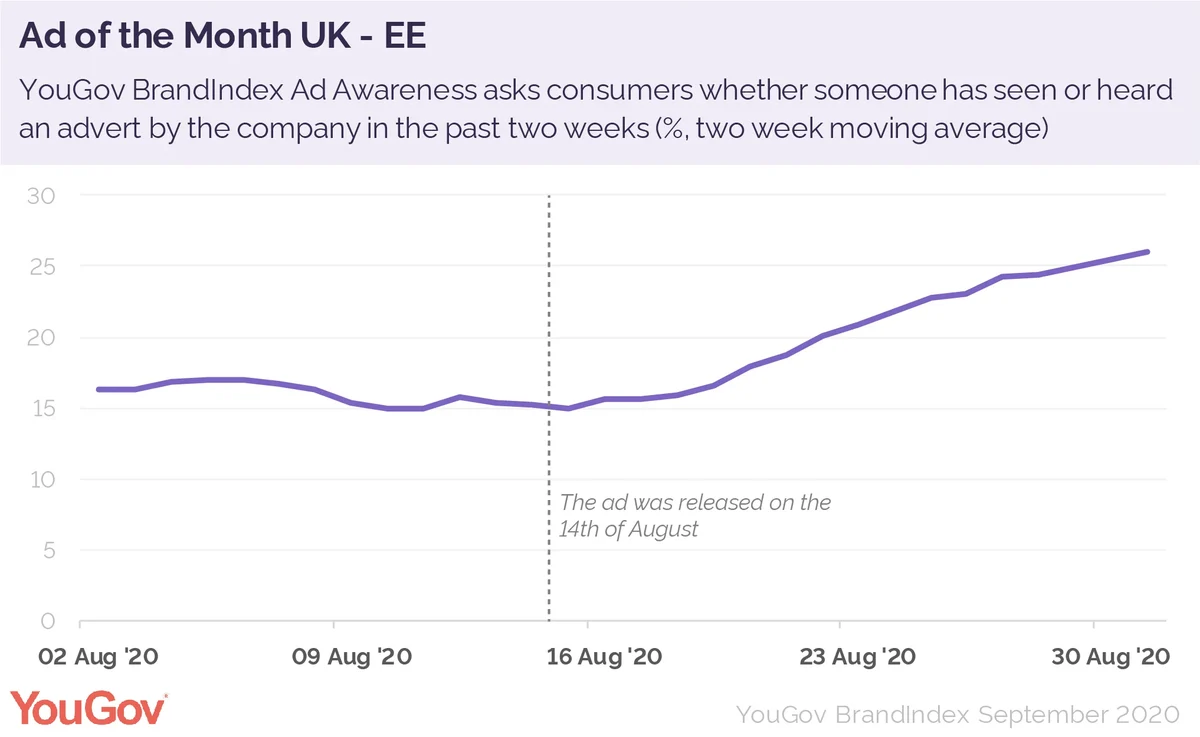 At the start of the month EE had an Ad Awareness score of 16.3, and before the ads launch mid-August its score was 15.7. However, by 31st of August the brands score hit 25.6, an improvement of 10.3 points.
Following the ad campaign, the brand has also seen improvements in other YouGov BrandIndex scores. EE's Quality score (a net measure of whether consumers think the brand represents good or poor quality) rose from 11.1 at the start of the month to a peak of 14.2 in late August – an improvement of 3.0 points.
The mention of multiple awards in the campaign may be behind a similar improvement EE's Impression score (whether someone has a positive or negative impression of a brand), which rose by 3.2 points from 14.9 at the start of the month to a peak of 18.1 in late August.
Learn more about YouGov Plan and Track here
Image provided by EE
This article also appeared in WARC