This month McDonald's achieved the highest uplift in Ad Awareness of any brand in the UK with a +12.5 point rise
McDonald's has maintained momentum, resisted all worthy challengers, and held on to the top award in the advertising world - the number one spot YouGov's Ad Awareness rankings.
Last month we saw that adverts for the immensely popular fast food chain's reopening caught the public eye, while this time the attention of the public has been drawn by two ads.
The first new ad, uploaded to the company's UK YouTube account on July 8th, shows off the return of the McDonalds Breakfast menu set to True by Spandau Ballet. The second, entitled simply "Welcome Back", was launched on the 17th and celebrates the brand's reopening with Mark Morrison's Return of the Mack.
Between them, the adverts have generated another 12.5 point rise in McDonald's Ad Awareness score (whether someone has seen or heard an advert by the company in the past two weeks).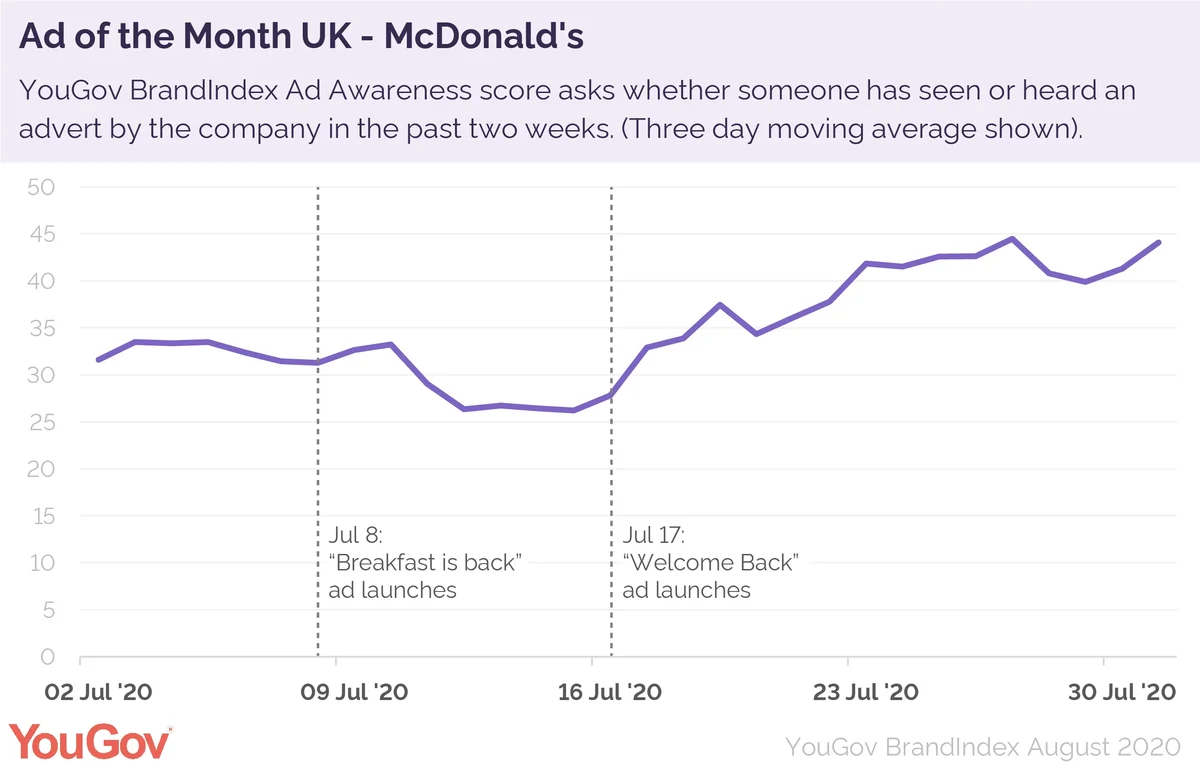 At the start of the month, McDonald's had an Ad Awareness score of 31.6, and saw a small bump after the release of the "Breakfast is back" campaign, however the real improvements came following its second advert this month, and the brand ended July with a score of 44.1. The score means not only did McDonald's have the most improved score this month, but the highest Ad Awareness score over all as well.
The ads have done their job, with the brand seeing a significant boost to its Current Customer score (whether someone has purchased from the brand in the last three months) among those eating takeaway once a month. At the beginning of July McDonald's had a Current Customer score of 20.1, rising to 27.3 (compared to 19.0 among the general population) by July 31st.
This article previously appeared in WARC
Learn more about YouGov BrandIndex here