The restaurant and dining sector has been put on hold by the lockdown, but are Britons still ordering their favourite dishes for takeout, and will they return after the pandemic subsides?
Along with the hospitality sector, restaurants and pub chains were among the first sectors to be hit by the COVID-19 pandemic. But with some major chains beginning to reopen for delivery services, could this be the light at the end of the tunnel? And will Britons return when restrictions are lifted later this year?
How badly has the sector been affected?
Much like other sectors we have looked at in previous weeks, the restaurant and dining sector has seen a sharp decline year-on-year. The number of Britons saying they are likely to purchase from a restaurant or pub chain has fallen 30 percentage points, from 50% to 20%, compared to the same week in 2019.
At its lowest, just after the implementation of lockdown, this figure was as low as 16%. But our data shows the fall in numbers beginning around two weeks before the official lockdown began, meaning restaurants have been suffering longer than some other businesses.
Will restaurants benefit from a switch to takeaways?
Despite the clear drop in these numbers, 20% of Britons are still looking to buy from restaurants, and with lockdown still in force that means turning to a solution already embraced by Brits: the takeaway.
However, will Brits be as enthusiastic for big chain restaurant meals? YouGov Plan and Track suggests they could.
Many major brands have looked at partial re-openings to keep business going, including the likes of Burger King and KFC, but McDonald's has also followed suit to reopen for delivery-only from certain locations.
The announcement has seen the brand's Buzz score (whether consumers have heard anything positive or negative about a brand in the last two weeks) boosted, even among those most concerned about catching COVID-19.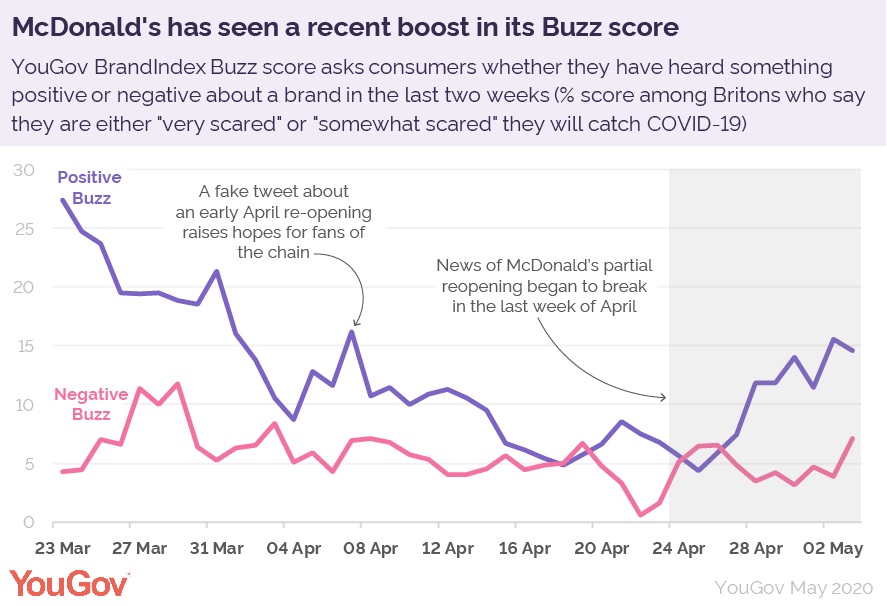 Since the news broke in late April the chain has seen an 11.2 percentage point rise in its positive Buzz, but its negative buzz has not seen the same level of increase, overall rising only 2.0 percentage points in the same time frame - suggesting Brits are, on the whole, happy to see services resume.
A fake tweet posted online in early April promising a full reopening of McDonald's restaurants seems to be the cause of a spike in positive buzz for the brand around the same time – further suggesting Brits are keen to see the popular franchise reopen for business, even if just for delivery.
Consideration scores for McDonalds are also looking up, even among those who are most concerned about catching COVID-19, rising almost 10 percentage points among this group from its lowest point before the annoucement of their reopening.
Expanding our scope to look a variety of fast-food chains that have reopened for delivery or takeaway services only, we can see that it coincides with boosts in their Consideration score, keeping them well above the sector average.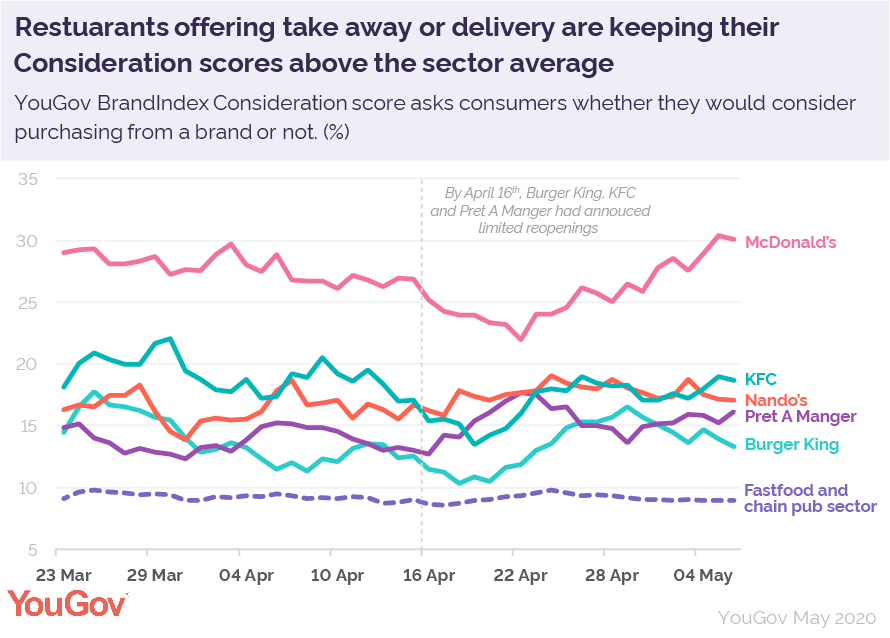 Click to enlarge
By April 16th Burger King and KFC, as well as Pret A Manger had all announced limited reopening for takeaway options. Following this, Burger King saw a peak Consideration score of 16.5, up from 10.3 earlier in April. Elsewhere Pret A Manger saw a peak score of 17.7 following the news of its partial reopening.
Have delivery apps benefitted from the closure of restaurants?
With restaurants and fast food outlets turning to delivery more than ever, how have brands focused on delivery pre lockdown faired? And what impact have the restaurants who have turned to external apps to source takeaway business had on the apps themselves?
Looking at Just Eat and Deliveroo, as dedicated delivery services, as well as Pizza Hut and Dominos as food brands with pre-existing focus on delivery – all four have seen increases in purchases since the lockdown.
Just Eat has seen a 7.9 percentage point increase in Brits saying they would be likely to purchase from them since the start of March. Deliveroo on the other hand has seen a 2.5 percentage point rise, peaking at 6.
Pizza brands, already able to offer delivery before the lockdown began, have seen similar improvements – especially Dominos, with a recent spike in score representing a 8.5 percentage point boost to their score from the start of March.
Will customers return when the lockdown ends?
It could well be a long time before the nation gets back to normal, if ever. When lockdown restrictions do end are Britons planning on returning to their favourite restaurants, or have the rules of social distancing put Brits off dining out for good?
Half (53%) of Brits say they plan to visit restaurants the same amount as they did before the COVID-19 lockdown, with a keen 5% saying they will dine out more than ever once they get the chance. Among Britons aged 18 to 24 years old, 11% say they intended to eat more often when the pandemic subsides.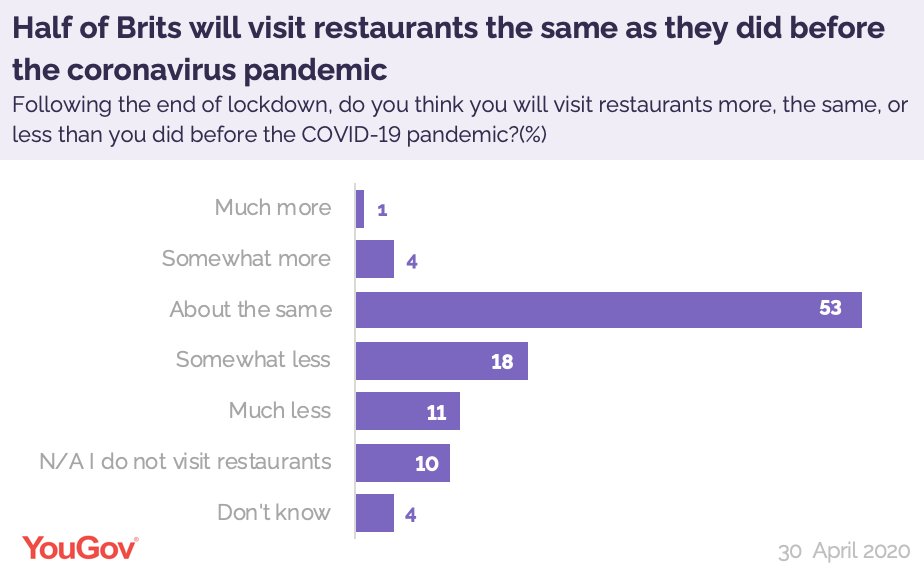 Click to enlarge
However, 29% of Britons say they will be visiting restaurants less frequently than they used too, with 11% saying they will visit them much less than before.
Breaking down this data further using YouGov Profiles reveals that those looking to visit restaurants less are more concerned with freshness of ingredients (41%) and healthy menu options (36%) when compared to those who will visit restaurants the same amount, or more. Rather, this group who intend to return to restaurants are more interested in value for money (61%) and availability of deals (45%).