YouGov Plan and Track data shows Britons are less likely to be buying clothes, but there could be a gap in the market for fashion subscription services
In a stark warning to the high street before the COVID-19 lockdown began, the boss of Next, Lord Wolfson, said "people do not buy a new outfit to stay at home." Indeed, YouGov Plan and Track data suggests that Britons are spending less on clothes than usual - but it also reveals that there are opportunities for brands to explore.
Demand for clothing is down two fifths
The proportion of Brits who say they are likely or very likely to purchase new clothing in the next three months has dropped dramatically in comparison to this time last year. In the first week of May 33% of Brits said they would be likely to shop for clothes, compared to half (53%) at the same point in 2019.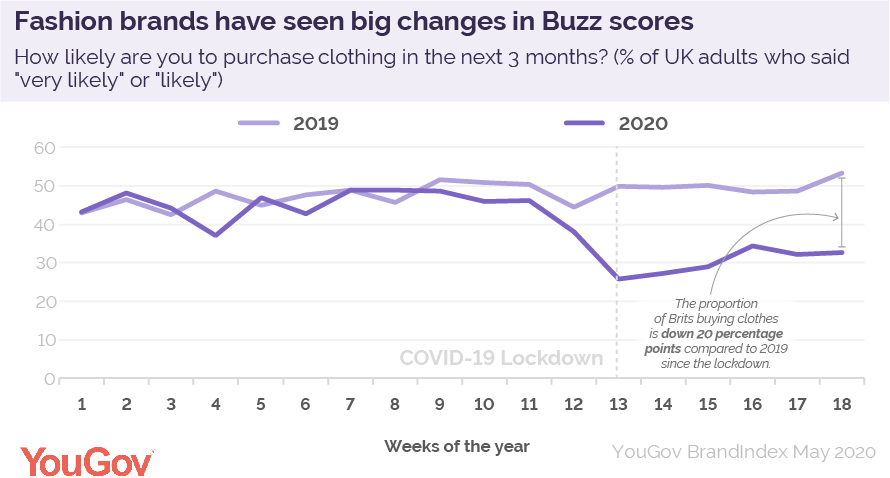 Click to enlarge
With lockdown in effect, the 29% of Brits still intending to buy clothes will be turning to online shopping for their fashion fix – so should brands focus on their online retail for the duration of lockdown? Most Britons (67%) say that it's acceptable to order non-essential items online during the pandemic - only 26% of Brits said it shouldn't be done.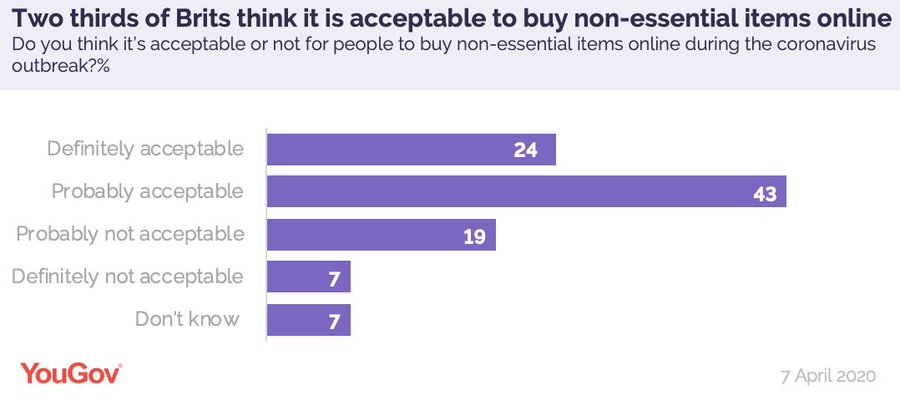 Click to enlarge
However, despite Britons largely approving of lockdown shopping, it's vital that brands manage their response to COVID-19 correctly, as we have seen with certain brands in the alcohol sector. For example, BrewDog, who saw their positive buzz increase after the company began producing hand sanitizer for the NHS.
Trading online? Brands are damned if they do, damned if they don't?
Other retailers, such as ASOS have remained trading, while others such as Next and River Island have – at least at certain points – shut up shop both online and on the high street. However, all of these brands have seen downwards trends in their Buzz scores (a net measure of whether consumers have heard anything positive or negative about the brand in the last fortnight) whether they were trading or not.
For example, when Next ceased online trading its Buzz score rose from 3.9 to 6.4, possibly due to the public viewing it as a positive step to protect workers. However, following this the brand's score fell again after listing warehouses for sale, and seeing a 45% drop in share prices.
Given that most Britons think purchasing online is acceptable, this suggests that the positive buzz of ceasing trading to protect workers has been outweighed by news of the financial impact on the brand. This is reinforced by a surge in positive buzz following an announcement from Next that they would temporarily resume trading in early April.
On the other hand, ASOS has remained open for business throughout, and has kept its distribution centres open during the pandemic. The brand has also seen its Buzz score slip, from 4.7 to -1.1, possibly due to large amounts of negative press coverage when unions openly voiced concerns about the level of protection against COVID-19 afforded to workers in the distribution centres.
Consideration remains steady for brands
Continuing with the examples of Next and ASOS as our case studies, Plan and Track data further suggests that short-term negative buzz is not necessarily damaging brands in the eyes of consumers. Looking at Consideration scores shows that Next, while initially suffering, is back on the rise following news that the brand is to resume online sales. For ASOS, their score rose somewhat while Next's fell, but has since fallen to levels comparable to, or lower than, those seen before the lockdown.
What this could suggest is that consumers are still considering the brands they shopped with pre-lockdown, and are willing to wait for services to resume before purchasing. For Next especially it seems that a period of negative buzz will not put off (online) shoppers for long, with Consideration scores having peaked higher than before the lockdown began.
Could subscription services be an option for fashion brands to explore?
With all shoppers now having to turn online, fashion retail brands may wish to think about how they can attract potential new customers, some of whom may be new to online shopping. Among Britons looking to buy new clothes in the next three months the most important reason to shop online, they tell us, is the greater variety of products available compared to the high street. However, with the high street on lockdown, what are the next most important factors for potential customers?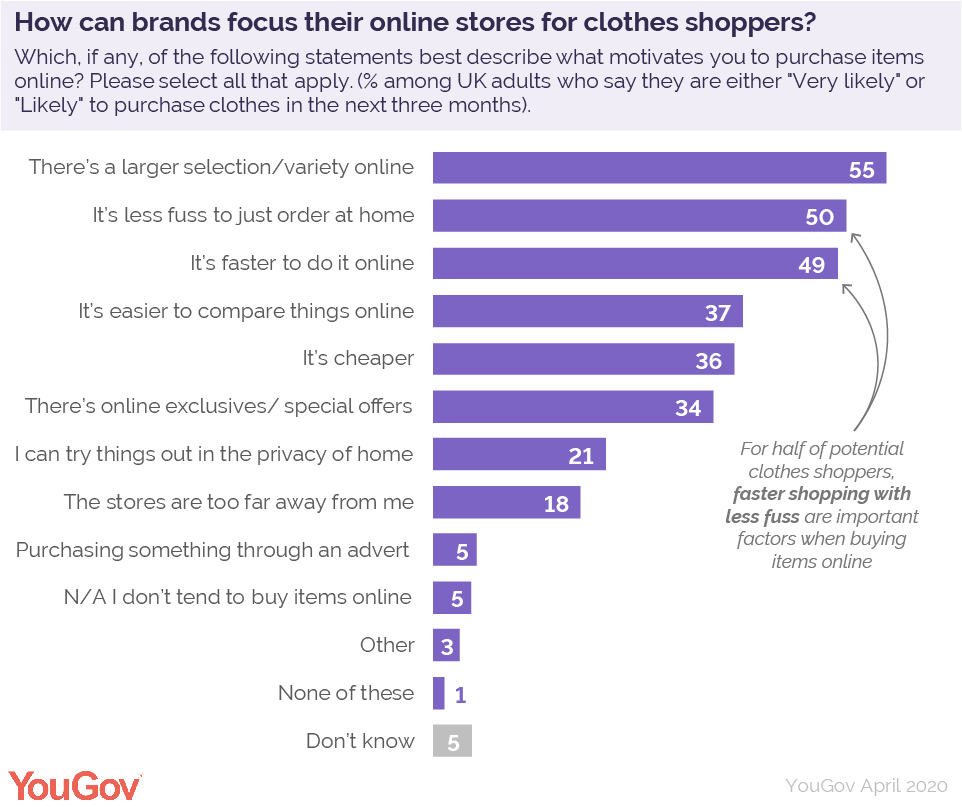 Click to enlarge
For 50% and 49% of Brits looking to buy clothes, they are looking for a fuss-free and fast shopping experience respectively. One potential avenue brands could explore to take advantage of this desire for fast and easy shopping, are fashion subscription services. Some of these services include paying a monthly fee for a delivery of a selection of items which can be worn and then returned.
One of the most popular reasons among Brits intending to purchase clothes for not using subscription box style services is that they enjoy going to shops in person (33%), meaning this group could be much more open to exploring subscription services during lockdown.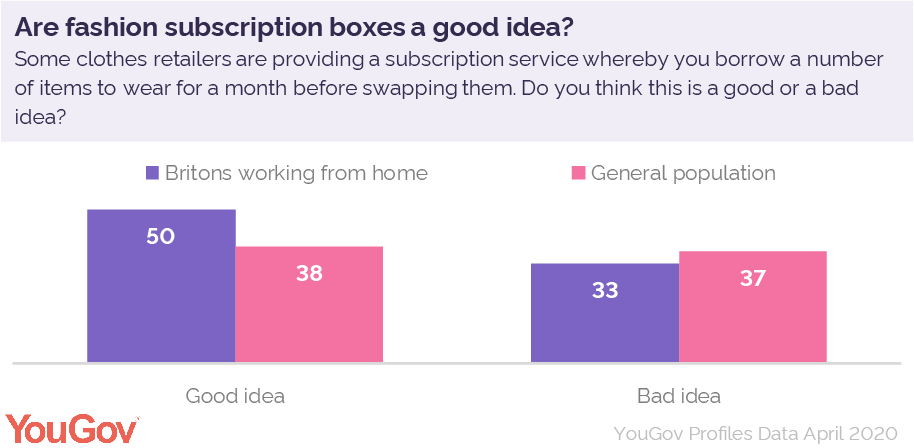 Click to enlarge
Another potential target consumer for fashion brands seeking to explore new online services could be Brits working from home, given that over half (55%) think the idea of fashion subscription boxes specifically are a good idea.
With the spring/summer season rapidly approaching, those still working (albeit from home) may need to update their wardrobes with new business wear for conference calls. Brits working from home say they are more likely to purchase a new subscription box service in the next 12 months (21%) compared to the national average (13%).