Despite the dramatic surge in online shopping over the last decade, 18% of Britons do all their clothes shopping on the high street – and only 4% do all their shopping online
The rise of online retailers such as ASOS.com and boohoo has dramatically changed high street fashion – to the point where some industry experts claim that traditional retailers are struggling to compete. But YouGov research indicates that there's still plenty of appetite for the traditional offline clothes shopping experience among Brits.
Our new white paper, The Fashion Industry in Great Britain, reveals that more than a quarter of Brits (28%) mostly shop for their clothes offline – and a further fifth (18%) do so exclusively. A further 22% split their clothes shopping between the web and bricks-and-mortar shops. And while nearly a quarter (23%) mostly rely on online channels, a mere 4% only rely on these channels.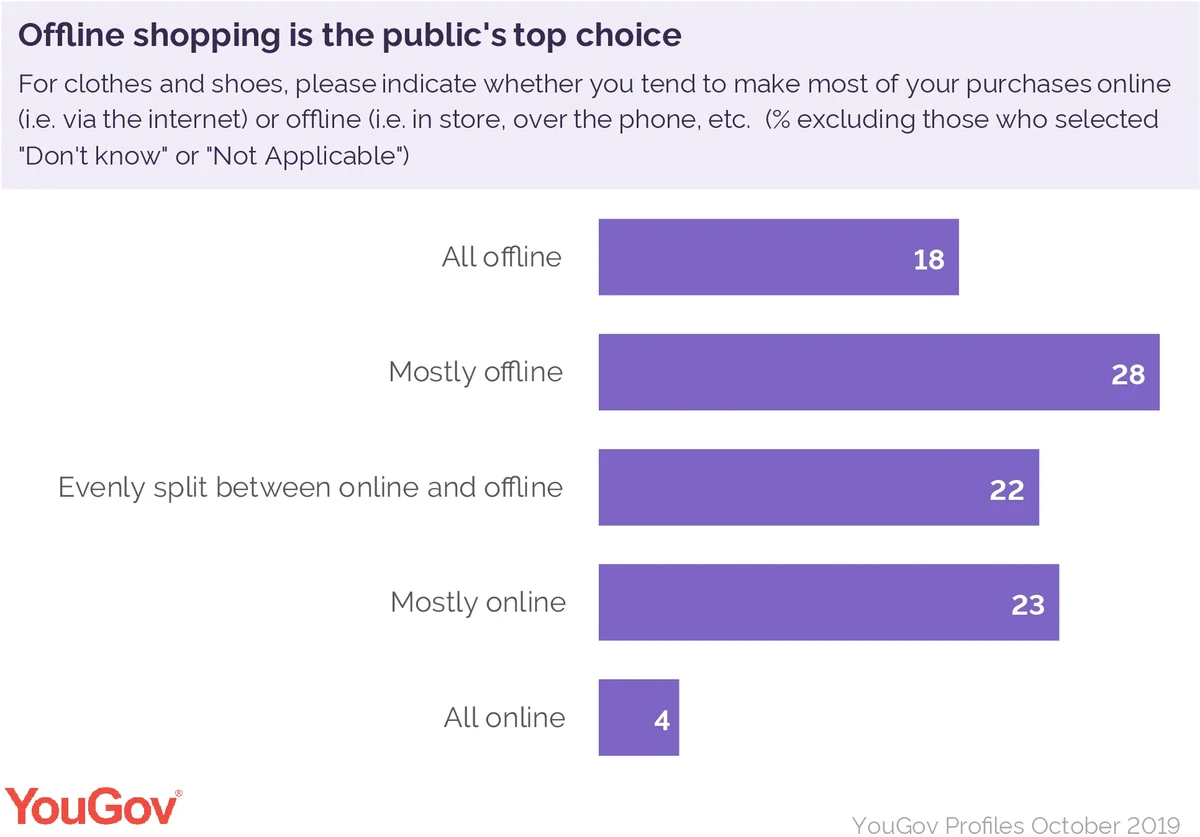 So why might more people prefer to shop offline? It may have something to do with the complexity of shopping for clothes: the human body comes in various shapes and sizes, and finding the elusive "perfect fit" can be difficult – particularly when a size 12 at one retailer is not necessarily the same as a size 12 at another. It may also be that an item that looks good online looks somewhat different when it arrives.
An alternative explanation, and one supported by YouGov data, is that many people simply like to touch stuff before they buy it. Almost four in ten (38%) Brits say they like to feel products ahead of a purchase, and only a fifth (20%) disagree. The tactile aspect of buying clothes in-person is clearly a part of the shopping process for many consumers.
However Brits shop with high street brands, they tend to be quite loyal: over half (54%) say they've only bought from one retailer in the past three months, compared to a quarter (24%) who've shopped with two and less than a fifth (18%) shopping with three or four.