The frequent table-topper takes yet another accolade – beating a list dominated by health and beauty brands
John Lewis, the 91-year-old department store chain, has done it again: new YouGov analysis reveals that the partnership is the UK's most-recommended high street brand.
The new rankings show that 81% of the brand's current customers recommend it to others. John Lewis, which recently won Brits over with its Excitable Edgar Xmas campaign, has a history of strong performances in YouGov's assorted Rankings – by way of recent example, the chain topped our brand health list twice in a row.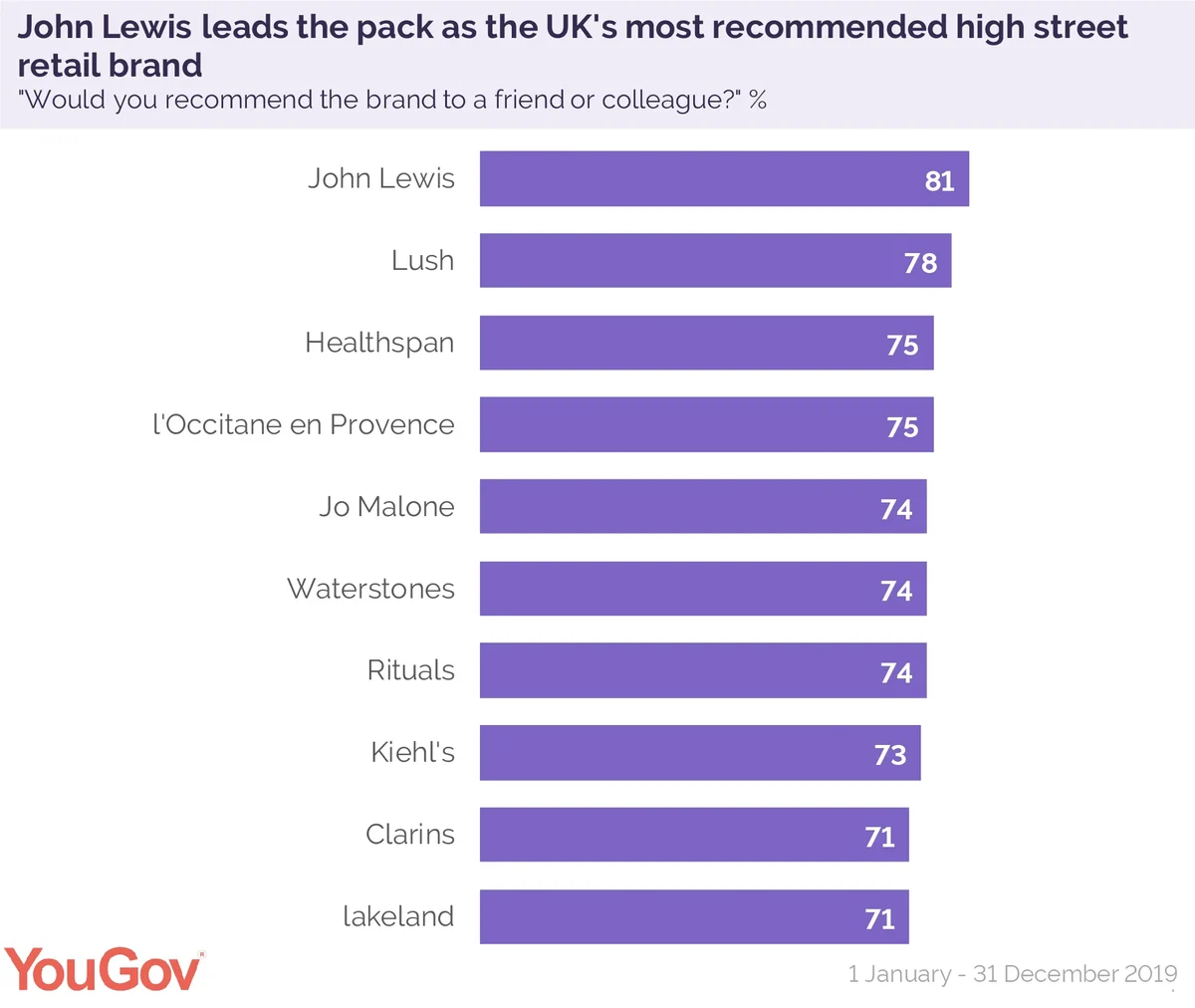 YouGov's Recommend Scores, which decide the top ten Rankings, represent the percentage of a brand's customers who would recommend it to a friend or colleague. Every brand in our rankings has a minimum sample of 100 and has been tracked for at least 12 months. All scores are rounded to a single decimal place.
Lush, the handmade cosmetics company, placed second with a score of 78%. The brand has won plaudits from the press and consumers in recent years for its cruelty-free policy – refusing to stock products that have been tested on animals. It's in good company, as five other beauty brands also featured in the top ten: Healthspan finished third with 75%, L'Occitane en Provence earned fourth spot (also scoring around 75%), Rituals won seventh with 74%, Kiehl's ranked eighth with 74%, and finally, Clarins took ninth with 71%.
All other brands highlighted in the top ten are the lone representatives of their industries: perfume company Jo Malone is fifth with 74%, with Waterstones 0.01% behind it in sixth. Lakeland completes the top ten rankings with 71%.
Learn more about YouGov Recommend+
Image: Getty