Loyal north-easterners rank Greggs highly and people in Cornwall love a pasty – but Scots put Chinese food top of the list
George Orwell once described fish and chips as one of the "cheap luxuries" which prevent revolution. He may well have been right. For many Brits, meals out and takeaway nights are little things that make life bearable.
But which are the nation's favourites? And how does taste vary from region to region?
With a customer advocacy score of 55, Leon is the chain that Brits as a whole are most likely to tell their family and friends about. The brand's "Naturally Fast Food" motto may explain why it's so highly recommended. Takeaways are typically associated with indulgence and guilt – but as an ostensibly healthy eatery, Leon promises Brits that they can treat themselves without shame.
In second place (with an advocacy score of 51) is Miller & Carter Steakhouse. Asian cuisine is also well represented, with Wasabi (45) and itsu (43) coming in third and fourth respectively. Vintage Inns sits in fifth place with 38, showing that many Brits also have an appetite for rustic, country-flavoured food.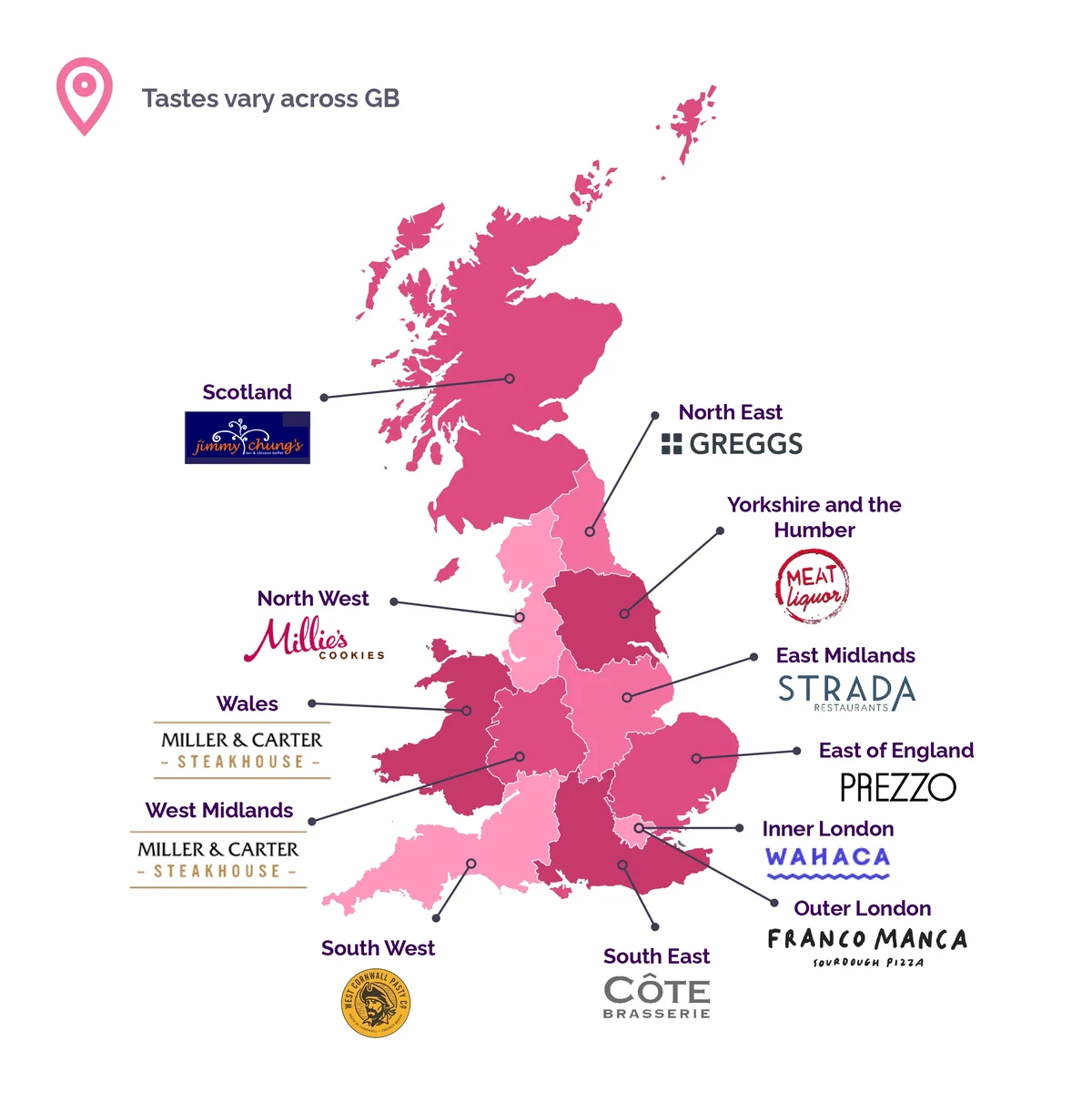 But we can see in our food map of Great Britain that tastes vary widely from region to region. Only one of the five most recommended brands is also a top choice in a specific region: Miller & Carter Steakhouse is the favourite in Wales and the West Midlands. Everywhere else has its own particular – and occasionally stereotypical – preferences.
In the North East, for example, Greggs is the clear winner. This isn't especially shocking. Despite a strong nationwide presence, the bakery is native to this part of the UK and remains closely associated with the region. In 2017, a (misleading) viral photo of two Greggs locations right next to each other was described as "peak Sunderland" on social media.
For Yorkshire and the Humber, the burger chain MEATliquor comes top, while the North West is the only region with a sweet tooth: Millie's Cookies is the brand of choice, while every other part of Great Britain prefers savoury food in one form or another.
Outer Londoners favour Franco Manca, suggesting they like their pizza with a very high bread-to-cheese ratio, while Inner Londoners prefer Wahaca – famous for its pork pibil tacos. Meanwhile, Scotland rates Chinese buffet restaurant Jimmy Chung's as the best eating in the country, and in news that will surprise few, the pasty is Cornwall's preferred takeaway - especially when it comes from the West Cornwall Pasty Co.