Airbnb jumps from ninth to second place, while Amazon Prime Video is the most improved brand.
Netflix is the most positively talked about brand among millennials for the third year in a row with a score of 80.2 and a huge lead of 7.3 points, new YouGov research shows.
The streaming service tops YouGov's 2019 NextGen Rankings which identifies which brands 18 to 34 year olds have talked about most positively with friends and family.
The top ten list is dominated by tech companies and companies which would have previously be considered as 'disrupters'. Online rental and tourism broker Airbnb takes second position with 72.9 points.
Fast food giant McDonald's takes third place (72.5) and social networking platform Instagram takes fourth (72.4). The rest of the top ten are made up of technology brands and retailers who prioritise value for money.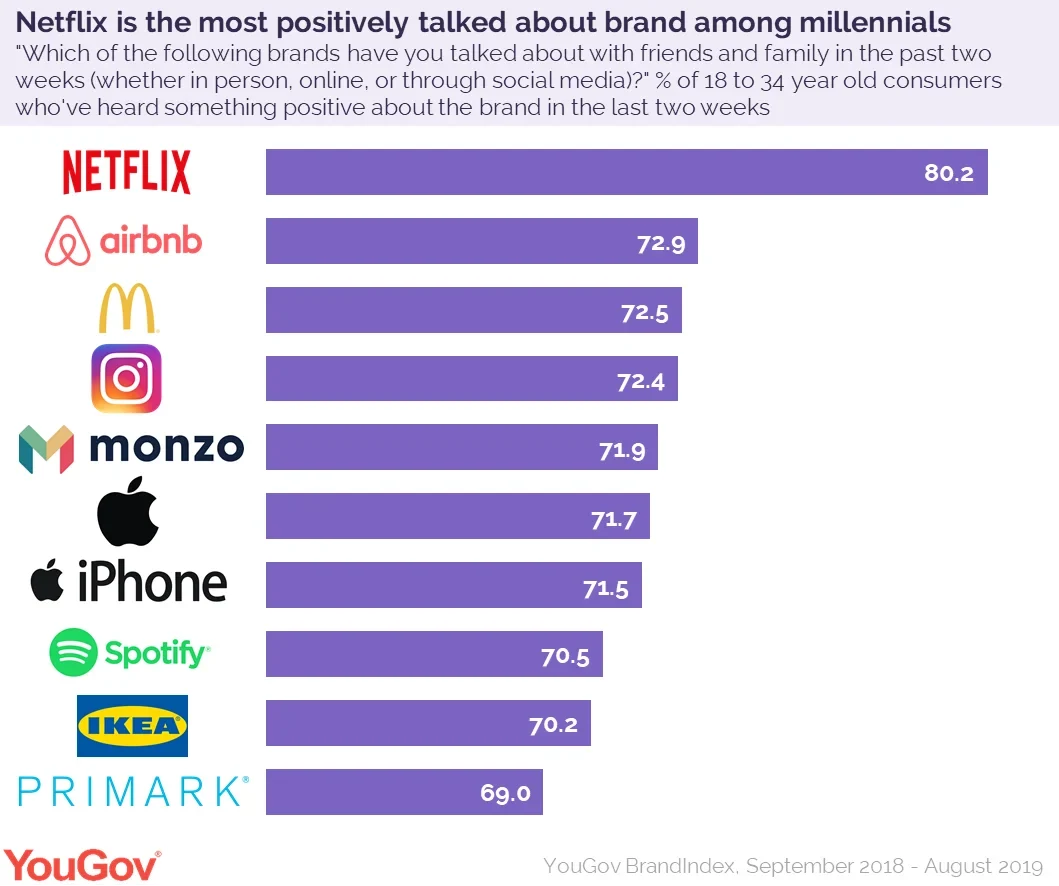 Interestingly, four of the top ten are industry disrupters, suggesting this demographic enjoy and positively regard the brands which shake up the status quo. One brand that particularly embodies this is Monzo, the app-only bank which has grown its customer base significantly.
Some 7% of 18 to 34 year olds currently have a Monzo account, compared to just 3% of the UK as a whole, demonstrating how this brand skews towards a younger audience. Similarly, almost half (49%) of 18 to 34 year olds currently use online music streaming service Spotify, compared to under a third of the UK as a whole (29%). Travel and rental broker airbnb, which also disrupted the market when it entered the market, has seen a huge increase in its rankings from ninth last year to second this year. Impression scores (whether someone has a positive or negative impression of a brand) among 18 to 34 year olds for the brand were at +23.8 in 2017 to 2018 and then increased to +27.9 this year, demonstrating the improvement in regard among this group.
Although airbnb made an impressive increase in the rankings from ninth last year to second this year, Netflix's crown remains firmly in place. The streaming service has continue to invest billions in content, creating 'Netflix originals' such as the highly successful Stranger Things.
Budget brands that place emphasis on convenience make up the rest of the top ten, such as McDonald's (72.5), Ikea (70.2) and Primark (69.0). Three quarters of 18 to 34 year olds would happily switch shops for greater speed and convenience (75%) while 29% are motivated to shop somewhere because they have the cheapest prices overall.
The rankings also assess which brands have experienced the greatest uplift in positive Word of Mouth score (whether someone has talked about the brand with friends and family in the last two weeks) over the past 12 months. The improvers list is dominated by household food brands, premium retail brands and video/TV streamers.
Amazon Prime Video tops the improvers list, with a rise in score of +10.4, while TV channel BBC One also features on the top ten list (+5.5). Classic well known food brands Häagen-Dazs (+7.5), Marmite (+6.0) and Iceland (+5.7) come second, fourth and ninth, while premium retail brands also featured heavily (Adidas +6.0, Vans +5.9 and Dyson +5.8).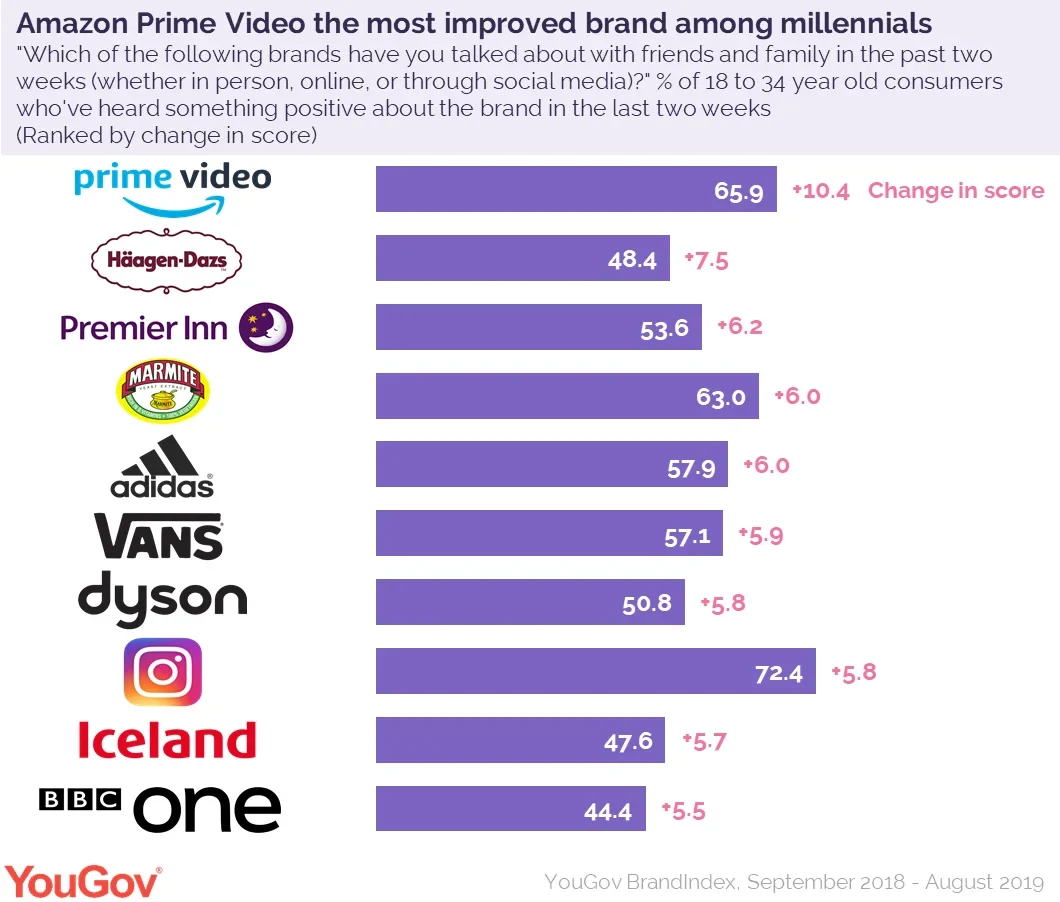 YouGov's rankings are based upon YouGov BrandIndex's Word of Mouth metric, which measures whether a respondent has discussed a brand with friends or family (whether in-person, online, or through social media) in the past two weeks. They are then filtered by positive Buzz - to sift out those who talk well of a brand from those who don't – and age, so that only 18-34 year-olds' views are measured.