Online grocer Ocado and retail giant Marks and Spencer have announced a joint venture offering an online food delivery service. The partnership will allow Ocado shoppers to choose from M&S food products, alongside Ocado's own brands and own label products.
M&S chief executive Steve Rowe expressed hopes that the move would help shape a future as a digital-first retailer, and that M&S Food "could and should be online".
YouGov data suggests that the partnership has potential to be a success as customers of both supermarkets have similar shopping habits. Customers of M&S and Ocado spend similar amounts on their weekly food shop, with a quarter (25% for M&S customers and 24% for Ocado customers) spending between £40 and £60 per week.
The explanations given by both groups for preferring to shop online are also similar; the top three reasons for both are the larger selection and variety available online, that shopping online is faster and less fuss than going in store. Both customer profiles are also more willing to pay extra for good quality products (77% for M&S, 74% Ocado) compared to the national average (69%).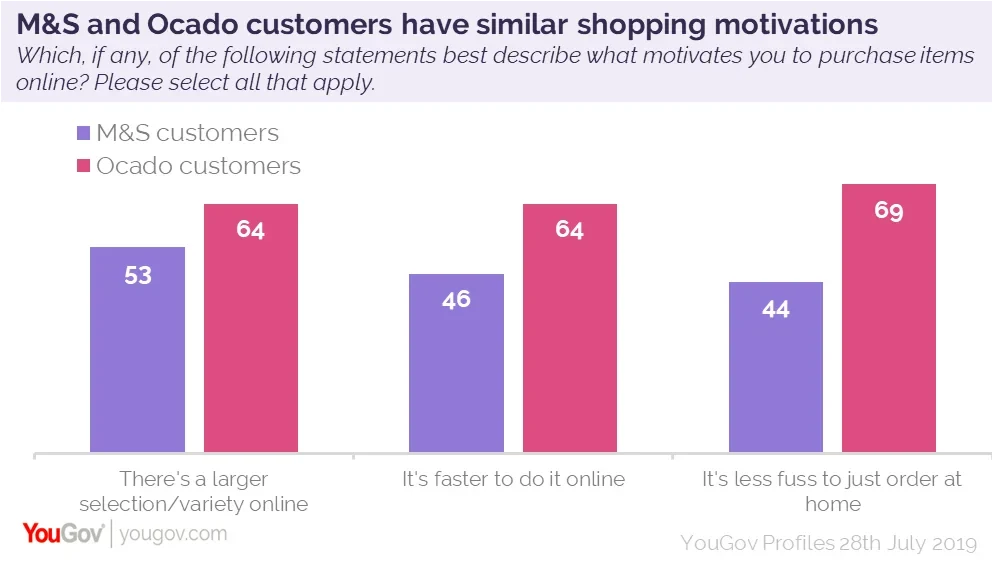 Ocado's audience is generally affluent despite being younger (10% have a gross household income between £70k and £99,999k a year) while over half (51%) see food as "an important part of my life" suggesting quality and variety are important factors. Ocado's customers could also be described as 'foodies', eating out several times a month (23%), cooking from scratch most days (34%) and are fairly adventurous with their food (70%).
However, there are differences which could also present opportunities. Ocado's customer base is much younger than M&S', with over a quarter (27%) aged between 25 and 39 and a third aged between 40 and 54 (33%). M&S's customer base is considerably older – 47% are aged over 55.
Partnering up with Ocado should help M&S to increase their awareness with a younger audience as well as customers who are 'foodies' and looking for premium convenience, a generally underserved space in the grocery delivery industry. Meanwhile, Ocado gains a greater range of products and more widespread awareness from M&S.
This article previously appeared in City A.M.