Health and beauty chain Boots has joined other retailers in pledging to swap plastic bags for paper, after facing criticism earlier this year for keeping medical prescription bags in plastic to protect medication during transport.
The new paper bags are unbleached and use water-based ink, and will be rolled out across all stores by early 2020. Boots claim the move will prevent the disposal of 900 tonnes of plastic every year.
Plastic use is a hot topic and the changes are not only environmentally responsible but also likely to reflect well on their brand.
YouGov data shows that most (83%) Brits think paper bags are less harmful to the environment, with only a negligible 2% minority thinking the same of plastic bags.
Interestingly, people would probably support the change despite environmental benefits: 84% of Boots customers simply prefer paper bags to plastic ones.
Since Boots made the announcement Buzz scores (a net measure of whether consumers have heard anything positive or negative about the brand in the last fortnight) have increased from -2.6 to +1.9 nationally. Among current Boots customers this is even more pronounced - from +0.3 to +7 - demonstrating that the policy has been received very well.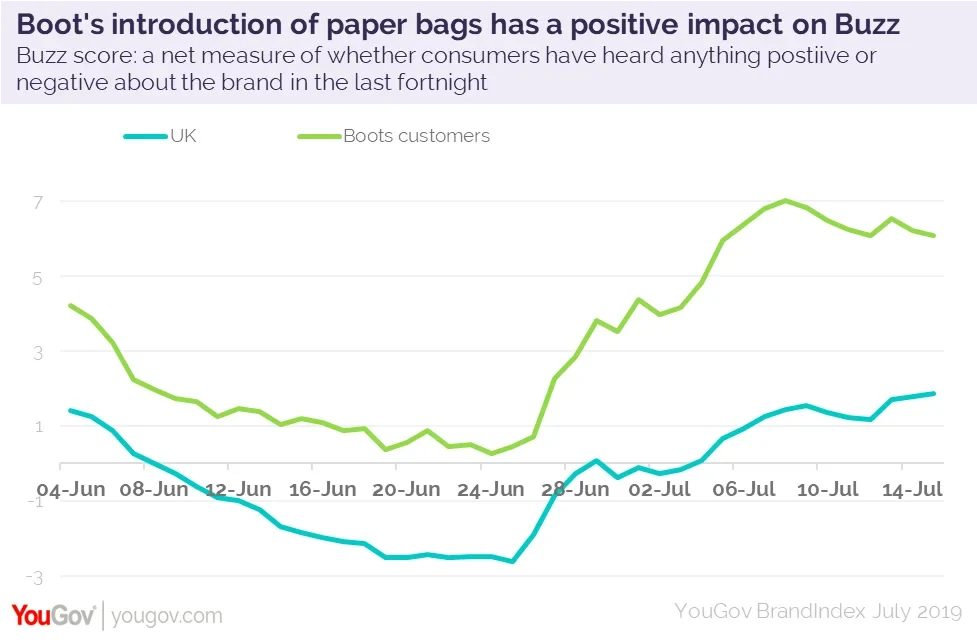 YouGov data shows that Boots customers are more likely to feel they need help to reduce the amount of plastic that they use (61% versus 58% nat rep) and also more likely to be making changes to that end.
Three quarters (75%) of customers say they try to re-use disposable items like plastic bags where possible (66% of the UK), while 38% try to buy fewer goods that have unrecyclable packaging (31% of the UK) and 8% try and avoid supermarkets and shops that don't use recyclable packaging.
There's also strong evidence that they would be willing to go yet further: 8% of Boots customers would pay extra for goods with 100% recyclable packaging.
Positive attitudes towards reducing plastic use in retail clearly resonates with Boots customers. What is even more positive is that there seems to be an appetite for brands to go even further in the future.