This month, Marks & Spencer achieved the highest uplift in Ad Awareness of any brand in the UK – a +8.9 change in score
Marks & Spencer's newest adverts are a throwback to the famous 'food porn' adverts of the mid-noughties, after a 12 year hiatus. The adverts, created by Grey London, shows customers daydreaming about key M&S products to the same Fleetwood Mac tune of the original 'This is not just food…' adverts.
Easter editions of the advert featuring hot cross buns and roast lamb were also created to capitalise on the time of year and promote seasonal products.
YouGov BrandIndex data shows that the brand's Ad Awareness scores (whether someone has seen or heard an advert broadcast by a company in the past two weeks) have increased by 18 percentage points - up from 22% prior to the release to 40% at the peak.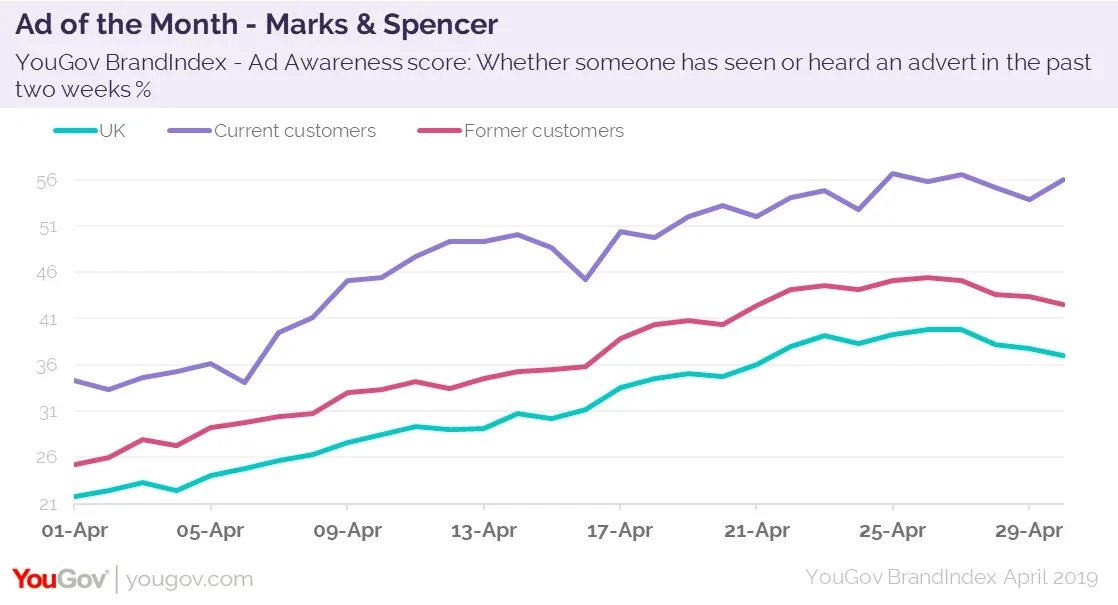 Among current customers, Ad Awareness initially decreased after release on the 2nd however then rose by 16 percentage points (from 34% to 50%) within a week. Former customers had the fastest increase in Ad Awareness, increasing by 12 percentage points (from 24% to 36%) in the week following release, suggesting the nostalgic advert also reconnected with historic customers.
Word of Mouth Exposure scores (whether someone has talked about the brand with friends and family in the last two weeks) immediately increased by 3 points after release (from +14.5 to +17.4) while Buzz scores (a net measure of whether consumers have heard anything positive or negative about the brand in the last fortnight) were also up by 6 points (from +10.8 to +16.6).
These adverts have allowed Marks & Spencer to appeal to customers old and new while increasing their appeal and notoriety with the general public, which should hopefully allow the supermarket chain to ward off poor sales report over the Christmas period.