Last week, Sir Philip Green appointed restructuring specialists to the boards of his Arcadia retail empire in preparation for a major restructuring in May to tackle the company's £500m deficit.
Green has pinned Arcadia's struggles on a challenging retail market and the ailing British high street, however Arcadia's brands may have been affected by his own personal affairs over the years; from the BHS pension scandal to allegations against Green's personal conduct.
But to what extent has Topshop been affected? YouGov data shows that when it comes to Arcadia's jewel in the crown, consumer perception remains largely positive.
In April 2016, BHS entered administration a year after Green had sold it along with two pension schemes leading to one of the largest pension scandals of the decade. During this time, Topshop's Buzz Score (a net measure of whether consumers have heard anything positive or negative about the brand in the last fortnight) only fell 2 points while Reputation scores (whether someone is proud of embarrassed to work for a brand) similarly only decreased by -1.2 points.
Consideration scores (whether someone would consider purchasing from the brand in future) among current customers increased from +60.4 to +86.7, suggesting consumers registered the negative press however, far from boycotting the shop, it seems the publicity was making them think about buying.
Similarly, in October 2018 Green faced multiple allegations of personal misconduct during which Topshop's Buzz score fell -3.4 points. Reputation scores and Impression scores (whether someone has a positive or negative impression of a brand) also fell 6.3 points and 6.5 points respectively.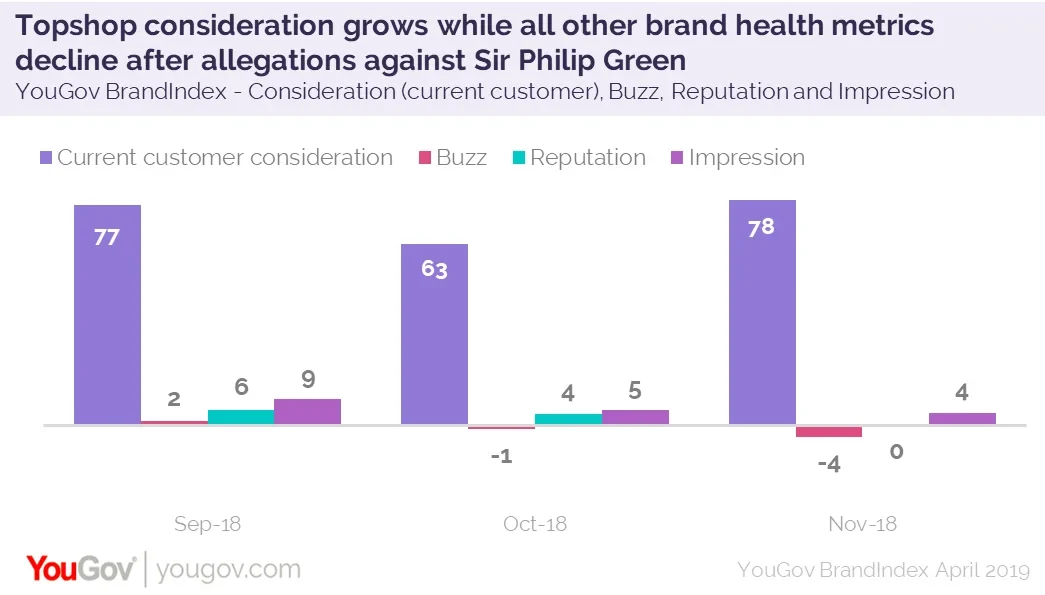 Topshop's scores were again impacted by the allegations, but while Consideration scores among current customers initially fell from +76.6 to +62.9, they then surged to +78.2.
The data suggests that the king of negative press generated by Green does register in people's minds but doesn't have a detrimental impact on customer's willingness to buy the brand in the long term.
Image: Wikimedia Commons