Unfortunately, long-serving British brands declaring bankruptcy has become a recurring theme for my columns, with last year being particularly rough on the retail sector. One brand which fell victim to the difficult climate was electronic goods retailer, Maplin, who fell into administration at the end of February 2018.
However, it seems this was not permanent as Maplin followed in the steps of nineties chain Woolworths by reopening for business online in late January.
Unsurprisingly, after the insolvency declaration, Maplin's Buzz score (a net measure of whether consumers have heard anything positive or negative about the brand in the last fortnight) plummeted from +0.5 to -32.8.
But is there still appetite for Maplin? And will a store that previously only existed in bricks-and-mortar be more successful solely online?
YouGov BrandIndex data shows that consumer perception of Maplin is much stronger among former customers than with the average consumer (nationally). Maplin's Consideration score (whether someone would consider purchasing from the brand in future) is +16 among former customers (compared to +7.8 nationally), and their Impression score (whether someone has a positive or negative impression of a brand) is +13.1 – roughly 8 points higher than the average consumer (+5.5). This suggests that there's still an appetite for the brand amongst their old audience.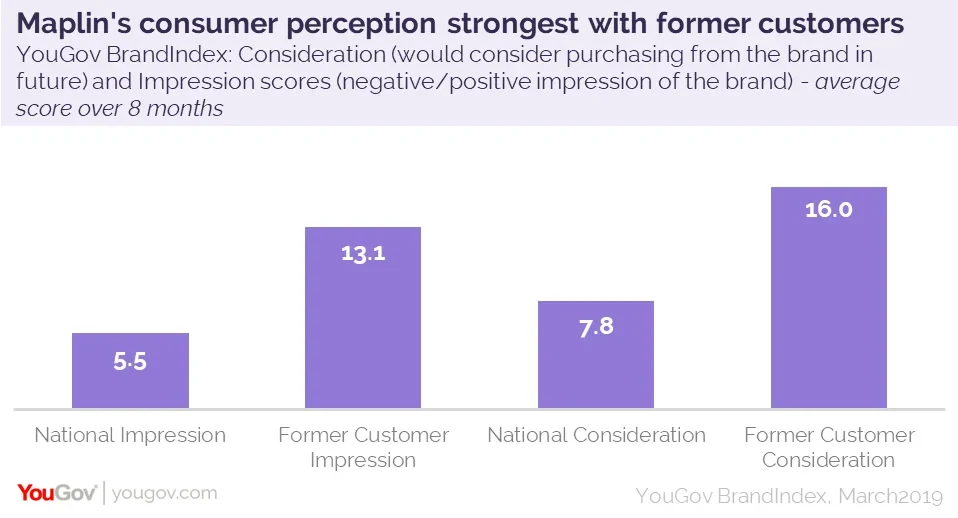 However, it's a tough ask for Maplin to succeed as a purely online store, as the demographic profiles of their customers show they are typically less likely to enjoy shopping online than the general population, instead preferring retail experiences that provide personal assistance: 84% like to get advice before buying new things (versus 69% nationally) and 79% value the opinion of experts when choosing products (11% higher than the national average). Maplin will need to find new ways to appeal to their previous audience, while also attracting a new target group, no mean feat.
Former customers liked shopping in Maplin stores because demographically they're more likely to prefer advice and expert opinion while shopping. If Maplin can find a way to provide this online, then their online venture should be a success with their previous customers.
Image: Wikipedia Commons
This article previously appeared on City A.M.