Following in the footsteps of other beloved, well-known high street brands, HMV entered administration at the end of 2018 ending decades of dominance over the UK music market.
However, unlike others, HMV was rescued from being consigned to history after being purchased by Canadian retailer, Sunrise Records, last week (at least for now, HMV also entered administration in 2013).
The new owner, Doug Putman, has also revealed a new direction for the business - increasing vinyl stocks. Having been in the red since 2010/11, Putman's new proposal for HMV is intended to make the brand "profitable by the end of the year" by appealing to vinyl customers who are traditionally more involved and purchase physical copies.
Having already had success with previous acquisition HMV Canada, Putman hopes to replicate this success in the UK despite already closing 27 UK shops, including the flagship on Oxford Street. But are customers singing to the same tune?
YouGov BrandIndex data shows that although HMV's Buzz score (a net measure of whether consumers have heard anything positive or negative about the brand in the last fortnight) fell from +4.6 to -31.6 after appointing administrators, their Consideration score (whether someone would consider purchasing from the brand in future) only fell from +18.5 to +14.8 – a fairly minimal drop.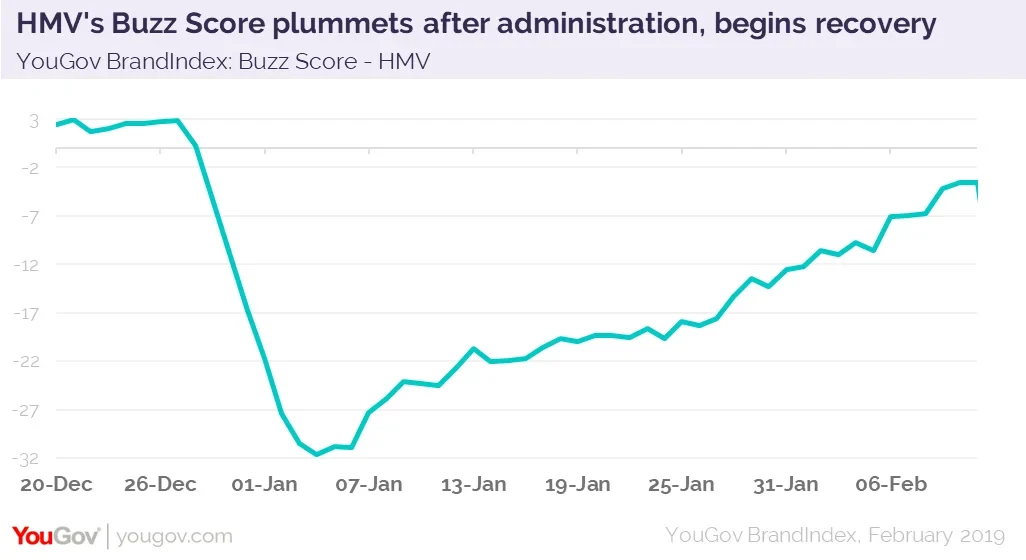 This is similar to the aftermath of HMV's first administration in 2013; Buzz scores fell from -8.8 to -45.6 yet Consideration scores remained fairly level. These patterns seem to suggest that despite business difficulties, customers are still invested in HMV as a brand.
Incidentally, YouGov's Music Industry report shows that while the largest consumers of CDs are aged over 55 (53%), almost two thirds of current users and purchasers still expect to be using CDs in five years' time (64%). Six in ten CD listeners also prefer to consume music in traditional forms e.g. vinyl (60%).
Bringing in new stock such as vinyl and adapting the business to match customer needs could mean that HMV will build on this loyal customer base and get another chance to rebuild.
Data gathered using YouGov BrandIndex.
Image: David Hawgood