Last week the high-tech vacuum cleaner and hand dryer company Dyson announced that it would be moving its headquarters from Wiltshire to Singapore in order to "future proof" itself.
The timing of this move, just two months before Britain's Brexit deadline, will inevitably draw some to infer a link. A statement from Dyson's chief executive explicitly denying this - "The move is nothing to do with Brexit or tax" – will not be enough to convince everyone.
Whatever the motivations behind Dyson's relocation, the prospect of a No Deal outcome and the general uncertainty caused by constant political tussles is causing concern in UK businesses. But what of the customers?
YouGov BrandIndex data shows how the Dyson news has definitely reached consumers over the last week – but that the reaction in the UK, France and Germany varied considerably.
Dyson's Buzz Score (a net measure of whether consumers have heard anything positive or negative about the brand in the last fortnight) is performing very differently depending on which population you poll.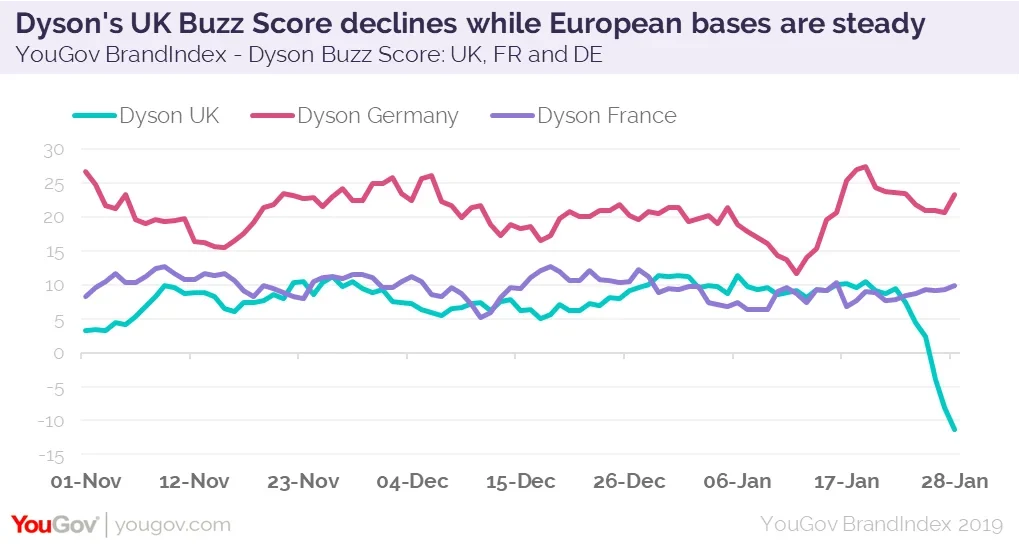 Dyson's UK Buzz Score dropped by roughly 20 points, from +9.4 last week to -11.3. Comparatively, in the past week France's Buzz Score for the company has stayed relatively steady – coming in at +23.6 and +23.3 respectively. In Germany the company's score has actually increased from +7.7 to +9.8, suggesting that what is perceived as negative news to businesses in Britain isn't in the least bit concerning to those who remain in the European Union.
We can't attribute this UK move directly to Brexit, but it will have been hard for British consumers to see the timing of the relocation as coincidental and to feel the loss of an iconic British business. Dyson UK's Consideration Score (whether someone would consider purchasing from the brand in future) has declined in the past week, from +33.1 to +22.9 showing that whatever the reason for the change of attitudes, this move could have considerable impact on UK sales.
Data gathered using YouGov BrandIndex.
Image: Getty
This article was previously seen on City A.M.