Despite the ad never being shown on TV, YouGov's ad testing service reveals Iceland's anti-palm oil spot was most popular among the public.
Iceland took a very different approach to Christmas advertising this year with a campaign highlighting how demand for palm oil is destroying orangutans' natural habitat. The ad was deemed "too political" for television broadcast but was widely shared online nonetheless.
Among those who saw the animated commercial, voiced by Emma Thompson, four in five (80%) liked it, 83% said it stood out and 87% found the message easy to understand. Three quarters (75%) thought the ad was believable, indicating that Iceland has been successful in getting its environmental message across to the public.
However, while the supermarket has associated itself with this cause since April 2018, when it announced it would ban palm oil in its products, only 39% agreed that the ad suits the brand.
When it comes to the more "traditional" Christmas campaigns, there doesn't seem to be a straightforward magic formula. Both humorous and serious ads perform well. Sainsbury's school concert, Aldi's "Kevin the Carrot", McDonald's #ReindeerReady, and Boots' emotional campaign portraying a mother and daughter relationship were also popular.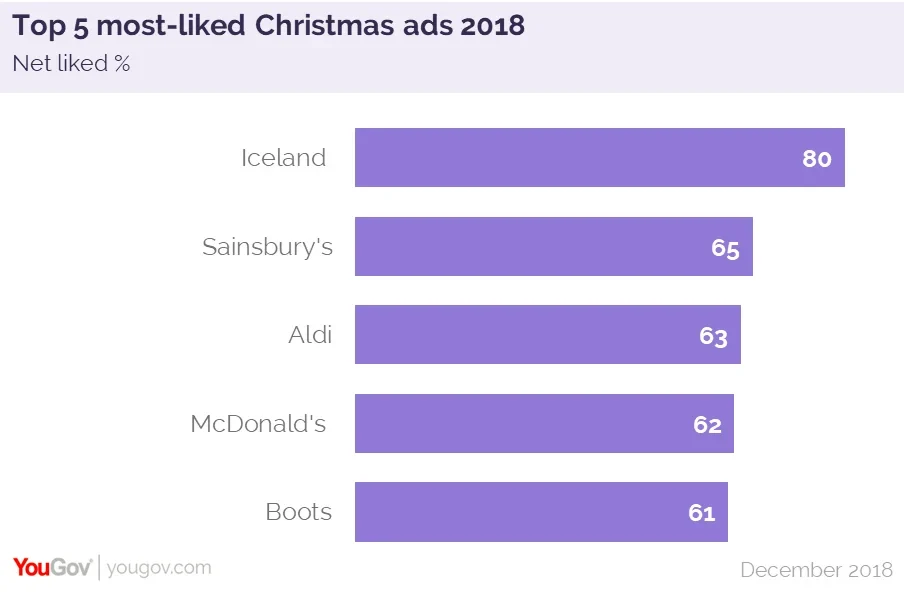 Which other Christmas ads stood out?
John Lewis' blockbuster ad featuring Elton John had the highest recall (66%), followed by Tesco (55%), Sainsbury's (55%), Boots (49%), and Amazon's singing boxes (48%).
Tesco's "However you do Christmas" campaign was seen as most in keeping with the brand's image. More than three in five (62%) said it suits the supermarket well and almost two thirds (65%) agreed that it fits the range of Christmas products the retailer offers. Cadbury (60%), Debenhams (57%), Boots (53%), and Aldi (53%) also did well on this measure with ads that put the products centre stage.
The success of Aldi's campaign here, along with its status as one of the most-liked, indicates it has been successful at telling an entertaining story while still effectively showcasing its products.