Previously I have discussed the impact the fine imposed on 888.com had on its brand perception among the public and, more specifically, its target demographic.
At the time I speculated that the controversy surrounding 'vulnerable gamblers' could very well rumble on and affect other betting companies.
Now, the story has drawn in Ladbrokes Coral. The betting watchdog ruled that the bookmaker failed to intervene when two 'problem gamblers' lost £1.3m in stolen money on its casino website, despite warnings. As a result, the firm has been fined £2.3m.
The story has already had a negative impact on Ladbrokes' consumer perception. YouGov's Buzz score (which measures whether someone has heard something positive/negative about the brand) indicates that the public has noted the bad headlines. Over the last week, Ladbrokes' score declined by 6 points and it now stands at -10.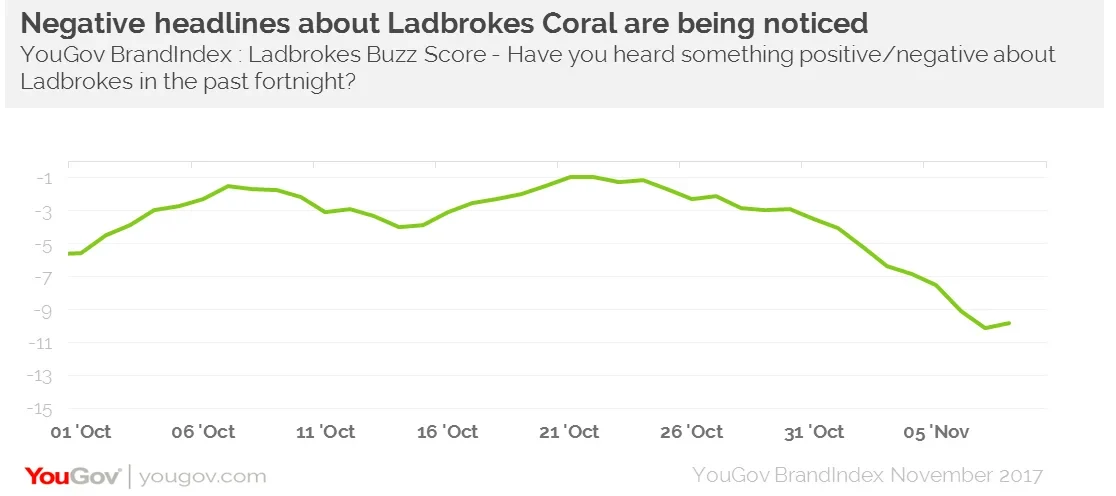 However, it may not just be the fine and the associated details that are behind the decline. This is because the betting watchdog's report coincided with the government's announcement on Fixed-Odds Betting Terminals.
On the issue of Fixed-Odds Betting terminals, public opinion is at odds (no pun intended) with the gambling companies. Back in April 2014, YouGov research indicated that seven in ten (70%) Britons believed there should be extra restrictions on high-stake gambling machines, compared to 15% would thought there shouldn't. Added to this, six in ten (61%) said they would support a £2 cap on gambling machines in betting shops, against just 13% that would oppose a cap.
YouGov brand tracking data indicates that this combination has had an impact on Ladbrokes Coral's Impression score (whether someone has a positive or negative impression of the brand). This score has also declined, dropping by 8 points (from -19 to -27).
The issue is a tough one for gambling companies. Lobbying against new legislation too publically may run the risk of the public associating a particular brand with this specific issue and potentially damaging that brand's perception.
Whatever the exact reason for the negative views of industry players that we have noticed, online and offline gambling firms have faced a succession of negative headlines in recent times. While the stories may not put off regular customers, it may be more problematic for them to attract new consumers.
This article originally appeared in EGR Magazine