This week, Debenhams will be announcing its full year results, with forecasts that annual profits could drop by almost 17%. YouGov brand tracking data points to where the brand is facing challenges.
It's no secret that all high-street department stores face challenges as consumers' purchasing habits change. The threat from online only competitors continues to rise, while traditional bricks and mortar stores deal with increased business rates and import costs.
YouGov brand tracking data shows that Debenhams may have to work a little bit harder to keep up with its immediate competitors. It remains a strong, well-regarded brand – however, so are many of its rivals.
Within the high-street retail sector, Debenhams' Impression score (whether or not you have a positive impression of the brand) currently stands at a strong +37. However, it still ranks behind other retail giants John Lewis on +51 and Marks & Spencer on +61.
This is reflected in its Impression score among those that would consider shopping with all those brands, Debenhams (+68), John Lewis (+83) and Marks and Spencer (+81). YouGov Profiles data confirms that Debenhams customers are, as one would expect, more likely than average to be customers of the other brands. This means that they are well-placed to judge the contrasting strengths and weakness of each offering.
Being talked about in such a crowded market remains vital. YouGov's Word of Mouth metric (whether or not you have talked about the brand with somebody in the last fortnight) also shows Debenhams lagging behind John Lewis – with the biggest divergences in scores being noted at Christmas time, a period which John Lewis 'owns' in terms of headlines and hype.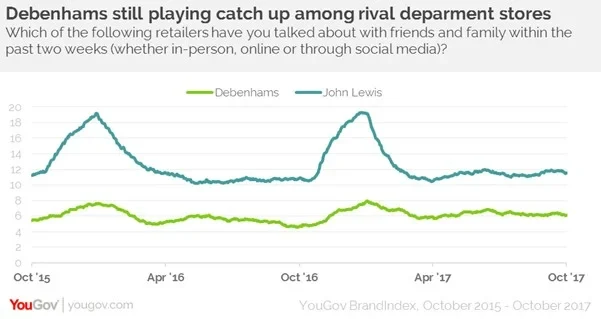 The danger for brands such as Debenhams may be falling into a sort of middle-ground. It is not as well regarded in terms of Quality Score among all respondents as John Lewis (+40 compared to +61), but it is losing out in terms of Value Score – especially in the fashion space - to brands such TK Maxx (+14 vs. +16) and Matalan (+17) . Sharpening that key appeal, especially to a new generation of consumers is important in this regard.
This article originally appeared in City A.M.
Image: Getty