Who actually wants an election? Is the PM actually trying to get a new deal? We test claims about a new Brexit deal and election desires
Accusations and bold claims are flying around Whitehall after a week of political turmoil which saw the Government defeated in the Commons, longstanding Conservative MPs kicked out of the party and cabinet ministers resigning. Now a new YouGov survey reveals what the public believes about what's being said.
1. Do Boris Johnson and/or Jeremy Corbyn actually want a general election?
Commentators have mocked both the main party leaders' election claims, with Boris Johnson claiming he does not want an election despite calling for one and Jeremy Corbyn claiming he does not want one despite having claimed for the last two years that he does. This latter discrepancy is the subject of a derided Conservative party attack advert claiming that the Labour leader is a chicken.
Despite the Prime Minister's denials, the public tend to believe that Boris Johnson is gunning for a general election. By 43% to 32%, Britons think the Conservative leader wants to make the public trudge back to the ballot box, with pluralities across all voting groups likewise thinking Johnson desires a vote.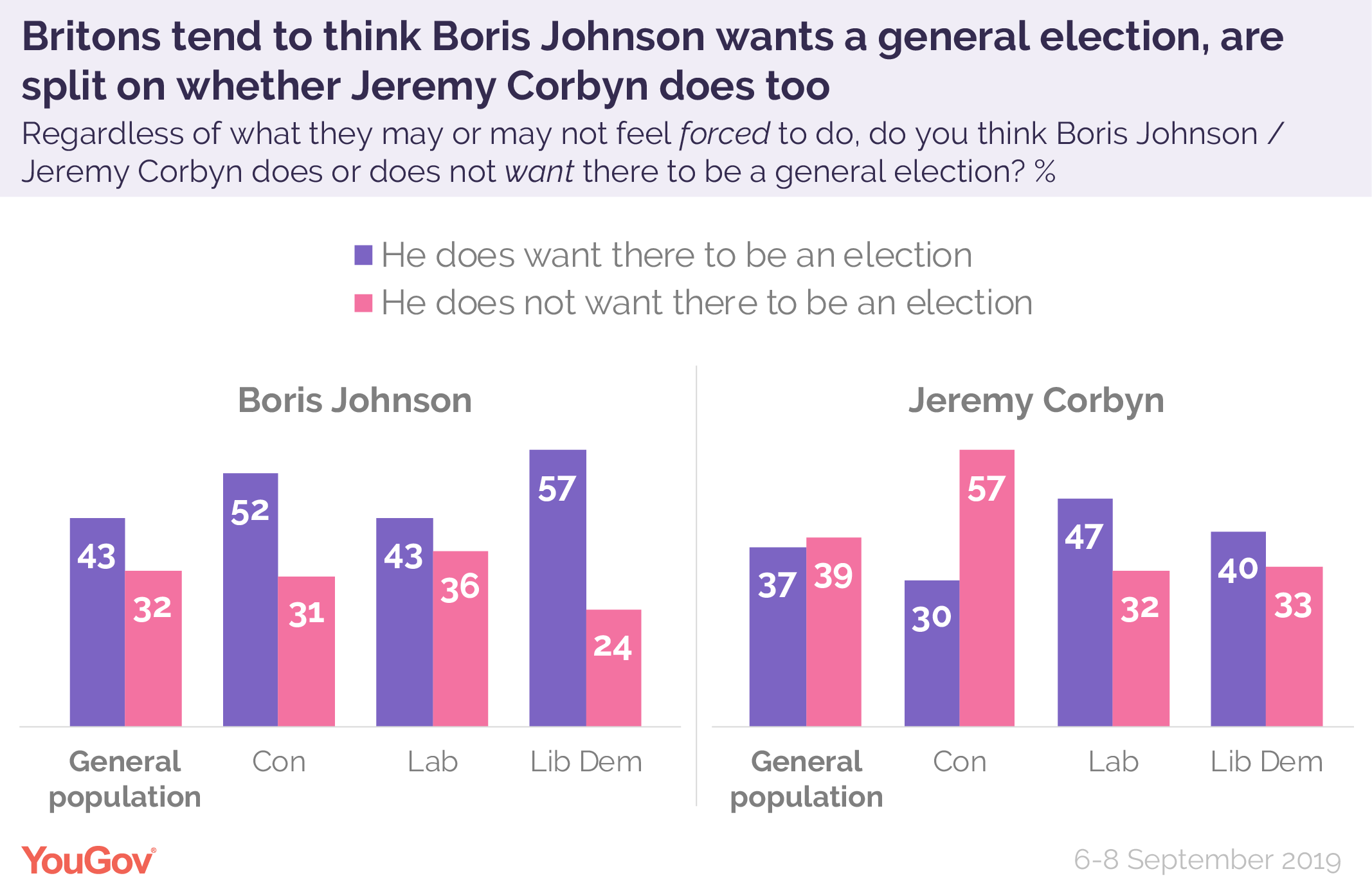 By contrast, the public are split 37%/39% on what Jeremy Corbyn wants. The split is partisan, with most Conservatives (57%) thinking the Labour leader hopes to avoid a poll while Labour and Lib Dem voters tend to think that Corbyn does want an election (by 47% to 32% and 40% to 33%, respectively).
2. Does Boris Johnson actually think he can get a deal?
Speaking of her reasons for resigning from the cabinet and the Conservative party last week, Amber Rudd said that her decision was in part because the Government provided no evidence of putting new proposals for a deal to the EU.
The results show that one in three Britons (33%) think the renegotiations are for show. Another 23% believe that Boris thinks a deal is likely and is wholeheartedly pursuing it, while a further 19% think Boris expects the chances of a deal are unlikely but that he must try regardless. Overall this means that half of Britons (52%) think that Boris Johnson does not believe another deal can be achieved.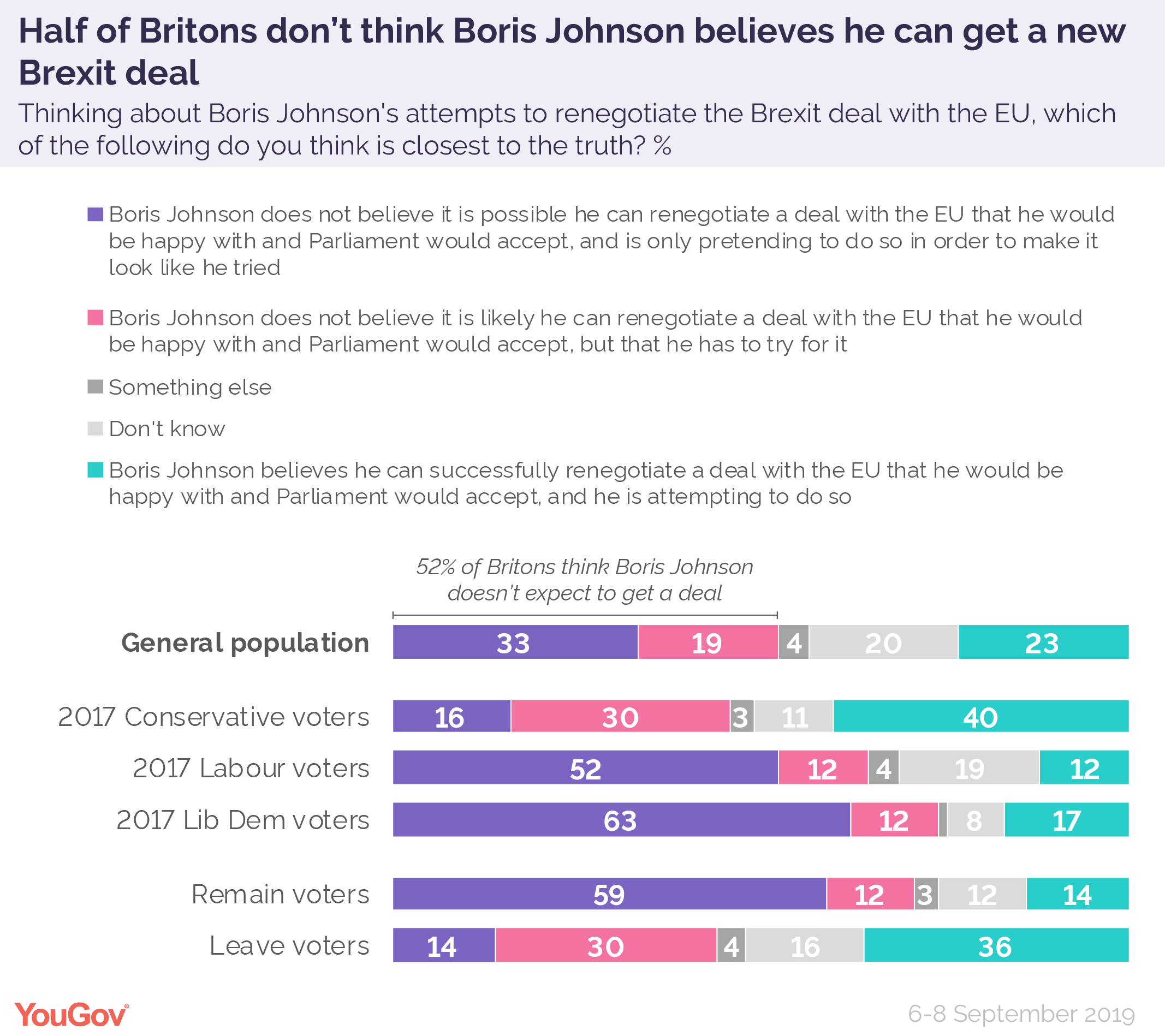 This includes 46% of Conservative voters and 44% of Leave voters – a figure which in both groups outnumbers those who think the Prime Minister believes he can get a deal.
3. Are we actually close to agreeing a new deal with the EU?
For their part, the Government says they are making progress towards a deal (although the EU disputes this). Asked how much advanced they think talks are, a majority of Britons (55%) believe that no progress whatsoever has been made towards agreeing a new Brexit deal.
Only 11% think a great or moderate amount of progress has been made. Even among Conservative and Leave voters this figure only stands at between 18% and 19%, with the largest proportion of each group (41%) saying they believe no progress has been made.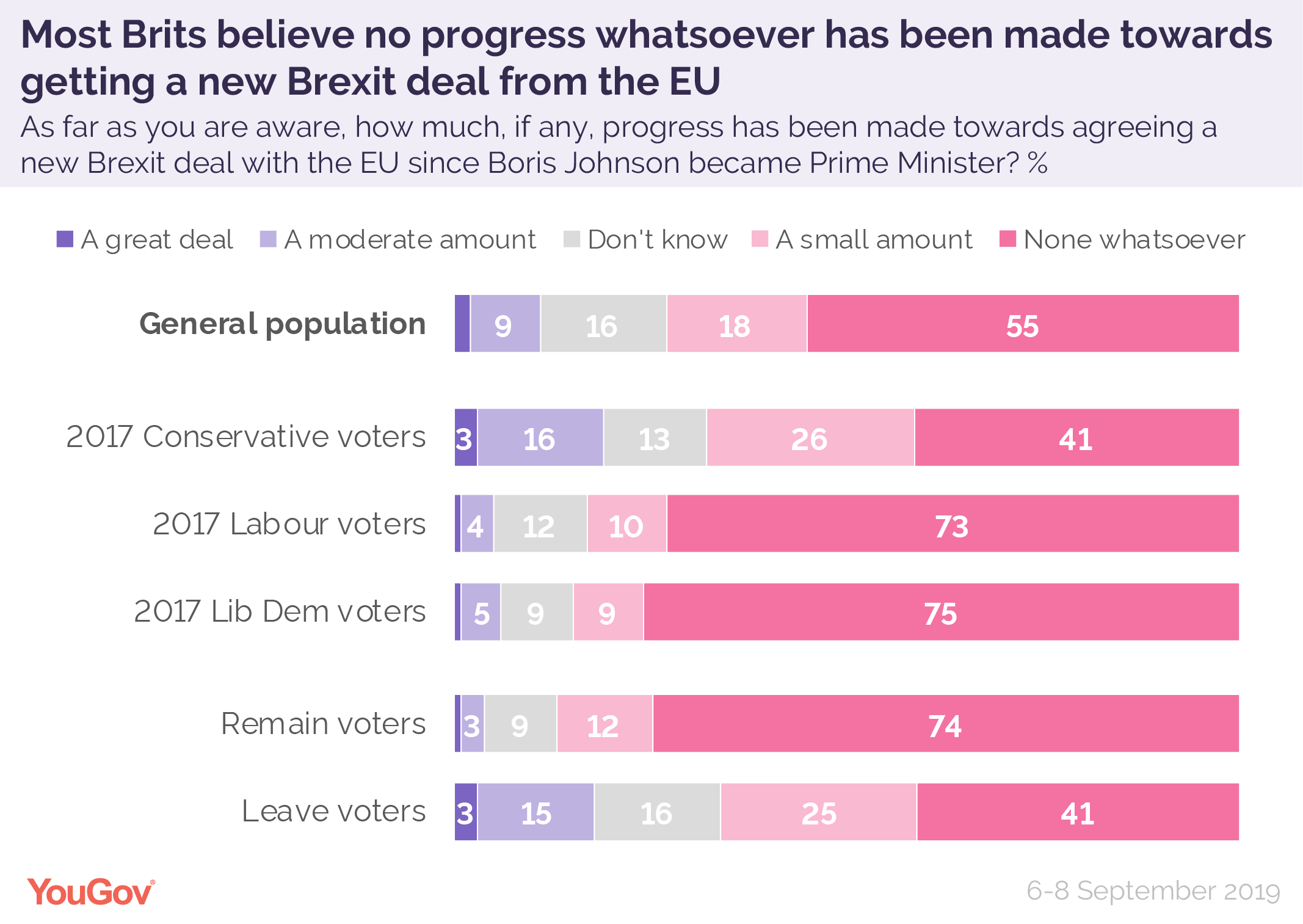 Photo: Getty