Close to half of Britons that travel overseas do not learn the basics of a country's language before visiting it on holiday, new research from YouGov reveals.
YouGov Profiles data indicates that 48% of Britons do not get to grips with a country's language before visiting it, compared to 41% who do.
Those who don't learn the basics treasure familiarity. Over half of this group (55%) say they usually go back to the same place on holiday, against just 39% of those that brush up on local phrases. And perhaps for many non-learners, there simply isn't the need to communicate with locals, with only 22% ruling out going on a package holiday, compared to 33% of those who learn the local language.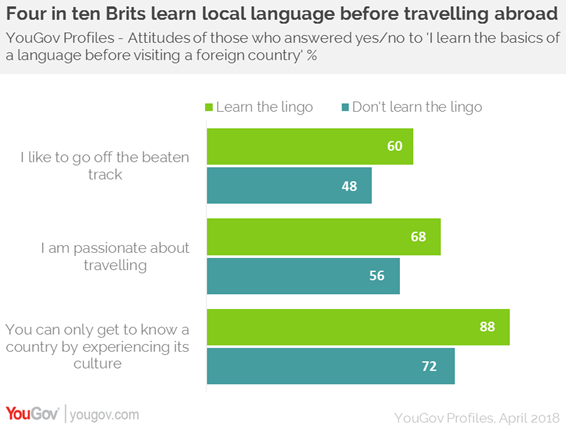 Passion for travelling, and a desire to immerse themselves in the local culture are also key for language learners. Over two thirds are passionate about travel (compared to 56% of non-learners), while almost nine in ten (88%) say that you can only ever get to know a country by experiencing its culture (versus 72%). When on holiday, 60% of basics learners like to go off the beaten track, against 48%.
On the other hand, three in ten (29%) of those who don't brush up say that when they go on holiday all they want to do it eat, drink and lie in the sun (compared to 23%). Indeed, looking forward to their vacations this year, 38% of non-language learners plan a beach holiday, against 26% of those that do learn the local lingo.
We've all heard the accusation of the stereotypical Brit abroad, those that make little or no effort to adapt to local customs and expecting anyone they come into contact with to speak English. It seems it is partly true with our data suggesting that a sizable percentage of Britons abroad don't attempt to brush up on their foreign language skills before departing for sunnier shores.
Image Getty