Netflix is the most positively talked about brand among millennials, new data from YouGov BrandIndex reveals.
The streaming service has topped YouGov's rankings, which considers which brands 18-34 year-olds have discussed with friends in favourable terms. 
In a list dominated by technology firms, Netflix is at the top with a score of 73.8, narrowly ahead of other technology giants Facebook (73.5), Apple (73.3), Apple iPhone (71.1) and Airbnb (70.5).
The top ten is completed by brands from a variety of industries. Retail giant Primark is in 6th place (70.4), ahead of music streaming service Spotify (70.3), and furniture brand IKEA (69.1). Pub chain JD Wetherspoon (67.3), and PlayStation (65.3) round off the top ten.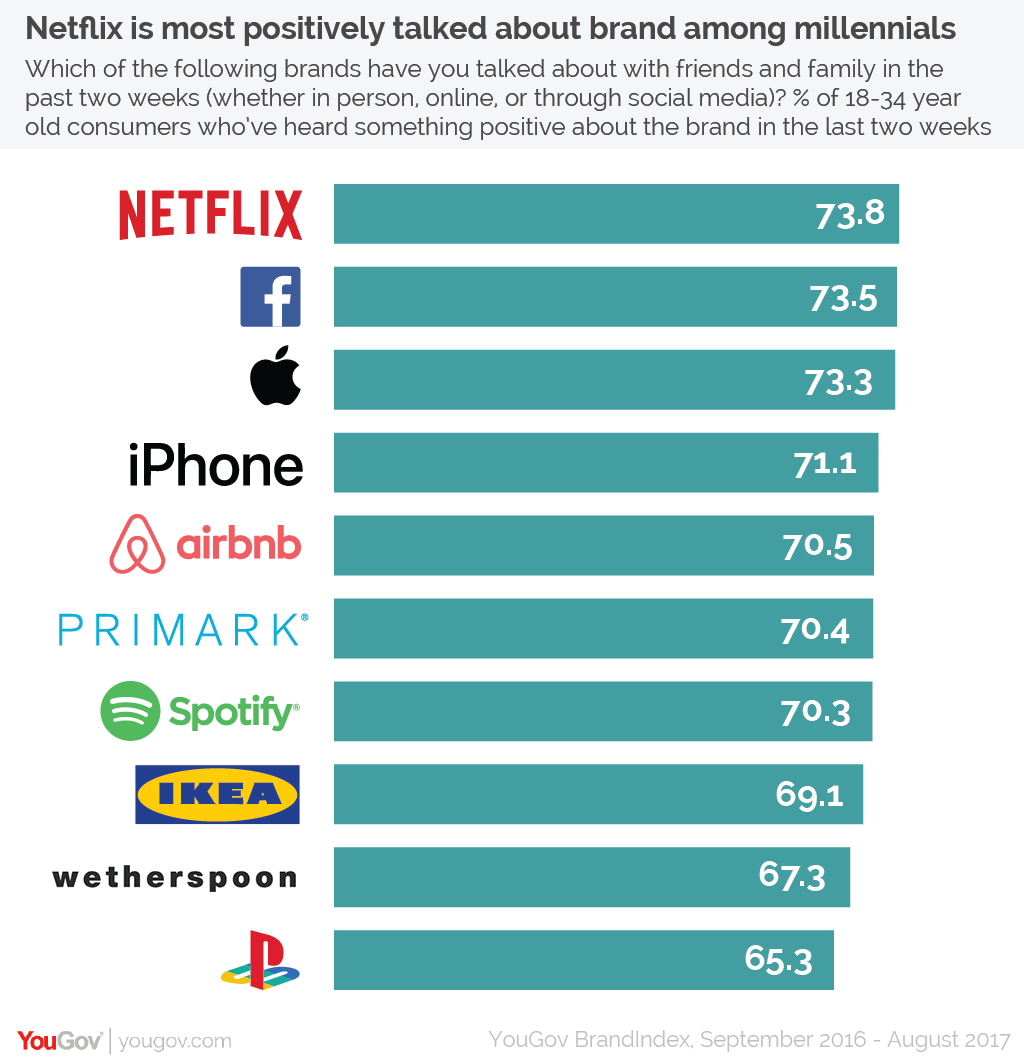 Netflix continues to be extremely popular with a younger generation of viewers who remain drawn to the service thanks to a range of original and exclusive content. The brand has harnessed the power of word of mouth recommendations, which has helped to foster growth around the world. Of course, one of the challenges for the service now is to expand as deeply into other age groups.
As we would expect among this age group, other tech giants such as Facebook and Apple also feature prominently in our rankings. However, a notable feature of our top ten is the presence of brands that have a reputation for competitive pricing. The likes of Primark, IKEA and JD Wetherspoon all provide an opportunity to younger consumers to get what they want at prices they can afford. All of these brands are talked about positively by younger consumers, all of whom came of age around the financial crisis.
The rankings also assesses which brands have experienced the greatest uplift in the positive word of mouth over the past 12 months. Car brand BMW tops the improvers list, with its score increasing by 7.8 points. It appears ahead of Barclays (improvement of 6.8), Home Bargains (6.5) TK Maxx (6.2) and Ferrero Rocher (6.1).
YouGov's rankings are based upon YouGov BrandIndex's Word of Mouth metric, which measures whether a respondent has discussed a brand with friends or family (whether in-person, online, or through social media) in the past two weeks. They are then filtered by positive Buzz - to sift out those who talk well of a brand from those who don't – and age, so that only 18-34 year-olds' views are measured. 
Image: Getty