As Ryanair – and its passengers – begin to count the cost of its decision to cancel forty to fifty flights every day for the next six weeks, YouGov BrandIndex data suggest that the saga is already denting the airline's long-term efforts to improve its public perception.
The brand blames poor planning of pilots' holidays for the disruption, though other reports suggest recruitment issues are also a problem.
Over the last four years, our brand tracking data shows the airline began to change its image – from a much-maligned budget option with an unconventional PR strategy, to a carrier challenging the established industry leaders.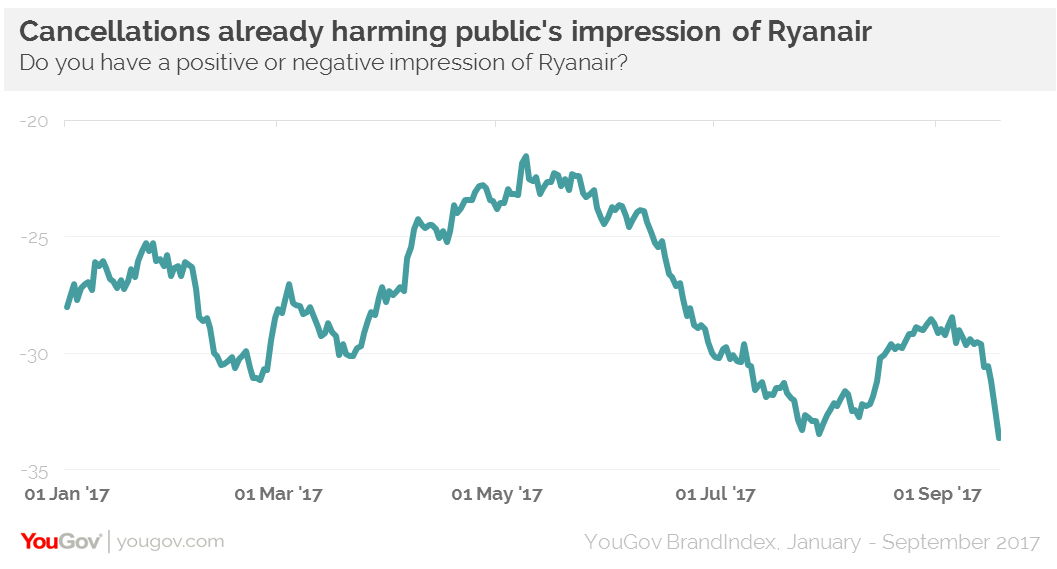 Our data shows between June 2014 and June 2017 Ryanair's Impression score rose by 20 points from -48 to -28 following changes implemented by boss Michael O'Leary. Across the same period its Quality score moved from -50 to -34.
This trend is further reflected in Ryanair's Purchase Consideration score that grew by eight points in the three years to the end of June.
However, the impact of the airline's cancelled flights is already showing in our data. Given the widespread coverage given to the story, it is not a surprise that is Buzz score (whether someone has heard something good or bad about the brand in the past two weeks) has declined notably.
But BrandIndex data shows that other metrics have also suffered. Ryanair's Impression score fell by three points in three days following the announcement and is now at its lowest level this year and its Recommend score has also declined notably. It should be noted, however, that purchase consideration remains relatively high.
Back in May, I reflected on the damage British Airways' reputation suffered after its IT failure. Then, the brand's Impression score fell by 32 points in three weeks and four months later its score is yet to make up all of this lost ground.
However, BA has pretty positive public perception before the IT issues whereas Ryanair – though improving over a long period – was still in negative territory. The carrier has always managed to shrug off adverse headlines but this seems to be its toughest challenge yet.
Image Getty
This article originally appeared in City A.M.