This week, McDonald's workers in Cambridge and Crayford undertook industrial action, the first to involve members of the brand's UK workforce.
Staff say they called for the walk-out because of zero-hours contracts, pay levels and working conditions. In response, the brand pointed to a series of pay rises, and an announcement in April that workers would be offered the choice of flexible or fixed-contracts.
Although McDonald's has faced challenging times over the past few years, YouGov brand tracking data indicates that consumer perception shows signs of improvement. In the UK, the brand's Impression score has improved by 12 points (albeit it from a low starting point), moving from -16 to -4 since September 2014.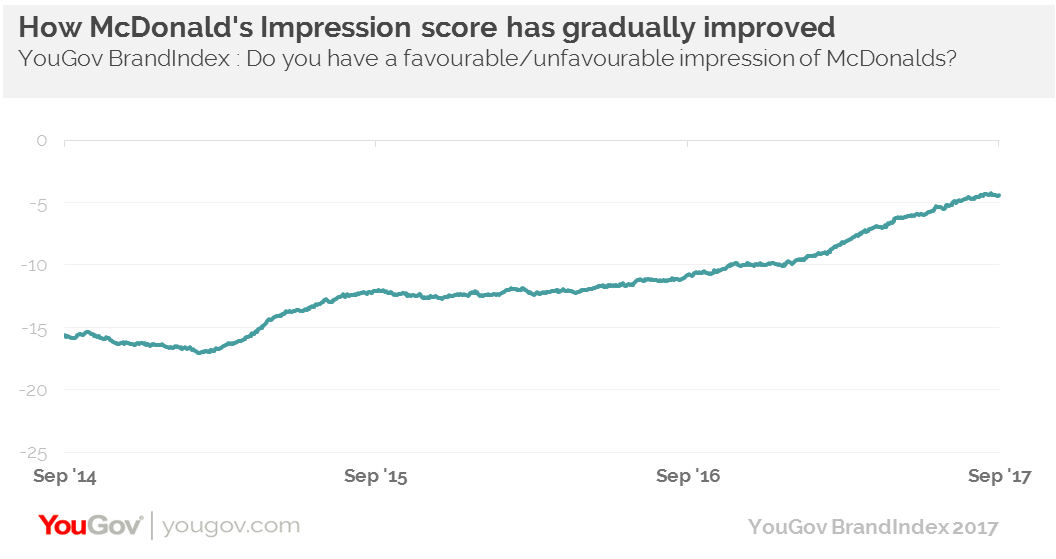 Efforts to highlight the provenance and improving quality of its meals also seems to have worked well, with McDonald's Quality score has risen by 5 points, from -22 to -17 over the same time period.
However, despite work to counter the notion of a 'McJob', long-standing perceptions about working for the chain still seem to abound. YouGov's Reputation score measures how proud or embarrassed a respondent would be to work for a brand and while McDonald's score has improved by five points in the last three years it still stands at -36.
Our recent 'Brand Boycotters' report underlines how dangerous it can be for a brand to be linked to controversy concerning wages or perceived poor treatment or staff. Of those that have boycotted a brand following adverse headlines, 40% have done so because they believe staff have been treated unfairly.
However, YouGov Profiles data suggests that while McDonald's consumers have slightly different view of the minimum wage, they are not radically different than the population as a whole. While 37% of the brand's current customers think the minimum wage is slightly too low, the figure for the population as a whole is 34%. Similarly, the minimum wage is a "top issue" for 19% of McDonald's consumers compared to 16% of the general public.
In this case, McDonald's overall brand health may only be really dented if the strikes spread across its other outlets, bringing a further wave of negative press.
Image Getty
This article originally appeared in City A.M.