Scottish tooth fairies are the most generous
The tooth fairy is a mythical creature that, according to superstition, replaces children's lost milk teeth with money, as long as the recently lost teeth are retained and left under the child's pillow overnight. In reality of course, the tooth fairy's 'helpers' are parents who are diligently able to lift their child's pillow without waking them up.
But with no per-tooth price guide to aid them, Britain's parents must guess at the most appropriate offering for each fang. Help is now at hand, however, as YouGov Omnibus has asked the nation how generous the tooth fairy ought to be.
With responses aligned to available coinage, we found that one in twenty people (5%) would leave just a penny. A further 1% respectively would pay just 2p, 5p and 10p. This means that that fewer than one in ten (9%) value each tooth at 10p or less. Just over a fifth (22%) would pay 50p, while four in ten (41%) would gift £1 – the most popular price per tooth. Just 5% value each tooth at £2.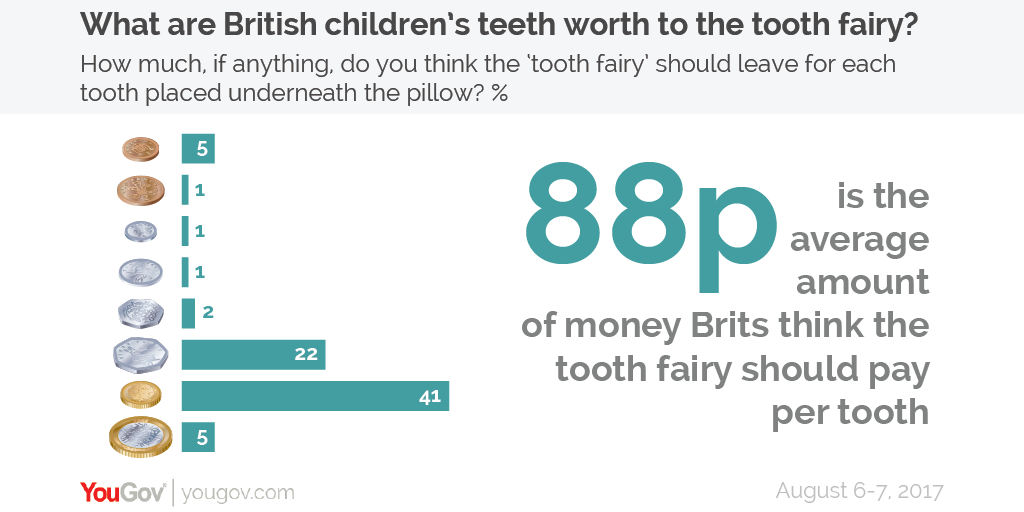 This results in an average tooth 'price' of 88p across Britain. However, there is some variation when it comes to region, with the tooth fairy being most generous in Scotland (£1) but less benevolent in the Midlands and Wales at 80p. Likewise, male tooth fairies pay more than female ones (95p vs 82p).
Of course, this poll does not capture how generous the tooth fairy actually is – more how generous they should be. It may be that tantrums and stamped feet can artificially inflate prices in certain households.
Photo: Getty