Around half of Britons believe that ticket re-selling sites should be banned, new research from YouGov reveals.
The Ticket Re-selling: Reaching the sceptics reports shows that 48% believe that ticket re-selling sites should be banned, compared to 30% that do not and 21% that don't know.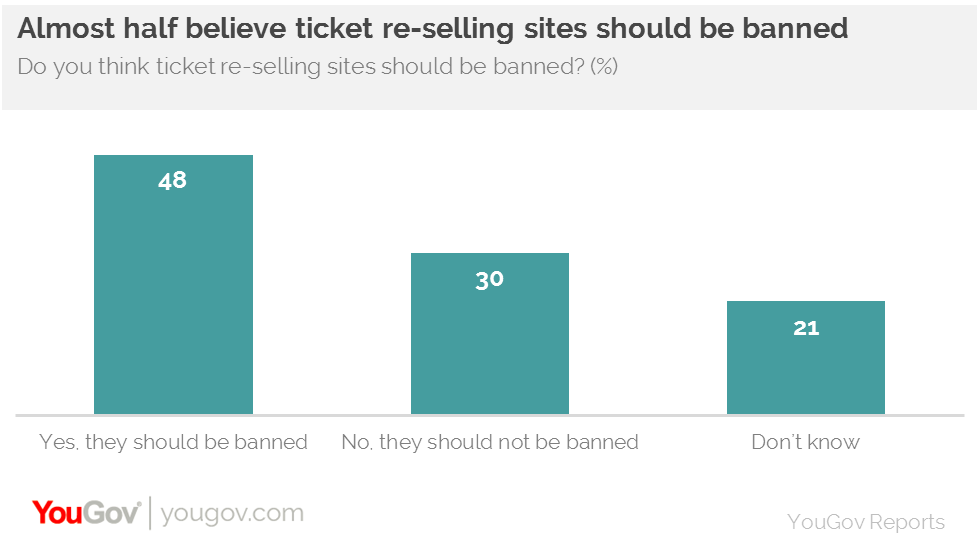 More than half (51%) of the public said that they don't believe the current system ticket purchasing and distribution is working, and that the government should intervene. But, approaching a fifth (18%) said that the system does work, and that high prices simply reflect demand.
The report finds that there is an appreciation that the secondary market will always exist. Almost half (47%) agree that illegal touting would grow if there was a cap on how much tickets could be sold for, while 14% disagree. The remainder did not know.
The study indicates that one in ten (10%) have used a ticket re-selling site, while the overwhelming majority (89%) have not. Of those who use the sites, most don't do it regularly – a third (32%) have done so once over the past few years, a fifth (20%) use them about once a year, while 7% do so at least once a week.
YouGov's report also looked at how much people are spending on the sites. Among users, just 16% bought tickets at face value, while a fifth (22%) purchased them for less than their original worth. More than one in three (34%) purchased tickets that were more than face value, but less than double the cost, while one in seven (14%) buyers bought tickets for at least double the face value. The remainder can't remember.
YouGov Profiles data suggests that those using ticket reselling sites are most likely to be aged male and 18-34. While understandably they are more likely to say they enjoy seeing their favourite artists live, they also tend to make impulsive purchases.
For many fans, the chance to see their favourite music artist or sports idol is one they are willing to go to great lengths to achieve – and this can often mean paying inflated prices to do so.
However, ticket re-selling sites have increasingly been in the headlines – with the principles of those sites under the microscope. Our research points to a significant proportion of people that are uncomfortable with the current state of affairs but whether steps are taken in future to limit their capabilities remains to be seen.
Image PA