A majority of SMEs think that banks could do more to support businesses, with many believing that their account provider is not proactive enough
The relationship between a bank and a business can be pivotal to that company's development. We recently used our B2B Omnibus to conduct research among a representative sample of 2,120 SME decision makers looking at their attitudes towards their companies' bank account providers.
It found that currently over three in five (63%) think that banks could do more to support businesses. Furthermore, it showed that almost half (47%) don't think that their banks are proactive enough at keeping them updated on matters that affect them. This is something that is particularly keenly felt among small outfits, where 52% feel that banks are not proactive enough, compared to just 28% among medium-sized businesses.
While it is clear that SMEs want advice and assistance, banks need to know that the challenges organisations face differ greatly according to their size and their sector.
Uncertainty around the UK leaving the European Union is one of the most important challenges facing SMEs with a third (33%) saying it is one of the main challenges for the next 12 months (coming in second just behind competition from competitors on 35%). However, it is seen as a much greater challenge by those who work in advertising, PR and marketing (41%) than those in the legal profession (27%).
Our research finds that although over half (53%) of SME decision makers are unsure what areas they would welcome advice from their bank, there are notable differences between the ways banks can help small businesses and medium-sized ones. This is especially true when it comes to issues shaped by Brexit.
Twice as many medium-sized businesses than small enterprises would want help on overseas tax and regulation (12% versus 6%). Similarly, 10% of medium-scale organisations would want advice on exporting, among smaller outfits it is just 3%. And it is the same story when it comes to overseas expansion – 9% of medium-sized operations would like their bank to guide them compared to only 4% of smaller businesses.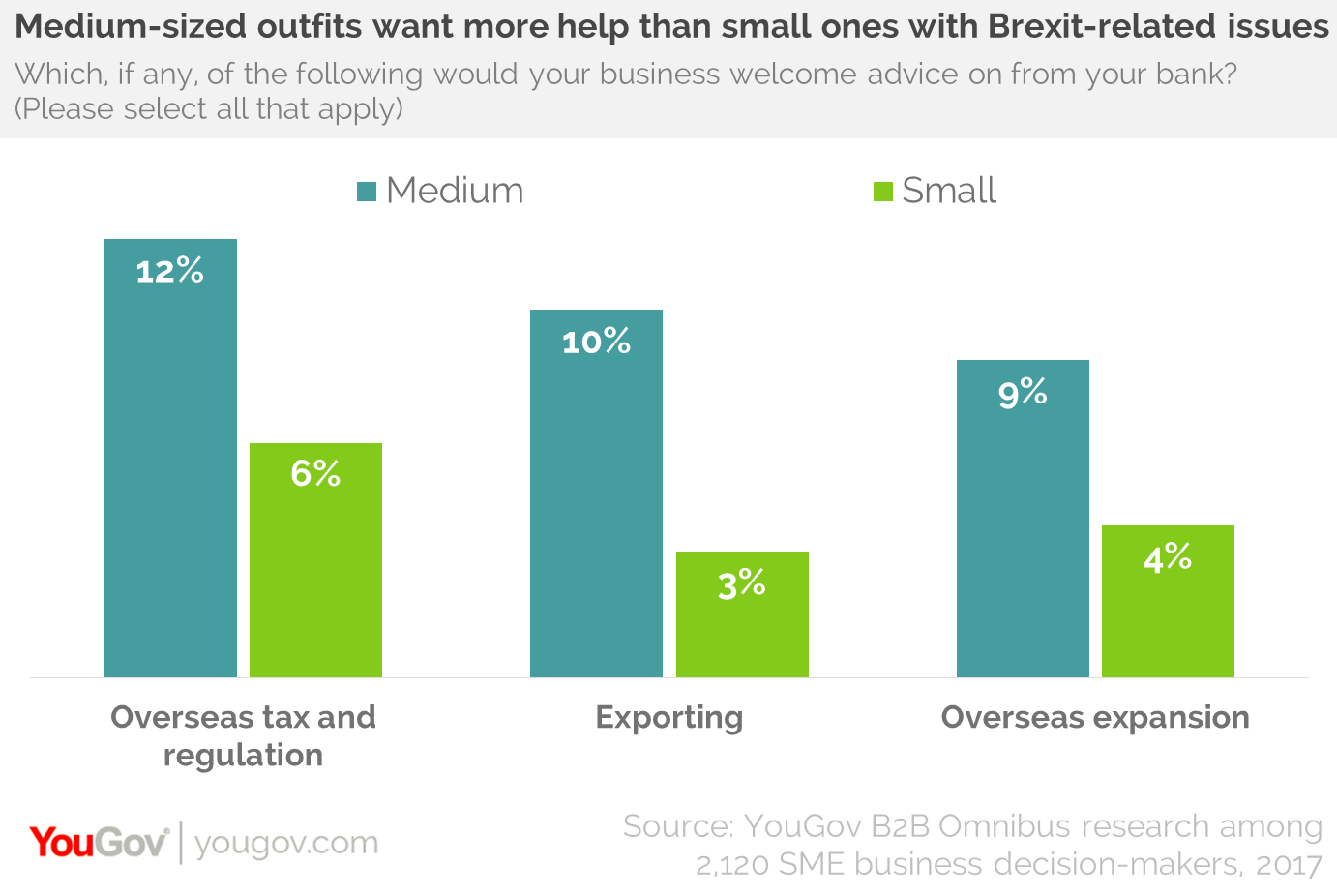 However, despite Britain's impending departure from the European Union, the area where most SMEs want help from their banks is something much closer to home. Just under a quarter (23%) would welcome advice on UK tax and regulation, a figure that is higher among medium-sized organisations (28%) than smaller businesses (21%).
Click here for further information about YouGov's B2B Omnibus research
Find out more about YouGov's financial services research
Image from PA