Parents prefer buying children's books in shops instead of online because they like the experience, new research from YouGov suggests.
The Children's Reading report shows that parents see the physical purchasing experience as an important part of choosing and buying a book. Almost six in ten (57%) parents think their child enjoys looking at books in-store, and the same proportion says they like their child to help choose their own books. Half (52%) also think that browsing for books in a shop gives a better idea of their suitability than buying them online.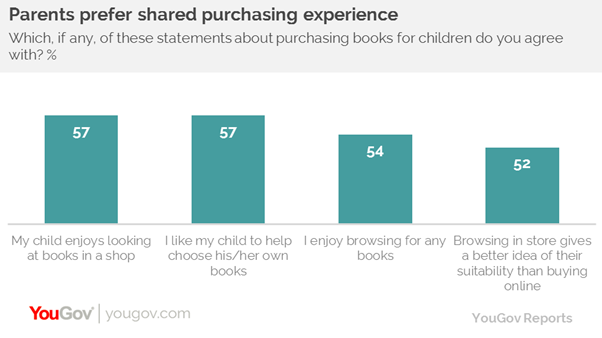 YouGov's study indicates that parents are not embracing electronic devices as a means to read books to their children. Approximately eight in ten (78%) say they don't use an e-reader, an app or any other electronic device when reading to children, with the majority (81%) saying that this is because of their own preference.
The report highlights how central books are to many families. While nine in ten parents (91%) read books to their children, six in ten (59%) do it every day. With over a third (37%) of parents buying more than a book a month, it is crucial that booksellers and publishers cater to their preferences.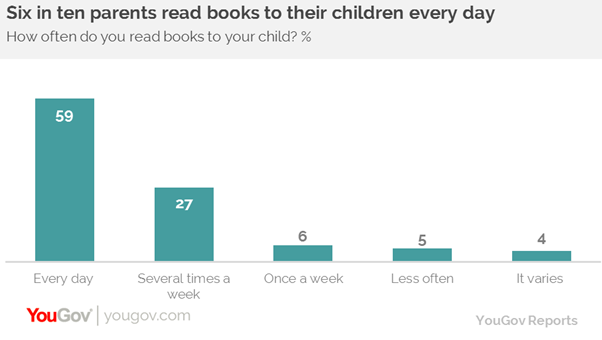 YouGov's research explores what parents and children look for when buying books. Almost seven in ten (69%) parents and over half (57%) of children say they like lots of pictures and illustrations. Additionally, both children (54%) and parents (43%) look for characters that they recognise. A notable number of parents also want there to be words that test their children's abilities (44%) and things that their children to work out in the story (43%).
Kate Fillery, of YouGov Reports, said: "Despite fears that technology would negate conventional book-buying and reading methods, this research indicates that online shops and e-readers have not yet replaced the long-established approaches. Parents still enjoy traditional reading experience with their child and choosing books in a bookstore plays a big part in that. This is why greater numbers of parents still prefer buying a physical book in a shop to buying online or using electronic devices to read to their children."
Image iStock