There has been a large increase in the number of pension holders planning to withdraw money to cover day-to-day living, new research from YouGov reveals.
The Impact of Pension Changes report finds that since the new rules came into force, the proportion of pension holders aged 50+ planning to withdraw money for everyday expenses has risen by a third. In May 2015, around a fifth (21%) said they would spend money they withdrew from their pension fund on day-to-day living. However, by the end of last year, the proportion had increased to almost three in ten (29%).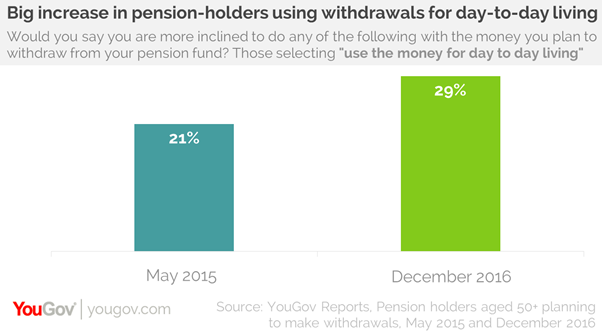 YouGov's data shows that the large uptick in pension-holders planning to use their money for living expenses has not been matched by a rise in spending intentions in other areas, though.
Instead, there have only been marginal increases in the number of pension holders aged 50+ planning on spending money on savings and investments (from 37% in May 2015 to 38% in January 2017), paying off debts (18% to 20% in the last two years) and buying a nice holiday (16% to 17% over the same period). While there has been a slightly bigger increase in the proportion planning to buy a car, even here it has only risen by three percentage points (from 10% to 13%).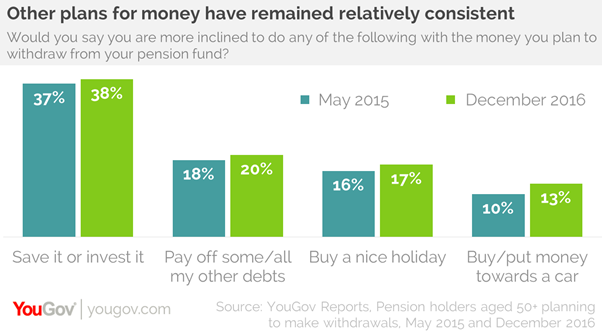 When the new rules were introduced, there was an alarm in some quarters about retirees going on spending sprees and that this would weaken their long-term financial situations. However, the numbers planning on buying holidays and cars has remained relatively stable. Instead, there has been a rise in the proportion saying they will have to use their money for day-to-day living. With inflation increasing, the household finances of those either approaching or already in retirement look set to come under increasing pressure.
Image iStock