According to a new YouGov CityBus report, Mancunians most associate music, sport, and industry with their city.
The YouGov study was carried out in London, Manchester, Liverpool and Birmingham, exploring what inhabitants from each city thought of their own town, as well as gauging opinions of the other three.
Unsurprisingly for a city that produced Oasis, The Smiths and Joy Division, 85% of Mancunians associate their city with music.
Sport is also a defining part of the city, according to 78% of Mancunians, not such a shock when it plays host to Manchester United and Manchester City.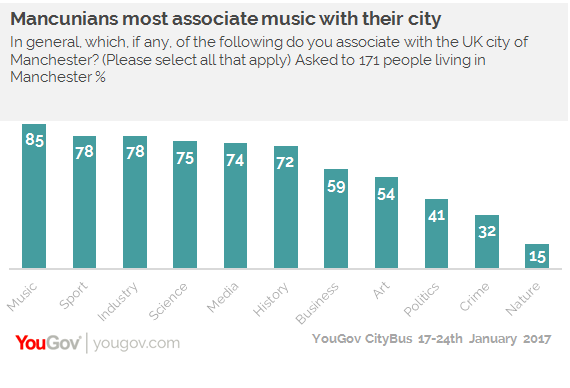 Mancunians also relate industry (78%), science (75%) and media (74%) with the city.
One of the main differences in opinion was crime. Around a third (32%) of Mancunians associated the city with it, while a significantly higher percentage (47%) of Liverpudlians linked Manchester to crime. 
Business is London's most defining feature, according to 85% of Londoners, while around three quarters (76%) of Brummies believe that their town is associated with Industry. Two thirds (66%) of Liverpudlians think that they are famous for art, and 85% linked the city to music.
However, with Manchester coming out on top in various categories, it's not surprising that a whopping 87% of Mancunians believe that their city should be the UK's second capital. However, as you'd expect, 89% of those in Birmingham thought their city in The Midlands should take that title.
YouGov's Mary Wheeler commented on the findings: "Our data has shown that Mancunians believe their city is a hub for industry, sport and music. It follows therefore, that they think it can rightfully claim to be the UK's second capital.
As the city continues to grow, attracting more investment and visitors alike, our results show that Mancunians are proud of their heritage and defining attributes."
Image PA