The lack of contactless options for charitable donors is hampering giving, a new YouGov study suggests.
The Charitable Giving 2017 report indicates that one in three (30%) of Britons would be more likely to donate to charity in some way if they could do so by using contactless technology. 
The research highlights the broad range of donation types that contactless could open up. One in ten (11%) would be more likely to donate using contactless when giving a one-off payment to someone collecting cash for charity in the street (i.e. a collection box).
This is closely followed by the 9% that would be more likely to buy something being sold for charity on the street (i.e. the Big Issue). Some 7% say they would give a one-off payment to a street fundraiser while 6% said they would be more likely to donate by tapping on a poster or advert in newspaper or magazine.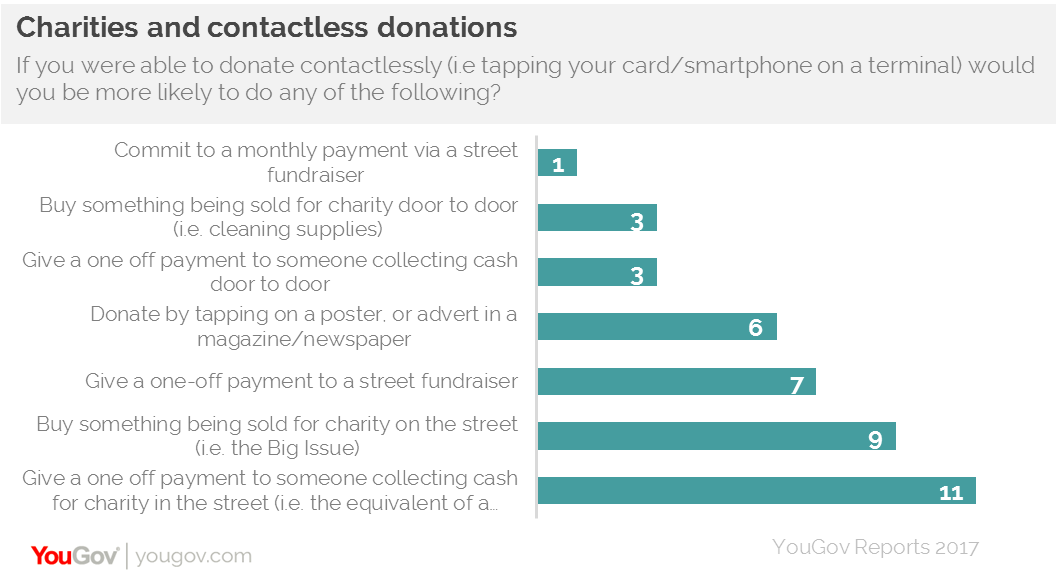 Perhaps unsurprisingly, those in the younger age groups would be most likely to consider charitable contactless donation with over half (52%) of 18-34s saying this option would make them more likely to donate. This compares to three in ten (30%) 35-54 year-olds and one in seven (16%) over-55s. In fact, one in five (20%) 18-34 year-olds would be more likely to give one-off payments to those collecting if they could use their card.
Almost half (48%) of those who are likely to donate by contactless believe it would be more convenient while a third (33%) think that by giving in this way they would know that cash wasn't being misspent. Furthermore, a third (32%) want contactless options because they either don't carry cash at all or carry enough cash that they can donate.
Contactless payment have transformed transactions across many industries, especially retail and transport where consumers and businesses are looking for speed and ease. On-street donations fit a similar pattern where many people are in a rush and, while they want to give, they want to do it quickly. Our report indicates that there is public appetite for this form of donation, and if charities can help alleviate some barriers to giving that people currently face the rewards could be great.
Image PA